It may not seem like the most likely alliance, but Drogheda United and Trabzonspor have a deep, rich friendship that has its roots in the Great Famine in 1845.
Ottoman Sultan Abdulmecid donated £1,000 to help the Irish people and also sent ships full of food from Turkey which sailed down the Boyne River and docked in Drogheda.
Soccer fans tend to know their history and over the years the Drogs and Trabzonspor faithful have built a strong connection.
In recent years, with the rise of he social media, their link-up has become more widely know, with the two officially becoming sister clubs almost a decade ago.
Speaking on the RTÉ Soccer podcast, former Drogs PRO and Roisin Philips explained how the relationship has grown, and how Turkish fans went out of their way to help the Louth outfit when they fell on hard times back in 2008.
"It goes back far longer than 2011 when they announced that we'd become their sister club," she said.
"In fact it goes back to the Great Famine in 1845. Drogheda had links with Turkey as a result of the Sultan at the time sending aid over to the Irish people. Boats came up the Boyne in Drogheda. He also sent £1,000 at the time.
"There's been a long history of co-operation between the two countries, from the Turkish side to Ireland. When I first got involved with Drogheda during our financial difficulties in 2008, I became aware that there was a link between Drogheda and Trabzonspor.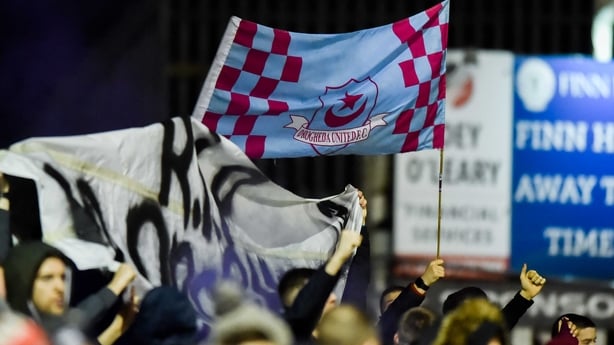 "A number of Turkish fans had realised that we shared the same colours, the claret and blue, and also that our club crest - the star and crescent - featured on the Turkish flag.
"They were inspired by this and got in touch with Drogheda fans and it grew from there.
"During examinership, when we were trying to fund-raise et cetera, I was flabbergasted by the amount of goodwill messages that I was getting from Turkish people.
"They were tremendous at the time. They were publicising us in Turkey, they were setting up Facebook pages, they were sending donations in envelopes from Turkey. I remember getting an envelope one day and €40 fell out of it.
"There were several people in particular, staunch fans, who just couldn't do enough for us."
Phillips - daughter of former Drogs chairman Vincent Hoey - said the bond had a hugely positive knock-on effect for the whole town and beyond.
"I had been involved in tour operating in Ireland for 15 years before that. We'd had a lot of dealings with Turkey, they were one of our biggest markets, so I knew the Turkish people. I knew that they were very similar to the Irish people in lots of welcoming, warm ways.
"I was intrigued by this relationship. After examinership, once we got through all that, I set about - with a few of my colleagues in Drogheda United - exploring this a little bit further.
"We actually got in touch with the Turkish Embassy in Dublin. We got a great reception there, we went up and met the ambassador and we investigated the possibility of strengthening ties between Trabzonspor and Drogheda at board level as well as fan level.
"We tried to see if we could organise a friendly between the two teams. We eventually got it to happen. The Turkish ambassador was fantastic at the time, very instrumental in bringing that about.
"The thing I learned from all of this was just how amazing sport is at bringing people together - and more than that, bringing countries together, communities together, because without the Drogheda-Trabzonspor connection I don't believe we would have had such an amazing co-operation between Ireland and Turkey after that.
"They flew over business leaders with the team from Trabzonspor. We organised for business leaders from Drogheda to meet them, our politicians hosted their politicians in Leinster House.
"This was a much event than just soccer."
Listen to the RTÉ Soccer podcast on Apple Podcasts, SoundCloud, Spotify or wherever you get your podcasts.
RTĖ Sport · FAI Financial Plan and Pat Devlin's LOI blueprint