I was eight years old and a couple of months into second class when the Republic of Ireland booked their place at Italia '90.
Our primary school had gotten on board with the football fever starting to take over the nation by letting us out early for the crucial qualifier against Malta but it would be cutting it fine to get home in time for the early afternoon kick-off in November 1989.
So the usual tradition of jumping to the window to celebrate goals with the neighbouring kids was set aside and I was one of six students joining a teacher we didn't know to watch the game in a classroom.
This was long before the days of electronic whiteboards, or even non-electronic whiteboards, and we were lucky there was a television there at all. One item the TV was lacking, however, was an aerial, which was a thing you needed to catch the pictures from the air.
Our resourceful teacher managed to improvise by untwisting a metal coat hanger and sticking it into the socket, but we only got a watchable picture if someone held the 'aerial' up at an angle.
So each of us did a 15-minute stint standing behind the TV, and trying to peer around at the screen while the rest shouted abuse/encouragement.
I got lucky and managed to see both of the John Aldridge goals that secured qualification to our first ever World Cup and the teacher also got lucky as no children were electrocuted.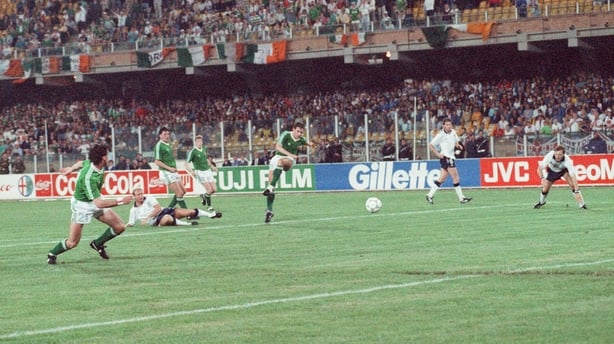 Flash forward seven months and I am in a French campsite, sitting on benches in a table-tennis hall, which has been converted to World Cup fanzone, to watch Ireland play England.
The support is more or less evenly matched and Gary Lineker opens the scoring early on to restrained cheers from the back.
As the game advances, the Orangina-fuelled tension rises until Kevin Sheedy drills home the equaliser, and the room erupts into a deafening explosion of joy that is overwhelming to young senses. At the final whistle, the English fans can only smile as we celebrate a draw like a victory.
I have no clear memory of the 0-0 with Egypt, possibly for my own protection, but by now I was back home and obsessed with Orbis World Cup 90.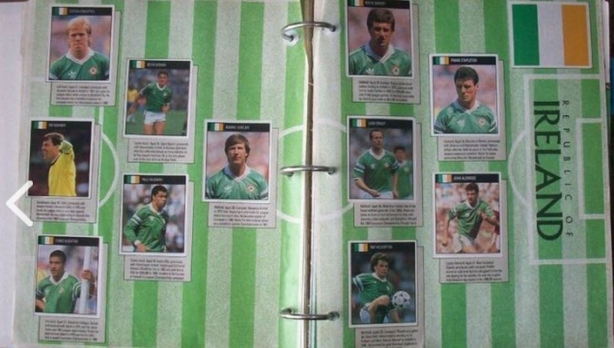 Calling this thing of wonder a 'sticker album' seems a disservice – it contained such marvels as 'Golden Goals', a graphical breakdown of famous tournament strikes by the likes of Maradona, Pele and Gerry Armstrong – while, on its pages at least, Liam Brady was in the Ireland squad.
Unfortunately, it appeared, as was the fashion of the time, in parent-fleecing weekly instalments in the newsagents. I missed the first issue and the snazzy ring binder that accompanied it but a DIY version was quickly crafted, and any remaining communion money quickly squandered on stickers.
Meanwhile, every match is being simulated on the strip of grass at the top of the road and every goal celebrated with the Roger-Milla wiggle.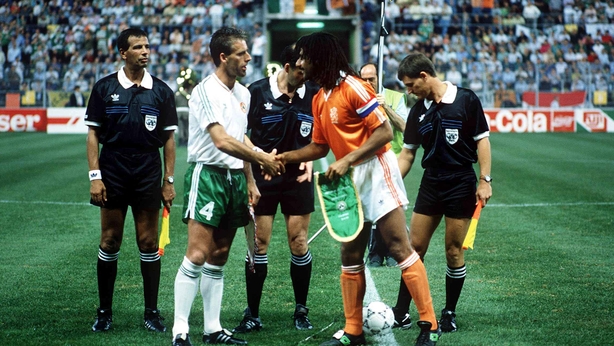 The final group game, Ireland against the Netherlands. Ruud Gullit scores another early goal. Never liked you Ruud.
Still enthused by recent religious rites, I am inspired to fetch a luminous crucifix we had inherited from my recently deceased grandmother and start praying for an equaliser.
God is green that night and Niall Quinn scores the equaliser with 20 minutes left. Mick McCarthy agrees with Gullit that a draw will do both teams nicely. You're a grand fella Ruud.
Even the almighty can't make a spectacle out of Ireland-Romania and the country's first ever penalty shootout is a welcome diversion to a room of bored children.
Irish keeper Packie Bonner is "getting closer" to each Romanian shot, insists my father, culminating in a triumphant "I told you!" after the Donegal man blocks Daniel Timofte's tame effort. You basically saved it Dad.
David O'Leary, a name I was barely aware of after his years in the international wilderness, blasts home the winner. We're in the quarter-finals!
We need your consent to load this YouTube contentWe use YouTube to manage extra content that can set cookies on your device and collect data about your activity. Please review their details and accept them to load the content.Manage Preferences
By now, like others old enough to know better, I had convinced myself that Ireland were going to win the tournament. Even when Roberto Donadoni's shot staggered Packie and Toto Schillachi tapped in the rebound to give Italy the lead, I was still confident.
As the match advanced and the bizarre yellow 'time bar' filled the screen, prayers were again confidently offered up. This time, there was no equaliser. The crucifix glowed silently and reproachfully, the hosts advanced and I had an early crisis of faith.
The rest of the tournament passed in a blur. England broke Cameroon hearts in a thriller then went out on penalties, as did Italy, which was some small consolation. Maradona raged at the ref as the Germans beat nine-man Argentina in the final.
My father took my brother and me into Dublin city centre, where we stood on Dorset Street for hours for the chance to wave at the Irish team bus, crawling along the crowded streets like it had consumed as many cans as its occupants. We loved them like they had won it.
We need your consent to load this YouTube contentWe use YouTube to manage extra content that can set cookies on your device and collect data about your activity. Please review their details and accept them to load the content.Manage Preferences
In the weeks after the World Cup, I wrote a song – sample lyric: Hans van Breukelen let it roll, Niall Quinn scored the goal – that my enterprising grandmother submitted as her own to the Irish Countrywomen's Association and won a prize.
In fairness, she proudly passed on the tin of USA biscuits, but even if I had known what plagiarism was, I was in no position to protest. I had robbed the melody from Memories, who had in turn borrowed it from Billy Joel's 'We Didn't Start The Fire'.
I'm sure Billy would have understood. The flame was lit and burning bright green.