Quick recap of the 80s
The 1980s were drawing to a close. It was a decade of much economic strife in Ireland, with no shortage of political upheaval to keep the headline writers busy. The troubles in Northern Ireland raged on. The Berlin Wall came down. 
Elsewhere in the world, it was a decade where Gordon Gekko's signature line from the movie Wall Street - "Greed, for the lack of a better word, is good" (shortened to "Greed is Good") - captured the mood of those who lived well, the yuppies who thrived under 'Reaganomics'. 
The 80s, not quite the decade that fashion forgot, but still we had had big hair; well, we had perms and mullets, and then there were shoulder pads, leg warmers and ripped jeans. Do you remember the DeLorean car? You do if you watched Back To The Future. And while we're on movies, there were no shortage of blockbusters - Raiders of the Lost Ark, ET, Top Gun, Die Hard, Lethal Weapon and The Terminator - to name a few.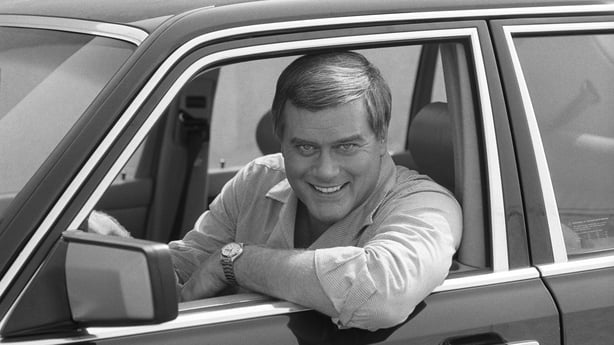 On TV, the question of 'Who Shot JR? was so big that the Turkish Parliament suspended its sitting on the night it was revealed that JR's sister-in-law had pulled the trigger. Just like today, the soaps were big. Glenroe was the mainstay of Sunday night viewing here in Ireland. 
This little country making its mark
In sport, Eamonn Coghlan, John Treacy, Barry McGuigan and Stephen Roche gave this nation something to shout about at last. The shouts were even louder in the summer of 1988 when, under an Englishman, Jack Charlton, the Republic of Ireland qualified for a major tournament for the first time. Houghton put the ball in the English net; reasons to rejoice on a warm Sunday afternoon in June. 
Summing up Euro '88, the Irish won a game - against England - they should have lost; they drew a game - against Russia - they should have won; and they lost a game - against the Netherlands - they could have drawn. Yes, could have, instead of should have.
Still, the Irish made their mark and then achieved another first in reaching a World Cup finals for the first time. More reasons to be cheerful then, though the finals draw for Italia '90 again pitted the Republic in a group with England and the Dutch.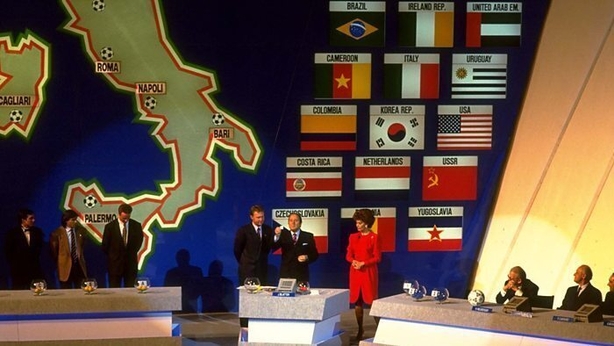 At the time, such was our confident mood, a crack at Brazil, Argentina or the Germans was the hope. Sophia Loren and Luciano Pavarotti, who conducted the draw in Rome, put pay to that though they did give us a date with Egypt to look forward to in the summer of 1990 - when Ireland would take its place among 23 other nations to battle for the biggest prize in sport. 
Well, not everybody it seemed was looking forward to it. The late Eugene McGee, writing in the Evening Herald in advance of Italia '90 said: "There is a concerted effort to convince millions of people ... that they will be outcasts of Irish society if they do not become soccer fanatics next June. It is largely a commercial marketing ploy."
Soccer, what's that?
McGee, who, as Offaly football manager, famously stopped Kerry's quest for an All-Ireland five-in-a-row in 1982, was perhaps echoing the view of some in this country. Football or soccer just wasn't the game for them; the most popular sport in the world had still had to extend its reach in this little corner of the globe. A snapshot then of Ireland as we entered 1990.
Economically, the country was still banjaxed, though signs of an upturn were there. The unemployment rate was 12.9%, down from just over 15% in '89. Charlie Haughey was Taoiseach, but Fianna Fail had to share power with the Progressive Democrats, much against the core beliefs of the Soldiers of Destiny.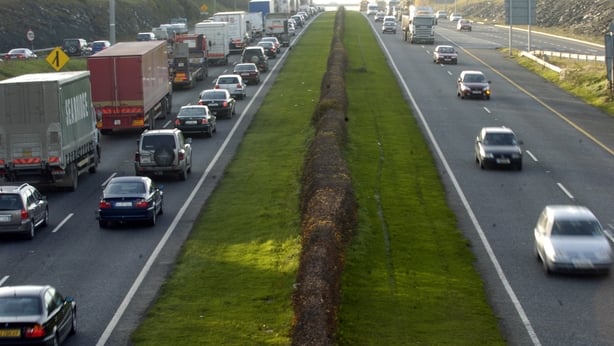 The 'Tallaght Strategy', in place since 1987, at last saw Ireland get to grips with its economic problems and with the IFSC up and running in Dublin's docklands, along with much support from the EU to help improve our roads, there were more reasons to be positive in 1990. The year saw the opening of the M50 and The Square Shopping Centre in Tallaght - which was for a while the biggest such retail centre in the country.
One of the hits of the year
1990 facts
The average price of a house in Ireland was €60,000
Sales of new cars in 1990 had dropped to 60,000 from 106,000 ten years earlier.
The Irish pound coin was introduced into circulation to replace the note of the same denomination.
The average worker travelled under 8km to work. 
The world rejoiced
On 11 February, the world rejoiced as Nelson Mandela was released from prison after 27 years behind bars.
The chairman of the Irish Anti-Apartheid Movement, Kadar Asmal, hoped that Mandela might in the not too distant future visit Dublin. More on that later. 
Another walk to freedom was made in the summer months by Belfast man Brian Keenan, who spent four and a half years as a hostage in Beirut. On hand to meet him, upon his release, was  Foreign Minister Gerry Collins. Yes, the same Gerry Collins who, live on the Six One News, would later plead with Albert Reynolds not to "burst" the Fianna Fáil party by standing against Charlie Haughey.
The Race for the Park
Political intrigue In Ireland was a great sport back in the day. In 1990, it brought us no shortage of added drama in advance of the presidential election. Patrick Hillery's time in the office was coming to an end - though it's fair to say that most people had forgotten that he did reside in Áras an Uachtaráin.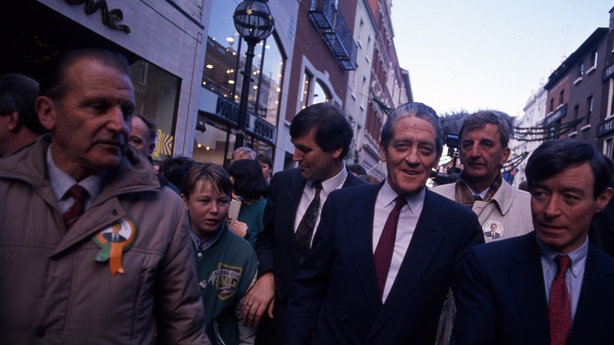 Fianna Fáil's Brian Lenihan was the favourite right from the off. A popular figure across the political spectrum, Lenihan was seen as the person to ensure that FF kept their hold on the presidency. Fine Gael chose Austin Currie, a former member of the SDLP, while Labour, along with the Workers' Party and some independent senators, selected Mary Robinson, the high-profile barrister and human rights campaigner.
The campaign got interesting when details emerged of an off-the-record conversation Lenihan had with student Jim Duffy, where the former admitted that he did speak to President Hillery in 1982 about not seeking a dissolution of the Dáil after the then Fine Gael-Labour government lost a key vote on the budget.
Lenihan later denied he had the conversation with Duffy - but the evidence was there. His cause wasn't helped by his party colleague Pádraig Flynn making snide comments about Mary Robinson on RTÉ Radio's 'Saturday View'.
Flynn said that she had to have new clothes, a new look, a new hairdo and had "the new interest in family, being a mother and all that kind of thing. But none of us who knew Mary Robinson very well in previous incarnations ever heard her claiming to be a great wife and mother".   
Things would get worse for Lenihan. On the Six One News, he told the Irish public that under "mature recollection" that he did not have that conversation with President Hillery. Taoiseach Charlie Haughey was eventually forced - well with the PDs having a gun to his head - to sack his "old friend of 30 years" from the government.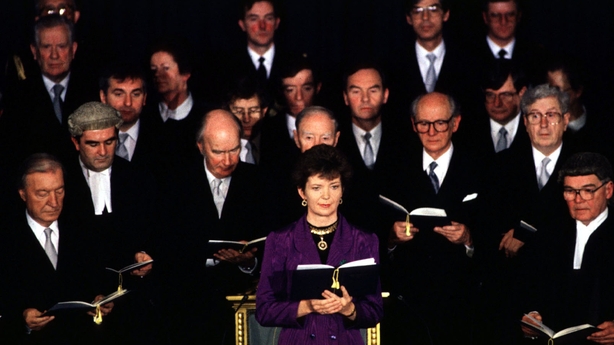 When the election votes were counted, Lenihan did win the popular vote, but Mary Robinson polled well and transfers would hep her to become Ireland's first female president.  
Satire at its best
Often wicked and very funny, 'Scrap Saturday' burst onto the radio in 1990. Gerry Stembridge, Dermot Morgan, Pauline McLynn and others came up with the voices and situations.
We need your consent to load this YouTube contentWe use YouTube to manage extra content that can set cookies on your device and collect data about your activity. Please review their details and accept them to load the content.Manage Preferences
Jack names his squad
On 17 May, a squad of 22 was announced for duty in Italy. 
On the list was Millwall's Gary Waddock, who had overcome a spate of injuries to force his way back into the squad. Waddock was measured for his World Cup suit and flew off to Malta with the rest of the party for a pre-tournament training camp.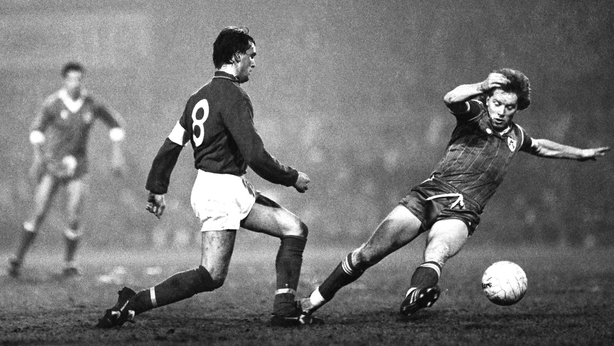 However, when the team arrived on the Mediterranean island, Jack Charlton pulled Waddock aside and told him he would now not be part of the squad, with Swindon's Alan McLoughlin taking his place. 
In explaining his decision, Charlton said: "It's my job to balance out the 22 players and see that I've got cover for everywhere and the way we see things, this was the only move.
"McLoughlin is a very good runner, he sees things, supports people and scores goals. He's a good player, we've been very impressed with him but we haven't been able to get hold of him in the last three months because of his club commitment."
Needless to say Waddock wasn't happy, but kept a brave face and wished Ireland all the best in the World Cup. On returning to England, he took his wife and family on the holiday to the USA.  
Oscar time
In March, there was Irish success in Hollywood when Jim Sheridan's My Left Foot scooped two Oscars, with Daniel Day Lewis named Best Actor and Brenda Fricker taking home the Best Supporting Actress gong.
We need your consent to load this YouTube contentWe use YouTube to manage extra content that can set cookies on your device and collect data about your activity. Please review their details and accept them to load the content.Manage Preferences
Sheridan, in 1990, was also making The Field, with Richard Harris playing the Bull McCabe. English director Alan Parker was in Dublin to shoot The Commitments, based on Roddy Doyle's novel,
Brian Friel's Dancing at Lughnasa premiered at the Abbey Theatre and went on to achieve great success on Broadway. 
In literature, John McGahern's Amongst Women was published.
Italia here we come
We need your consent to load this rte-player contentWe use rte-player to manage extra content that can set cookies on your device and collect data about your activity. Please review their details and accept them to load the content.Manage Preferences
Nice opening shot here, with The Godfather theme playing and RTÉ's Tommie Gorman setting the scene in Sicily where the Irish team and a few fans will be staying. 
Other world news
In August, Iraq invades Kuwait, eventually leading to the Gulf War.
East Germany and West Germany unite on the 3 October.
The first Pizza Hut opens up in the Soviet Union
The World Health Organisation removes homosexuality from its list of diseases
Margaret Thatcher steps down as British Prime Minister
England 1-1 Republic of Ireland 
Gusty wind, rain and not a great spectacle. Still a draw was a fair result thanks to Kevin Sheedy's equaliser.
It was a match that England striker Gary Lineker does not have great memories of for infamous reasons.
Republic of Ireland 0-0 Egypt - Pengate
Was this stalemate in Palermo the worst game, in terms of quality, at a FIFA World Cup. 
"I felt embarrassed for soccer, and felt embarrassed for the country," was Eamon Dunphy's immediate reaction after the game. Not happy, was Eamon.
We need your consent to load this YouTube contentWe use YouTube to manage extra content that can set cookies on your device and collect data about your activity. Please review their details and accept them to load the content.Manage Preferences
'You're not a proper journalist'
And so the Ireland's final group match against the Dutch. In the pre-match press conference, Dunphy, who was now in Italy, wanted to ask Jack Charlton a few questions. Jack, however, was not prepared to answer them and, storming out of a press conference, said: "You're not allowed to ask a question, you are not a proper journalist."
At a later press conference, Charlton said: "I am entitled as an individual to talk to whom I want to speak. I think that is pretty straightforward. I don't like him and I don't have to speak to people I don't like. He stuck his nose in where he knew he would get a reaction.
"I think he is a bitter little man and I certainly don't want to talk to someone who is ashamed to be an Irishman."
But Dunphy, then a Sunday Independent columnist claimed the real issues of Irish soccer were not being addressed because the manager had bullied journalists.
"In five tournament matches we have only reproduced our real form once and that was against the Soviets in Germany," he said.
Netherlands 1-1 Republic of Ireland
A point for each side ensured passage to the Round of 16, with the Irish off to play Romania in Genoa. A game probably best remembered for Packie Bonner's grimace in the lead up to Ireland's goal.  
Monday 25 June 1990
Day one of the EU summit in Dublin, with Charlie Haughey holding court. On that afternoon, Ireland and Romania played out a scoreless draw after 90 minutes. In truth, nothing much happened. In extra-time, nothing much happened. And then we had penalties. 
Over to George Hamilton
We need your consent to load this YouTube contentWe use YouTube to manage extra content that can set cookies on your device and collect data about your activity. Please review their details and accept them to load the content.Manage Preferences
Ireland were through. Meanwhile back at Dublin Castle, Charlie Haughey joined in the fun as Tommie Gorman revealed in the Irish Independent in 2015.
"I was reporting on the EU summit at Dublin Castle. Ireland held the presidency. As the penalty shoot-out against Romania was happening, the Taoiseach Charles Haughey was giving a press briefing to heavyweight newspapers about the architecture of Europe. I was following the match just outside. I pushed in a door and Haughey looked up, and said: 'What's wrong with you?'
"I said: 'Turn on the television, Taoiseach'. He put on the television and everybody watched the end of the penalty shoot-out. At that moment, when David O'Leary's goal went in, he realised the significance. He went out into the courtyard and danced a jig."
Great scenes in Walkinstown
Who was the man in tears early on?
Well that was John Healy, a journalist from Co Mayo, who wrote for the Irish Times, and was quite a staunch Fianna Fáil supporter. Far from soccer he was born. 
Who was Alf?
For fans of the TV series, Alf, an episode scheduled for Network 2 on the evening of the penalty shoot-out had to be deferred. Alf, by the way, is Gordon Shumway, a sarcastic, friendly extraterrestrial nicknamed ALF (an acronym for Alien Life Form), who crash-lands in the garage of the suburban middle-class Tanner family.
The series ran for 99 episodes. 
Onwards to Rome via the Pope's house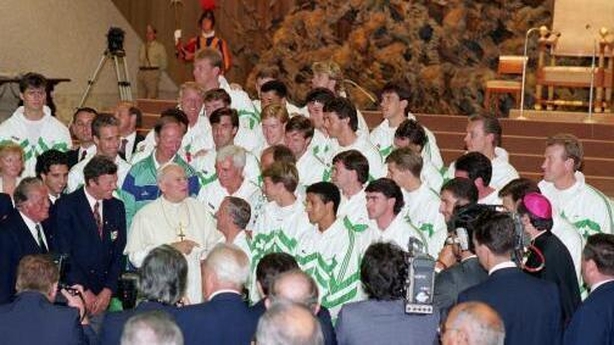 A date with Italy in the World Cup quarter-finals, with a stop-off first in the Vatican to meet Pope John Paul II.
Recalling that encounter with the Pontiff, Tony Cascarino told talkSport: "We went to the Sistine Chapel in the Vatican and it was quite funny because Jack Charlton was there and when Jack first saw the Pope he said to us: 'Hey, I'm more famous than him'.
"But what not a lot of people know is, Pope John Paul II was a semi-professional goalkeeper, so he ended up having a chat with Packie Bonner about goalkeeping.
"So we're in the Sistine Chapel and we're talking and all laughing watching Packie and the Pope talk about goalkeeping, and you could tell they were because of what they were doing with their hands."
Saturday 30 June - Italy 1-0 Republic of Ireland
A balmy night in the Olympic Stadium was settled by a goal from Toto Schillaci. Bingo was postponed, masses were held early in advance of the game but the Irish journey was over.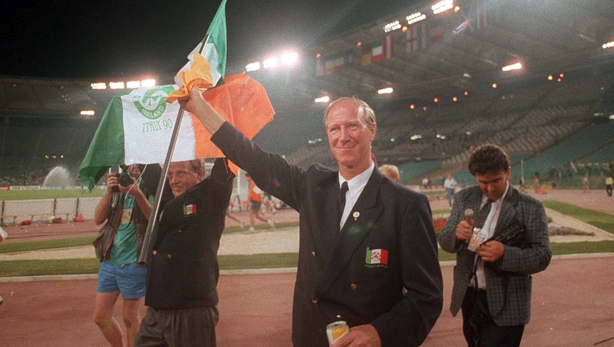 Jack Charlton and Maurice Setters after the game.. and not forgetting Des Cahill, checking his equipment. 
Sunday 1 July - the homecoming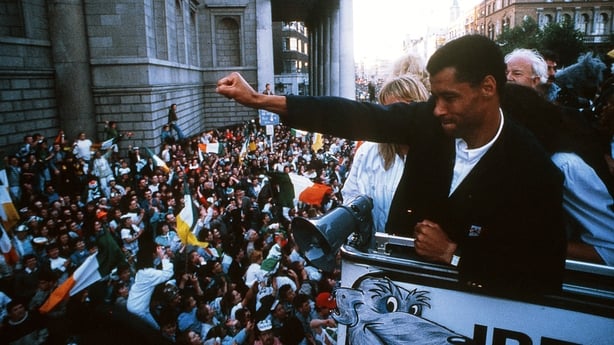 The team returned home. Half of Ireland converged on the streets of Dublin to meet them. 
Speaking shortly before his death, the late Bill O'Herlihy summed up the tournament when saying: "It was great to see so many happy people. People were enjoying football, even those who had never watched a match before.
"They were happy, wonderful days for the whole country. It was new, it was exciting and it united the country.
"We had never been to the promised land before and now we were mixing it up with the best in the world.
"I've often said that they should have had cameras in the studio on us, because we were sometimes accused of not wanting the Irish team to do well. If you'd have seen us during the penalties! We were hiding behind our hands in the studio we were that nervous.
"(The 1990 World Cup) was unbelievable, it was the first time we qualified and it was a very, very special time.
"It's great to get together and to look back on what was such a momentous occasion for the country. It's something that people still have an awful lot of affection for and it was a privilege to be a small part of. It's something I don't think will ever be repeated."
Con Houlihan, now writing from the great office in the sky remarked: "I missed Italia 90. I was in Italy at the time."
Unless Ireland win a major tournament, nothing will come near to matching the fervour that Italia '90 created.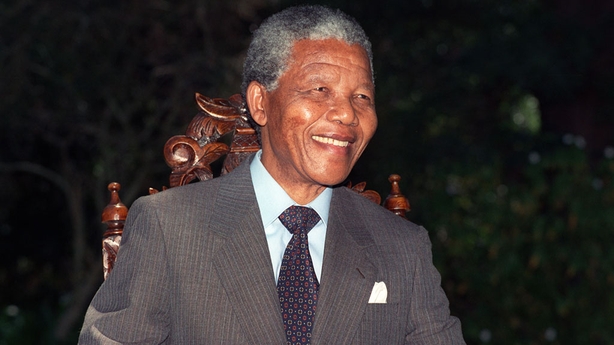 Nelson Mandela was in Dublin the day the team returned. During his speech at the Mansion House, in which he praised Ireland for their contribution to the anti-apartheid struggle, he also remarked: "Congratulations to your wonderful football team".