Shamrock Rovers manager Stephen Bradley says that League of Ireland clubs 'have to adapt' to the new reality of the coronavirus pandemic and has welcomed the chance for clubs in European action to resume training as early as possible.
Rovers players and staff underwent a second round of Covid-19 testing this morning ahead of what's hoped to be a return to limited training next week.
The Hoops, Bohemians, Dundalk and Derry City all returned negative tests last week, as part of a pilot programme to ensure a safe return for football at all levels. A mini tournament is planned for July involving the four clubs, who have all qualified for European football.
UEFA has not yet announced dates for next season's Champions League or Europa League qualifiers but, as the 2019/20 competitions are still only at the last-16 stage, it could be September at the earliest before they begin, if at all.
Shamrock Rovers manager Stephen Bradley welcomed another 'positive step' towards resuming football as his squad had a second round of Covid-19 testing today pic.twitter.com/a3eR87q8NO

— Soccer Republic (@SoccRepublic) June 1, 2020
"It's another positive step to getting us back playing," Bradley told RTÉ Sport after his squad navigated another round of throat-swabbing.
"Hopefully we can get back to full-contact training in the near future. Hopefully this test, for the four clubs, comes back fairly good for the four clubs again. If so, it's another step in the right direction.
"I think it's a fantastic idea to give the four clubs that are in Europe a chance to be ready. It's important that we're ready to go and play top-class opposition.
"It's important for us as a club but it's also important for us as a league. The knock-on effect it has with the co-efficient is really big.
"It's massive for us as a club, for everyone to play in and financially. But also for the players to test themselves against opposition. We're hopeful that it gets played."
"Clubs that would have broken even in the past, it's not going to happen this year"
Staff and players at Rovers agreed a 25% pay cut in April while other Irish clubs have temporarily laid off their entire staff, with no date for a resumption of the SSE Airtricity League yet on the table. Government guidelines suggest games could be played without spectators from 20 July.
Bradley admits the financial implications of returning to action without fans are dire but says clubs will just have to make the best of a bad situation.
"Every club is going to take a real hit this season. That's around the world," he said.
"We need our gates and sponsorship more than most leagues around Europe but we've got to adjust to the times.
"Clubs that would have broken even in the past, it's not going to happen this year and we've got to take that on the chin and move forward.
"Otherwise, you just put football away to next year and for me that's not an option.
"We have to adapt. We're the same as any business in this country or industry around the world. You can't just sit still and hope things become better. It looks like we won't have a vaccine for quite some time.
"So we have to make sure we adapt and can work within the government guidelines."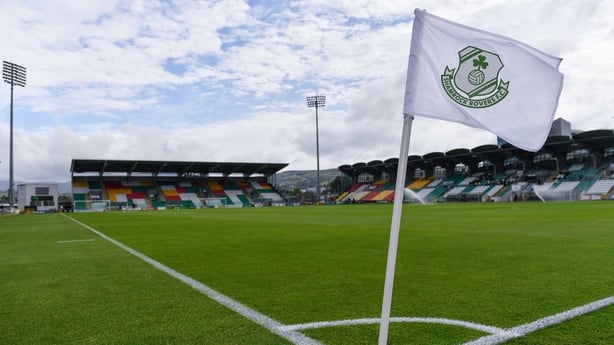 The Hoops had a 100% record from the five league games they played before Covid-19 intervened in March but Bradley doesn't believe the involuntary delay will stall his team's momentum.
"We've been on a good run," he said. "I think the break will bring us back hungry, give us time to rethink, refresh. They've got through it and they'll be ready to go.
"It's not ideal obviously but it's been fine. We've been giving the players some time off and then we've been working them other weeks. We've had to adjust and get on with it.
"I think all players just want to be back training as a group. They love that environment, being around their friends. That's what being part of a team is all about.
"Although they've been doing their own bits we have to look at it as a pre-season, because they've had such a long time off.
"But we have to be careful as well that we don't push it too hard because we have a long time before we play our games. Other leagues around Europe have had a spike in injuries when they came back.
"We're going to have measures in place next week when they're back so as long as it's safe for everyone, I think they're really looking forward to getting back."
Listen to the RTÉ Soccer podcast on Apple Podcasts, SoundCloud, Spotify or wherever you get your podcasts.