Eighteen days before the 1985 European Cup final. 56 fans lost their lives when fire engulfed Bradford City's Valley Parade ground. On that same afternoon, a 15-year-old Birmingham City supporter was killed when a wall fell on him while a riot was ongoing at St Andrew's.
Dark days for English football and it got worse. Liverpool and Juventus' eagerly awaited encounter to see who would be champions of Europe was played out while 39 people lay dead on one terrace in what was then a crumbling Heysel Stadium.
A charge from Liverpool supporters led panicking Italian fans to retreat and be crushed by a wall which toppled under the pressure. Among the dead was an Irishman, Patrick Radcliffe.
Dreadful images were beamed around the world. The late Brendan O'Reilly, who presented RTÉ's coverage at the time, uttered " some people have departed life" as news was filtering through.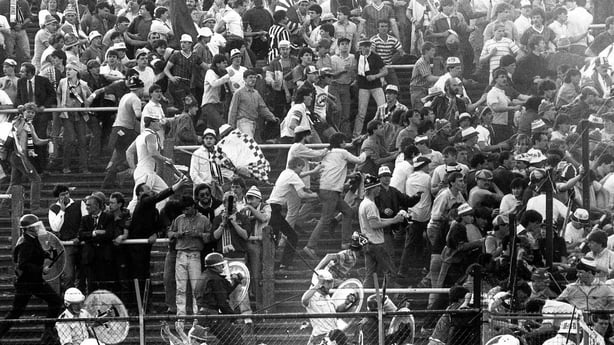 Ger Canning was in the commentary box that night. "I saw bodies being carried out on to the track by personnel using metal barriers as stretchers. They came one at a time; soon it took on the image of a hospital ward repositioned in a sports ground."
Canning's memory of that night was summed up quite tellingly in an article he wrote on these pages in 2015.
His producer Mike Horgan would pass him notes on the number of dead and finally when some sense of order was brought to bear, Canning added: "Even the 'mad minority' attracted by football's competing macho cultures seemed truly shocked when news of the lives lost in Heysel was revealed. The rest of us got back into buses and were thankful to be able to do so.
"At least we were among the living."
We need your consent to load this rte-player contentWe use rte-player to manage extra content that can set cookies on your device and collect data about your activity. Please review their details and accept them to load the content.Manage Preferences
Listen to the RTÉ Soccer podcast on Apple Podcasts, SoundCloud, Spotify or wherever you get your podcasts.