Derry City director Sean Barrett has praised the four-team tournament initiative organised by the FAI that will form the first stage of football being played in Ireland again.
It was announced last Friday that the Candystripes, Dundalk, Shamrock Rovers and Bohemians would play in a behind closed doors competition at a neutral venue on a to be confirmed date before the league resumes. 
The teams would be given Covid-19 testing from late May and train from early June.
The FAI say the four-team tournament will provide all stakeholders with an opportunity to learn more about how to function in the current environment from these games.
The quartet were selected to help their preparation for any potential European matches later in the summer.
All other teams can return to collective training on 29 June. No date has been set for any league matches.
We need your consent to load this SoundCloud contentWe use SoundCloud to manage extra content that can set cookies on your device and collect data about your activity. Please review their details and accept them to load the content.Manage Preferences
Barrett admitted little had been translated in terms of detail of the tournament - and while it gives preference to a select group of clubs - he feels they will learn from it if they can send their staff to view it.
Speaking on the RTE Soccer Podcast, he said: "I think it's a good idea. I think the concept of trying something out, if they are going to go to regionalised venues later on, then this is a good example to get it started.
"It's a controlled area in Tallaght or the Aviva Stadium or wherever it'll be, to be a good template to see how things go.
"I don't know much about it yet. It'll be great for Dundalk, Bohemians and Shamrock Rovers and also good for all the other clubs to have a look at it to see how things will be done.
"I'm sure the other clubs will have representatives invited to monitor the situation and see how they are going to adapt."
A potential scenario of neutral venues to play league matches when the season resumes has been floated – with reports that the Aviva Stadium, Thomond Park, Tallaght Stadium and Athlone Town Stadium could provide regional hubs for games to be played.  
That situation continues to evolve.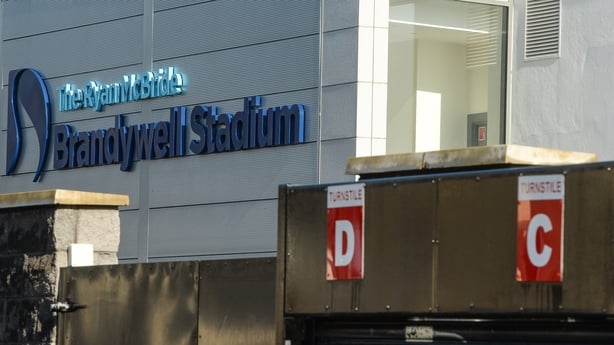 The Derry City director said his understanding is The Ryan McBride Brandywell Stadium, which at one time was being lined up as a venue, no longer looks to be in the mix, but the stadiums in Galway and Sligo could replace Athlone.
He said: "I don't think The Brandywell is going to be considered. I think it's the perfect location as a new ground with new changing rooms and wide, spacious areas. It's a fluid situation and things change on a daily basis.
"I was under the impression one of the grounds was Athlone and now I'm hearing it is Sligo and Galway.
"So I don't know. Location is obviously a factor and changing facilities as well. The (potential grounds) have been changing so they have obviously been looking at a lot of things.  
"My understanding is you can't play at your home venue. For example, if Sligo Rovers have a home game, they would play in Galway.
"So from a Derry City point of view, it doesn't matter to us, but I would like to see The Brandywell used as a good showcase for the League of Ireland because it is good modern stadium that will enhance the game, especially to a streaming audience.
"From a club point of view it won't make a difference. It's such a fluid situation that overall I don't know what will happen."
Clubs will this week learn of what the proposed financial support to help them return to training and matches is, with at least 50% of full-time players in the league now placed on the Covid-19 scheme or temporarily laid off.
The FAI say that UEFA are imploring them to finding a solution that the clubs are happy with and can agree upon so the league resumes.
That, according to Barrett, will all depends on whether the finances are right.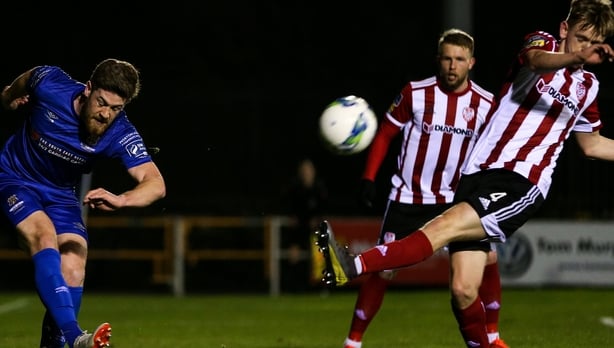 "That is the big question. Of course it wouldn't be viable to go to those grounds (without enough funding). The FAI are looking at a package, at a number of things to keep football going in the short-term.
"My hope is that we play a few matches behind closed doors and then bring the capacity up to 25% of stadiums and then 50% which would help significantly.
"People who think of wiping out the season need to look positively and that if we can play with 50% of capacity come September or October, that would help finances a lot. Financially it's not going to work without funding.
"We're very keen to get back. I think society would love to get football back. We've spoken to the players and they would like to get back. We're very much keen to be back playing and watching football.
"Our mantle has always been to play. If it is not safe to do it, there is no way a Derry City player or any club would go back.
"From what I'm hearing, and I need to hear a lot more because there are  lot more questions than answers at this moment in time, I don't see why we can't return to play."
We need your consent to load this SoundCloud contentWe use SoundCloud to manage extra content that can set cookies on your device and collect data about your activity. Please review their details and accept them to load the content.Manage Preferences
Listen to the RTÉ Soccer podcast on: Apple Podcasts, SoundCloud, Spotify or wherever you get your podcasts.