In the summer of 1990, an Irish team made a memorable run to the latter stages of a competition as an underdog.
But unlike the Republic of Ireland at Italia '90 a month later, St Francis' journey would not include an audience with the Pope or provoke a pen-throwing incident from Eamon Dunphy.
Thirty years ago, just a month before the World Cup would put soccer front and centre in this country and leave us with cultural touchstones, non-league St Francis would make a shock run to the FAI Cup final where they would ultimately fall short against Bray Wanderers.
It was the first time in over five decades that a club from outside the League of Ireland divisions had got to the cup showpiece with the added lustre that Lansdowne Road would host the decider for the first time.
But as goalkeeper Gary Matthews recalls, as far back as the 1980s under manager Pete Mahon, the club from Dublin's Liberties had structures, training preparation and practices in place that helped them to mix it with the big boys from the LOI.
"It was the first club that I actually got involved with that were looking at decision-making and game-related scenarios in training sessions," Matthews tells RTÉ Sport as he reflects on the anniversary.
"Normally a training session was a lot of running and a lot of clubs in fairness tried to vary the running in certain ways. But at the end of the day it was running all the time and not much football."
In contrast, St Francis put an emphasis on small-sided games and scenario training and also the type of gym work that wasn't prevalent at the level that they would have been involved at in the Leinster Senior League.
"I remember down in Dolphin's Barn, one group would go out and we'd be doing our football and our fitness stuff and then some game-related stuff and then another section of lads would be inside the dressing rooms, using weights which was the first time I'd seen that in soccer," Matthews explains.
"We were doing both strength and conditioning and running, so they were a bit ahead of their time then."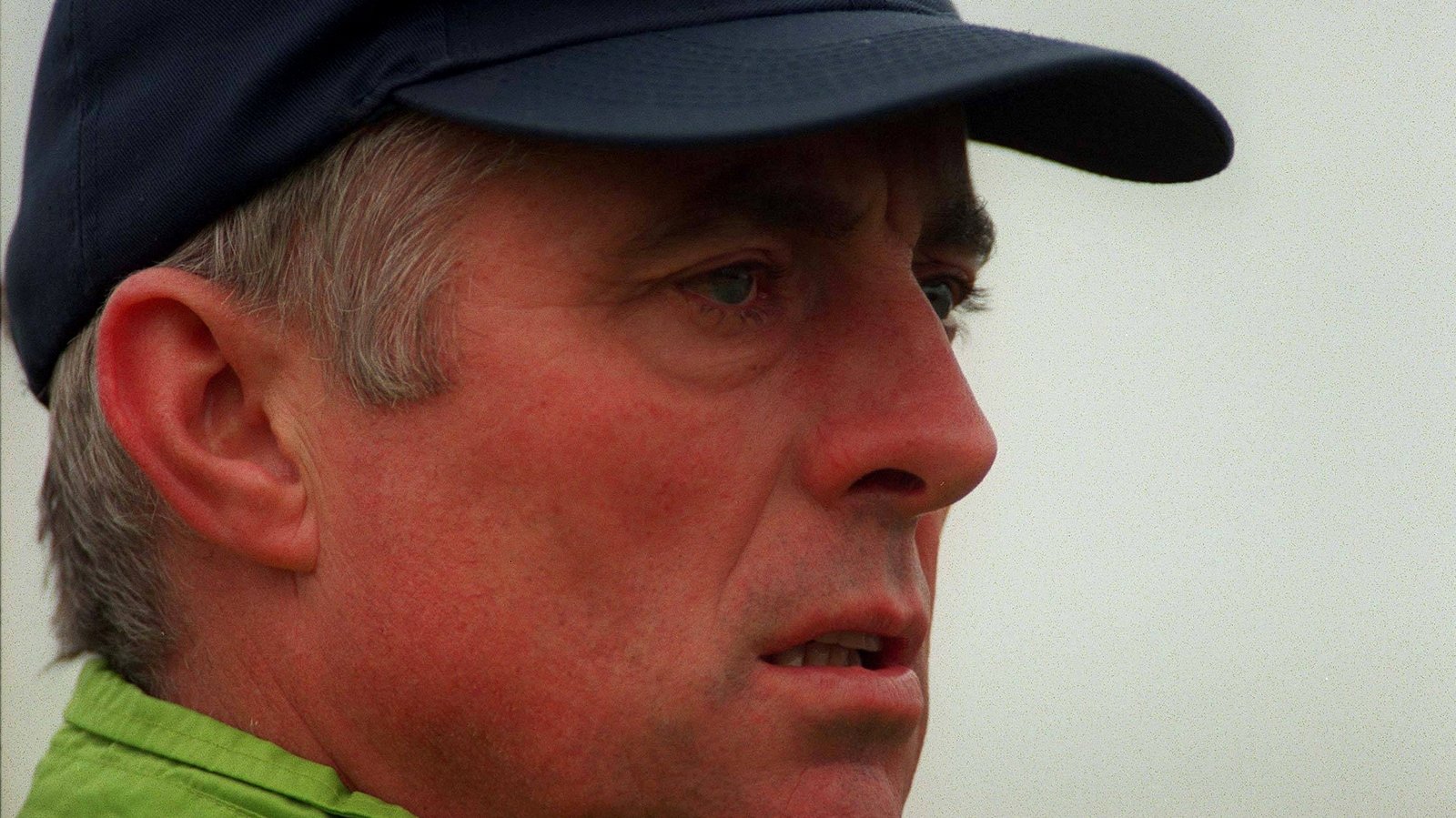 Mahon would go on to coach and manage at League of Ireland level after his memorable spell with St Francis but even as far back as the 1980s and early '90s, Matthews recalls an impressive character who "had a great way of getting the best out of all his players" by instilling belief.
"You'd have to ask Pete himself but I think when he looks back at that team from 1990, he had a fantastic bunch of players who would actually have died for the management at the time," says Matthews.
"You don't get tightness like that unless you have mutual respect."
Still, even with belief and all the will in the world, they faced a tall order in getting to the FAI Cup final, especially was their status meant they would have to take the scenic route.
In April, Mahon told RTÉ Radio One's Sunday Sport – in a chat alongside Bray counterpart Pat Devlin – that his team "had to qualify for the FAI Cup through the Intermediate Cup".
First up were fellow non-league Pegasus in the preliminary round, which arguably proved to be the toughest tie on the journey.
"Pegasus were a strange outfit all along in all the years that we were playing them," says Matthews.
"We always had absolute ding-dong games with them and that particular year was no different. For some strange reason, they had an affiliation with UCD I think at the time. They had a surplus of players and they needed to play football and unfortunately for us they were playing for Pegasus most of the time and it gave you absolute top-quality games."
Ultimately, it would take a replay for St Francis to prevail and go another step on the journey.
As momentum built, they would account for former League of Ireland outfit Kilkenny City and Newcastlewest.
The Dubliners also memorably defeated Cobh Ramblers in one of Roy Keane's final games for the county Cork club before his move to Nottingham Forest.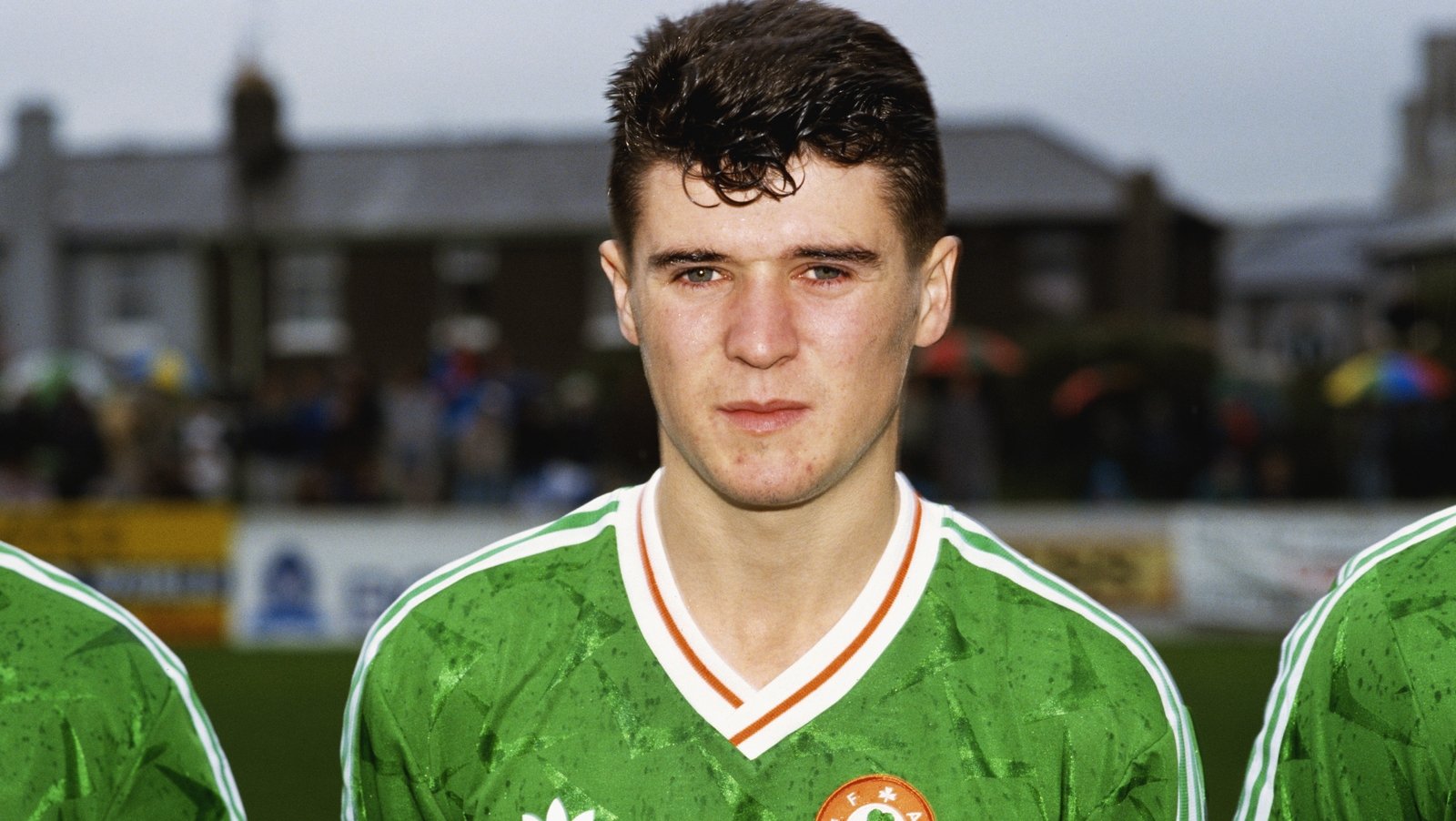 The future Manchester United and Ireland captain scored past Matthews, albeit with the help of a fortunate deflection.
"It was extremely lucky, between you and me," says the goalkeeper of that goal.
"I had it all the way until it clipped the inside of [our defender's] ankle and went in the opposite direction."
Keane, of course, was just 19 at the time and was far from the finished article that would go on to win every club honour available in the decade and a half to come.
Matthews recalls the Corkman playing well in the game, "he wasn't exceptional at that time but he was only young" and "skinnier and lighter" in build than the player we would know once he matured physically.
"I remember Pete built him up quite well. Pete knew everybody in schoolboy football and [Keane] was playing internationally at underage level and I remember him commenting on Roy Keane and the way he spoke about Roy Keane, we all knew this young fella was special," he says.
"At that time, he was back and forth to Forest so we weren't sure if he was going to play [for Cobh] which was adding uncertainty.
"We were being told that he was very, very good but we were also being told that he was over at Forest and he wasn't coming back."
Keane's goal wasn't enough for Cobh though as St Francis set up a dream semi-final date against League of Ireland royalty in the shape of Bohemians, a tie that took place at Tolka Park.
Bohs were overwhelming favourites going into the game but Matthews regards them as "the elephant in the room that [St Francis] had been looking at all along" during their cup run.
"We were basically looking to get one of the big guns and the big gun at the time was going to be either Bohemians or Shamrock Rovers, so they were in our sights so there was a case of wanting to get them and the belief was there as well," he says, adding that their own training methods and the good standard of Leinster Senior League at the time gave them added impetus and meant there was no sense of an inferiority complex.
Regardless, it would have to be a backs-to-the-wall performance for St Francis and so it transpired.
Matthews was peppered with shots and efforts to deal with throughout the 90 minutes as he kept a clean sheet in the 1-0 victory.
"I remember coming off the pitch absolutely exhausted," he recalls.
"The noise level in the dressing room was huge and I was just sitting there and I wasn't part of it. I looked around at Martin Kerr and he was equally as exhausted as I was.
"When I look back on the game itself and speaking to Martin, it was one of those games where he at centre-back and me in goal, just couldn't take one second to zone out of what was going on.
"We were tightly wound up all through the game that everything Bohs did could potentially end up in a shot on goal.
"Normally in a game in the level we were used to playing each week, we'd glide through it and manage okay. But with this, there was a heightened sense all the time. Every time they got the ball, whether their back was to me and the ball was coming into them, I was wound up and knew there was something coming at the end of this and they only needed an inch."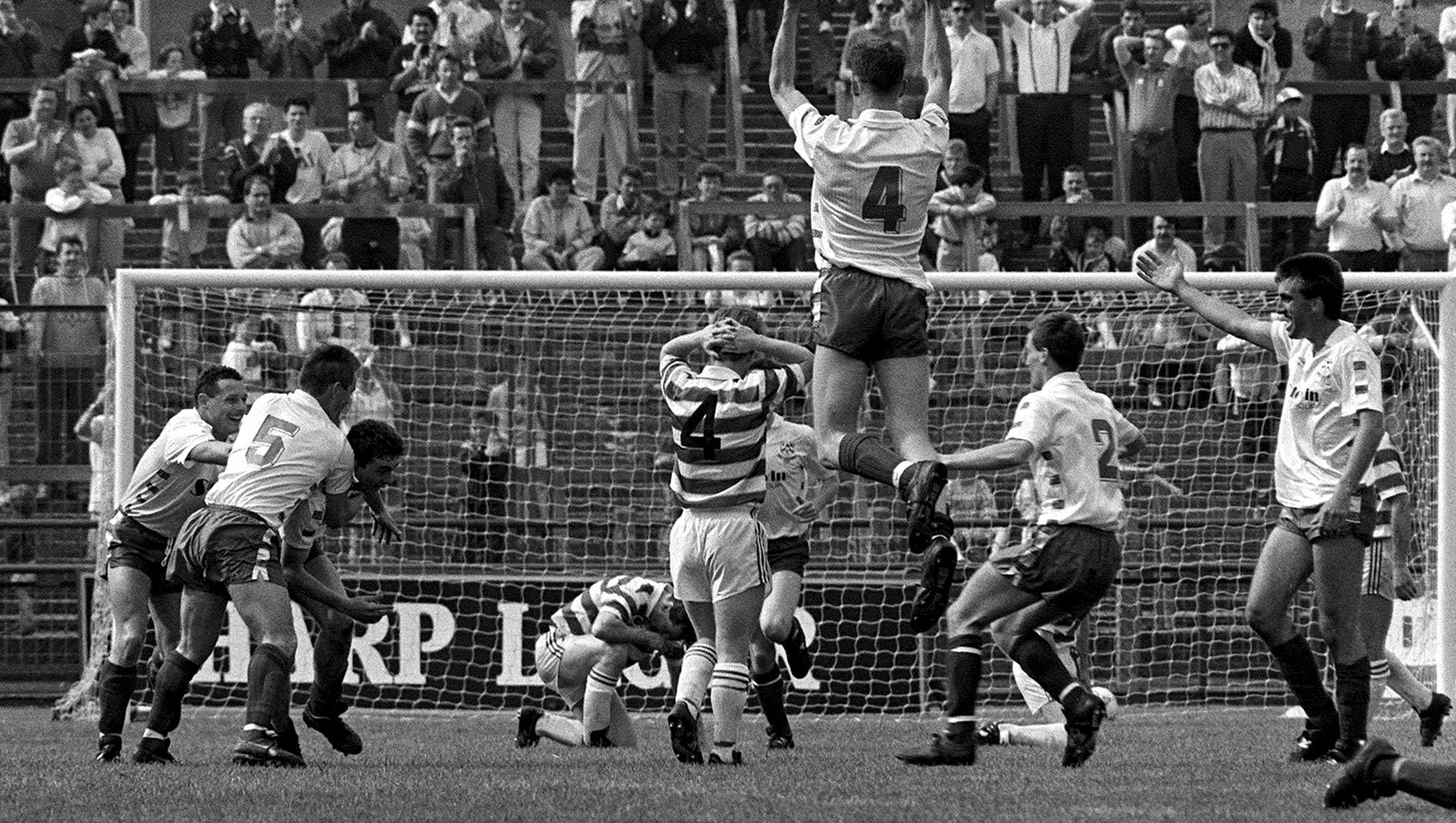 Fortunately for St Francis, the game would be decided at the other end where John Murphy scored the most famous goal in the club's history.
That set up a decider against Bray Wanderers who had only been elected into the League of Ireland First Division four seasons previously, so had an innate understanding of the threat St Francis posed.
As Bray boss Devlin told Sunday Sport, they certainly weren't going to underestimate a Leinster Senior League side and also had to contend with extra pressure.
"The last thing the League of Ireland would want is for a non-league side to win the cup," he said.
"And so now we're representing the whole league because we're now a First Division team but people sort of forgot that five years prior to that, we were a Leinster Senior League team as well."
As the media took an interest in St Francis fairytale in the build up to the decider at the old Lansdowne, he also felt some of the pressure then switched to the non-league side as their story took the spotlight.
Mahon on the other hand didn't feel that at the time and felt that instead all the pressure was on Bray, referencing Devlin's point that a league side would not want to be beaten by a non-league team on a big stage.
Coincidentally on the eve of the final, some of St Francis attended the wedding of one of their team-mates Trevor Coleman.
"That had nothing to do with [the result] though," Matthews adds.
"I think a couple of the lads did go to the actual reception but it was just unfortunate that the wedding was planned in those days well in advance and it just coincided with the cup final.
"Of course, Trevor got an awful lot of slagging after that because we all turned around and said (jokingly) we genuinely believed that we were going to get to the cup final and we knew the date but Trevor obviously didn't believe in the same script that we did and went ahead and booked his wedding."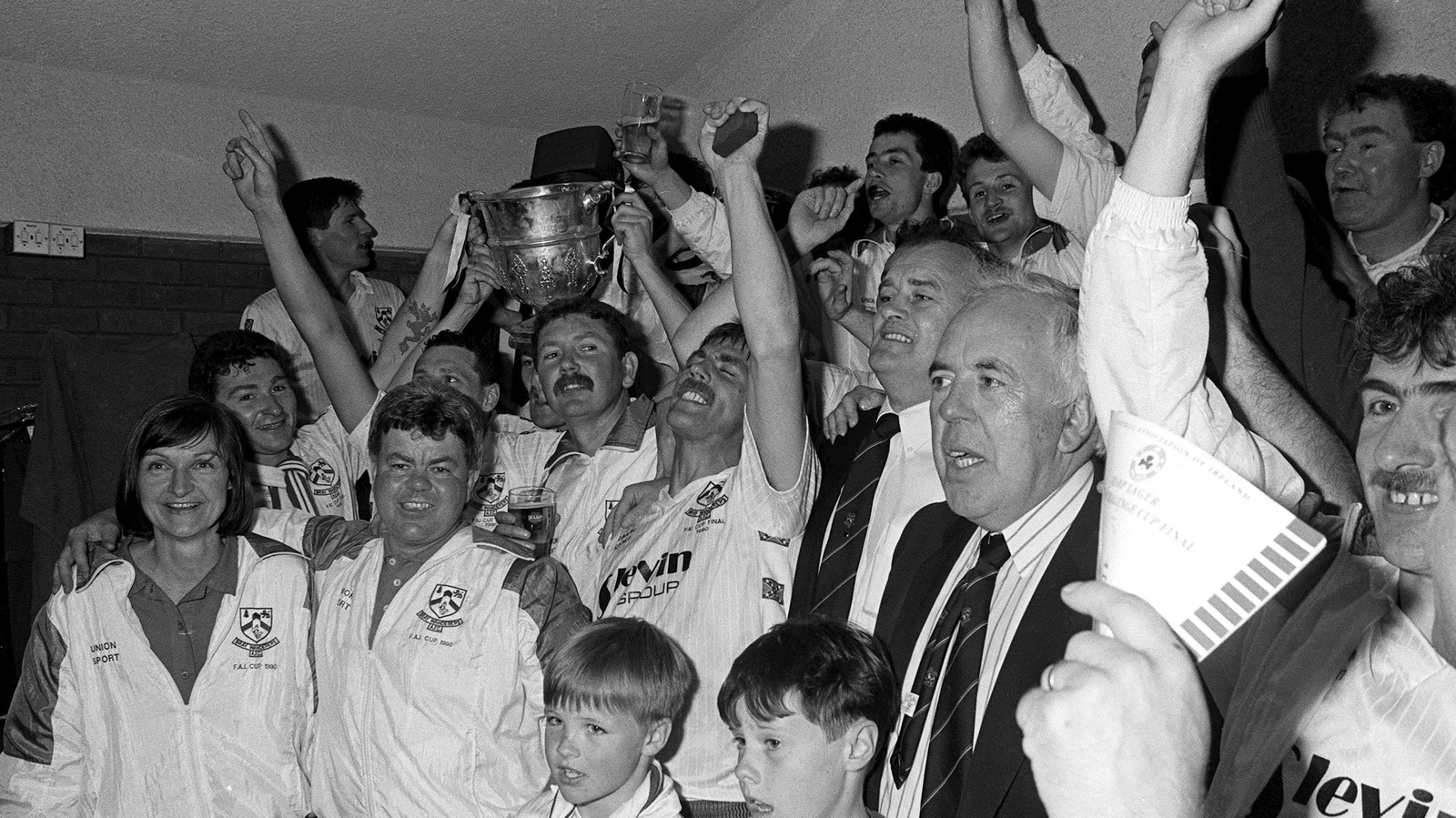 While Matthews had initial worries that the relative size of St Francis and Bray's fanbase would be dwarfed by the scale of Lansdowne Road, he and those involved from both sides were delighted to find out that 33,000 had packed in for the showpiece event.
They first got a hint at the size of the attendance when Ireland's manager – in full World Cup prep mode - walked in.
"Jack Charlton came into one of the dressing rooms to congratulate us on what we were after achieving and wishing us the best of luck," says Matthews.
"But someone came in from the FAI either with him or just after him and said that they were delaying the game by 20 minutes to accommodate the crowd and we kind of thought they must be out on the street trying to pull people into the ground.
"And then when we came out into the tunnel and out onto the pitch, we were told that the two stands were going to be opened up and then we found out that they had to open up the two ends also. That was amazing to see and to hear."
In the end, Bray would prove too strong, winning 3-0 thanks to a hat-trick from John Ryan and picking up their first major trophy.
For Matthews, Bray's direct approach was difficult to deal with in comparison to the other games where play had been built from the back.
"We were dealing with balls being played over the back four into the channels and that hurt us," he says.
While the pain of defeat has receded 30 years on, it has left room for St Francis to reflect on the scale of their achievement in even getting as far as they did.
Through the chief get-together ringleader Bernard Connolly, some of the St Francis players still meet up occasionally to this day to reminisce and share each other's company.
And as manager Mahon told Sunday Sport, there is a sense that they deserved to get as far as they did in 1990, given that they beat four League of Ireland sides along the way to kick off a memorable summer for Irish soccer.