Shay Given says the FAI got it wrong when it came to the management succession plan, but the former Republic of Ireland keeper is looking forward to seeing what Stephen Kenny can deliver as the new man at the helm.
Speaking to RTÉ Radio's Sunday Sport, Given expressed disappointment at the way Mick McCarthy was treated when Kenny was handed the reins last month.
McCarthy didn't get the chance to take Ireland to the Euros as the championship was postponed until 2021, with the play-off against Slovakia also put back to a later date, possibly to the latter stages of this year.
"I don't think that giving Mick McCarthy a two-year contact with a predecessor waiting to take over was the right thing to do," said Given, now a goalkeeper coach at Championship club Derby County.
"Mick will feel hard done by that he didn't get the chance to go to the Euros, but it's time now to get behind Stephen and try and qualify."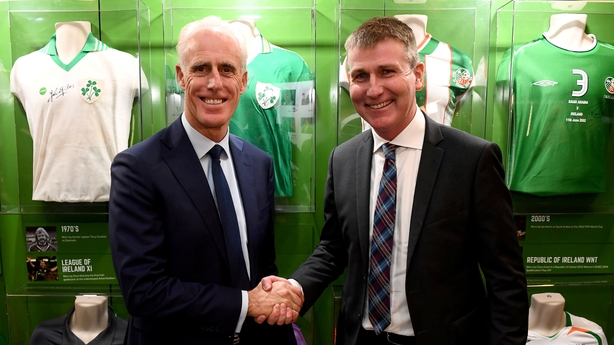 Despite his reservations about how the FAI handled the McCarthy situation, Given is confident about the future with regard to the national side.
"I'm looking forward to see how Stephen sets up the side," he said
"I believe that we have a lot of quality players in the Irish squad and a lot of them play in England with teams that do look to get the ball out from the back and look to play football.
"I think there is a structure to Stephen's teams, how he wants them to play and I believe that's the route he is going to go down.
"But you can play all the great football you want, it's all about results. If he can get his team playing in a positive way then the outcome will be more successful.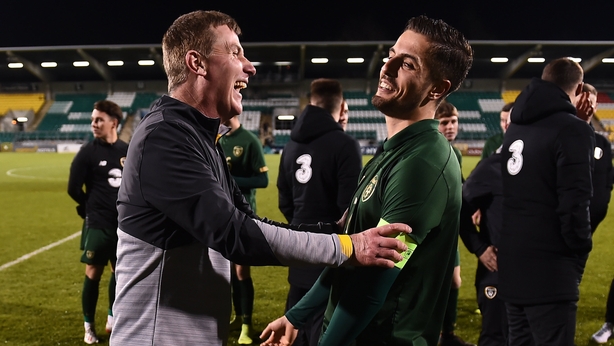 "Hopefully there will be exciting times ahead if Stephen can get the players to where he wants.
"We need to get behind him, his staff and his players and get what's best for the country and that that's to qualify for the major tournaments.
"Stephen knows he has to get results but I feel he won't sway from how he wants (his team) to set up."
It's been a frustrating few months for Given, with football at a complete standstill. But he hasn't been idle, caring for his family and setting up the caregiven.co.uk charity to help supply Personal Protection Equipment (PPE) to frontline hospital staff
"I'm on daddy care at the moment, two teenagers and two toddlers, so different sets of problems from both sets. But personally it's been good as I've been able to spend time with the family. Normally I'm away a lot of the time.
"I think it's important that people don't watch too much news and don't get dragged down too much, you have to keep the spirits up and remain positive"
"In a football sense I've not being doing a lot. I have had group chats with staff and with the goalkeepers individually to try and keep them focused.
"I think it's important that people don't watch too much news and don't get dragged down too much. You have to keep the spirits up and remain positive that we will come out the other side of this and come back stronger for it."
As for how, Care Given came about, the Donegal native added: "A good friend of mine Rob Nobel came up with the idea for Care Given. I think in times like this it's easy to sit back and do nothing and we were quite concerned at the lack of PPE for frontline staff.
"So the idea to provide the PPE came about. It's a non-profit organisation and we are providing the likes of masks to help in the fight against Covid-19."
Football continues to grapple with the potential challenges of a return to action, with a third Brighton player and five La Liga players testing positive for the virus.
Two other Brighton players, whose names have also not been revealed by the club, contracted the virus earlier in the pandemic.
They are understood to have since recovered but it is not clear whether or not they have returned to training yet.
As to when he'll be back coaching, Given outlined: "The Championship is governed by what the Premier League do so I think we are waiting for the (British) government to see if we get the football back on. I think it would be great to give us a boost and to get the focus away from Covid-19.
"It is frustrating waiting to see what the next step is. It will take three or four weeks for the players to get up to full fitness again. It doesn't just happen over a week or ten days, it takes a bit of time."
The netminder, who won 134 caps for Ireland, also expressed the hope that he can progress as a coach in his own right and that in the not too distant future will become a manager or indeed an assistant coach.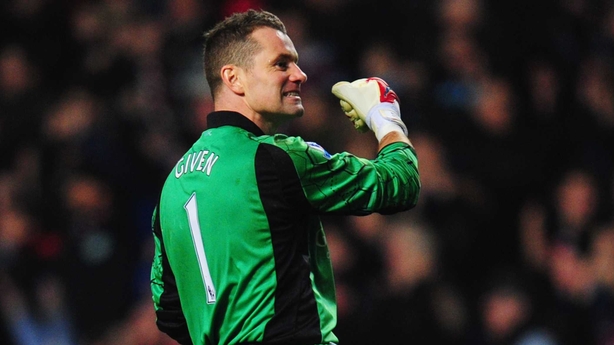 "Last year I worked with Frank Lampard and this year with Philip Cocu who has great experience with PSV and for me it's a great learning curve.
"For me one day I would like to be a manager or an assistant. I feel that I'm good with players and (being at Derby) has been a really good apprenticeship for me.
"The game has moved on a lot since I started (as a teenager with Celtic). Pep Guardiola at Manchester City is an example of how to set up a team, the high intensity, how to press high up the pitch.
"He would be someone I would look up to in terms of coaching. You know the days of humping the ball 70 yards down the pitch and hoping for the knockdown or the flick-ons are long gone and we now have to have a structure in how we play the game.
"I know that not every team can play like City as one doesn't have the players or the budgets, so you have to adapt and keep possession of the ball."
And would Shay Given, the man from Lifford, be interested in one day becoming manager of the Republic of Ireland?
"Ask anyone, of course they would," he said.
"But I would have to gain experience at club level first and become a manager or an assistant first before I would even dream about that."