"It's amazing what has developed from a poster falling off a wardrobe in someone's house that was doing a bit of spring cleaning" - Paula Gorham
Fifty years ago today, the Dundalk FC women's team played a renowned Manchester outfit in a charity match in Wales.
The English side won 7-1, in front of a crowd of 4,000 who had paid a (soon to be obsolete) shilling apiece to watch. There were a few paragraphs in the Louth local papers and that was it. Everybody involved moved on.
But the recent discovery of a poster promoting the event underlines the deeper significance of the game - three full years before the Women's Football Association of Ireland was founded, it was a de facto first international match for a Republic of Ireland women's team.
A Dublin Ladies selection had hosted Scottish side Rutherglen at the Shamrock Rovers ground in Miltown, Dublin in 1927 - during the Irish Free State period - but for the following four decades, organised football for women declined in an Ireland that officially saw their place as being "within the home".
By the late 1960s however, thriving indoor leagues for both males and females had sparked a revival of interest in women's football, and the establishment of Dundalk Ladies in 1968.
(Picture courtesy of nationalfootballmuseum.com)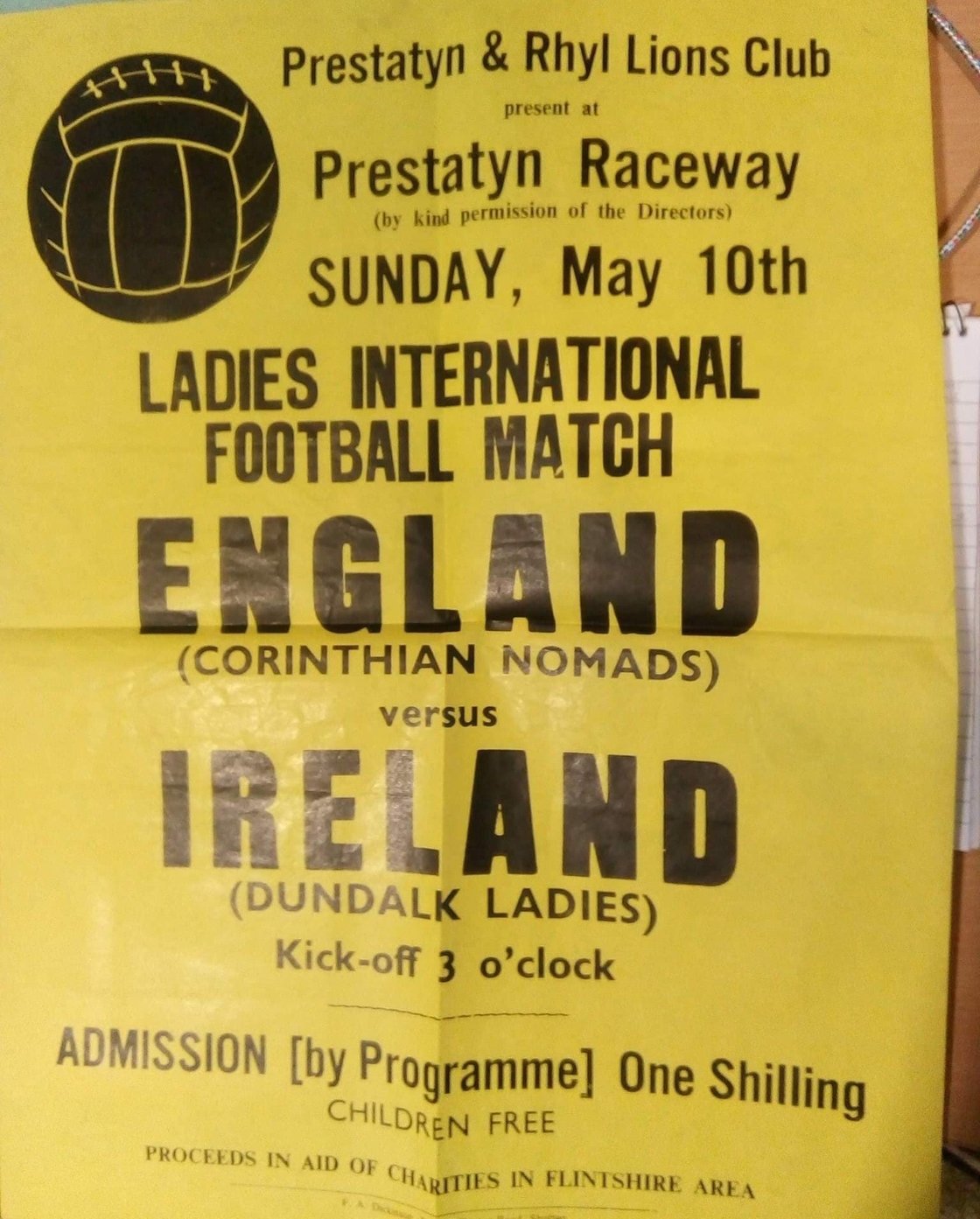 The full name of Dundalk's opponents was the Manchester Corinthian Nomad Globetrotters and it was no idle boast. They had been touring worldwide, raising money for charities and playing in front of crowds as large as 40,000 since being started by Bolton Wanderers scout and referee Percy Ashley in 1949.
"They were a very strong team who would often go on tours and play men's teams," says Helena Byrne, a native of Julianstown near Drogheda, and a librarian at the British Library who researches women's football history.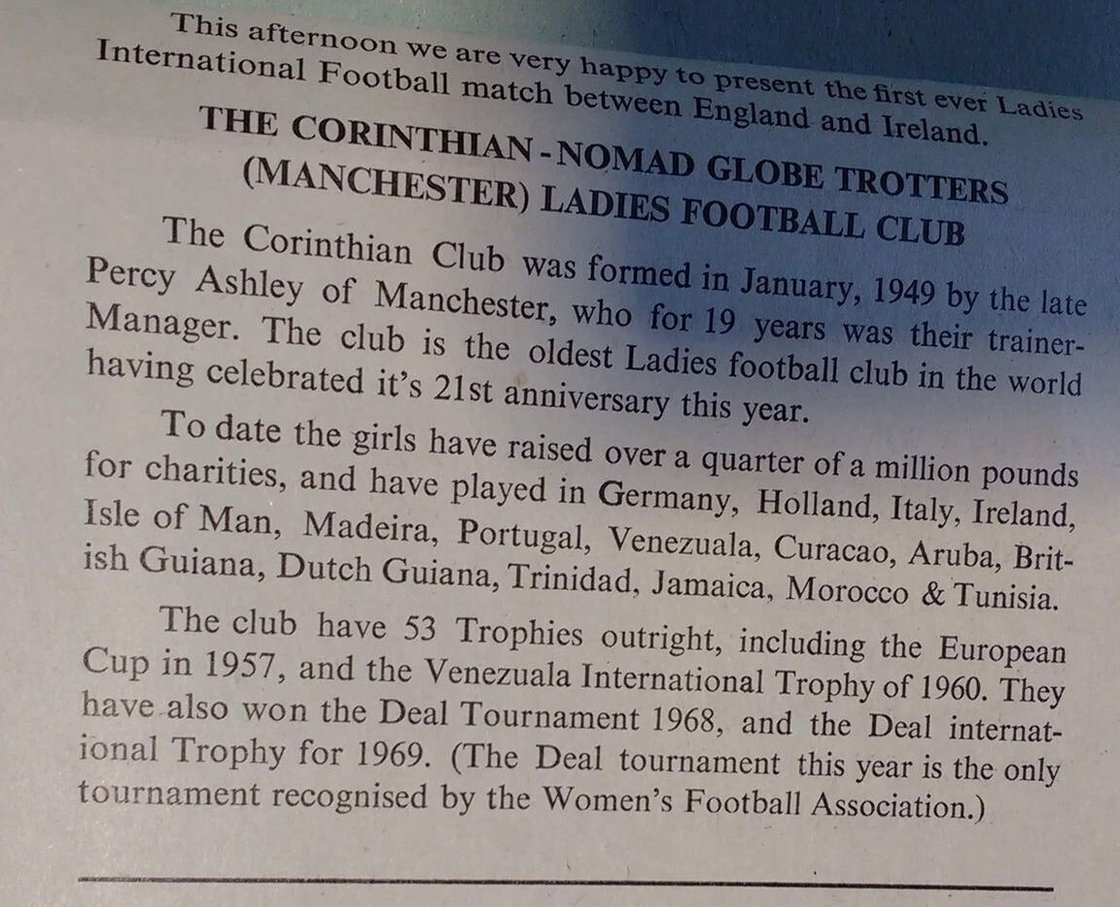 The 1970 match was held at Prestatyn Raceway, a harness racing stadium in North Wales, 40 miles from Liverpool.
One reason for the venue was that the English FA had banned women playing on their grounds since 1921, officially on the grounds that it was "quite unsuitable for females" but unofficially also because the women had drawn alarmingly large crowds while the men were off fighting wars.
Dundalk Ladies had only been playing two years, and half-hour a side games before the men's League of Ireland encounters at that, but they had never lost and so were billed in Wales as the Irish champions.
"If Dundalk were playing Waterford, we'd play the Waterford ladies. If they were playing Limerick, we'd play the Limerick ladies," explains Paula Gorham, Dundalk's star striker and goalscorer against Corinthian Nomads when she was still a month shy of her 17th birthday.
"There were always big crowds at our games, purely because they were coming to watch the men's match, not because they were coming to watch us. I'd say the attitude was more of a skit watching the women.
"But sometimes men used to shout 'Why isn't she playing on the men's team?'"
A newspaper interview with the Daily Mirror in 1969 has the then-15-year-old Gorham declaring "We have proved that soccer is not just a sport for boys".

A year later, she confidently asserts that Dundalk Ladies "could beat most men".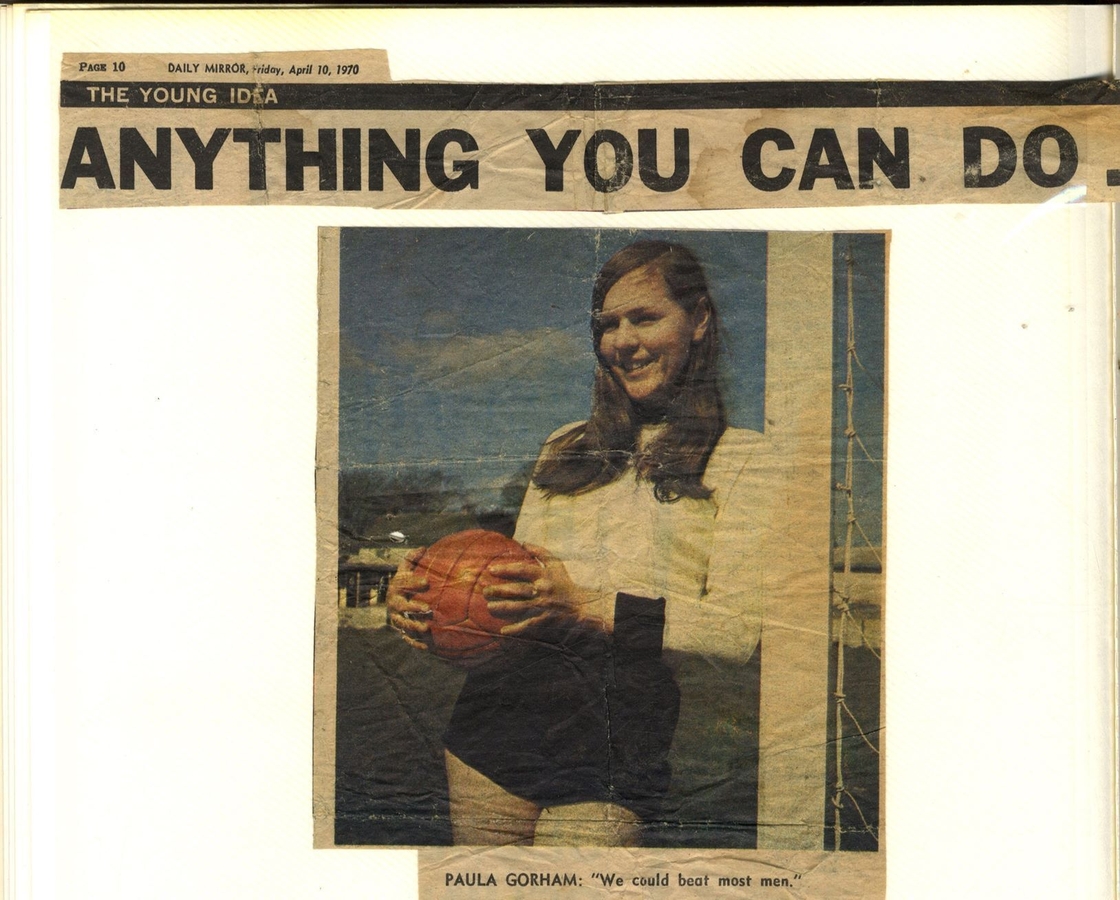 Club secretary and coach Kevin Gaynor - "the man who drove Ladies football to where it is today" according to Gorham - and his wife Nan had ensured Dundalk were founder-members of the English WFA in 1969 but the logistical and financial difficulties of organising trips abroad meant this was a rare appearance across the water.
At half-time in the men's games at Oriel Park, the Dundalk women walked through the crowd with buckets, selling raffle tickets to finance their journeys around Ireland and eventually to Wales.
The trip to Prestatyn wasn't a glamour jaunt - Paula recalls an eight-hour ferry crossing, long drive there and accommodation alongside the opposition in local B&Bs and family homes.
She recalls though: "To me it felt like we were playing England, for the simple reason that we had never left Ireland before.
"I don't think we were ever beaten but we certainly got a lesson on how to play football when we went over to the Corinthian Nomads.
"They were so professional and well-organised. They played all over the world. But it was a good experience and we learned from it.
"We went to a nightclub after the game and gave them a standing ovation when they walked in. One of the players stood up and said 'We beat you well, but when we go to Ireland we'll beat you again!'"
Corinthians racked up seven goals but according to The Argus two of them were "definitely offside". The Louth newspaper described Gorham's solitary strike for the Irish team as a "30-yard free-kick".
She has no clear memory of it, but one of her team-mates insists it was more of the David Beckham variety.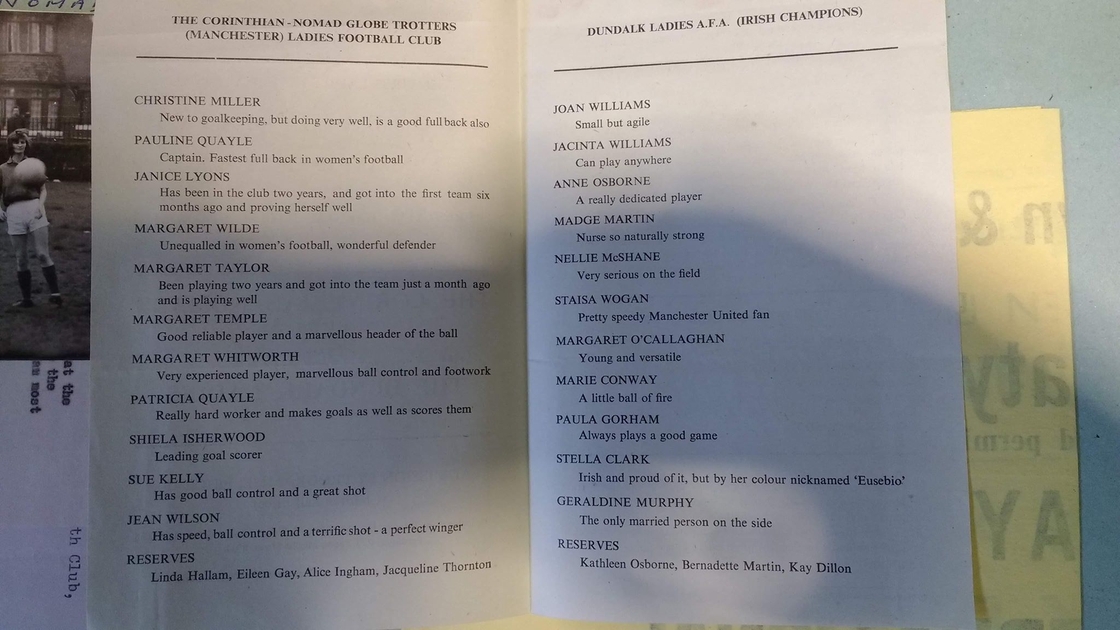 "Our captain Marie Conway (dubbed 'a little ball of fire' in the programme notes) told me: 'I'll never forget it. I was out on the wing, I passed the ball back to you on the half-way line, you saw the goalie off their line and you put it over her head and into the net'."
Multi-talented sportswoman Gorham also competed in Gaelic football (for Louth and Leinster), squash, badminton and athletics but admits "Soccer would have come first for me. I came in from school, threw my bag on the floor, got the ball and out on the street."
She was offered a professional contract by French outfit Stade de Reims - who went on to sign her future international team-mate, the late Anne O'Brien - but turned it down at her father's insistence. She has no regrets over that choice but admits she would relish the chance to be a pro in the modern era.
"I was asked to join and my Dad wouldn't let me go. I was too young, finishing off school or just starting work. He was a very quiet man but he put his foot down and said 'No, she's too young'. I didn't dwell on it, I'd say I would have been homesick anyway.
"I would love to be in my youth now, around that 15, 16, 17 mark. I have no question I'd be with Arsenal or one of those teams. I would love it."
When the WFAI was established in 1973, almost a full three years after the Corinthians clash, Gorham scored a hat-trick in the Republic of Ireland's first officially recognised women's international - a 3-2 victory away to Wales.
She went on to play 11 times for Ireland, including while five months pregnant against England in 1978, but it wasn't until 2016 that she finally received an international cap from the FAI, and even then only after a determined campaign by her daughter Orla.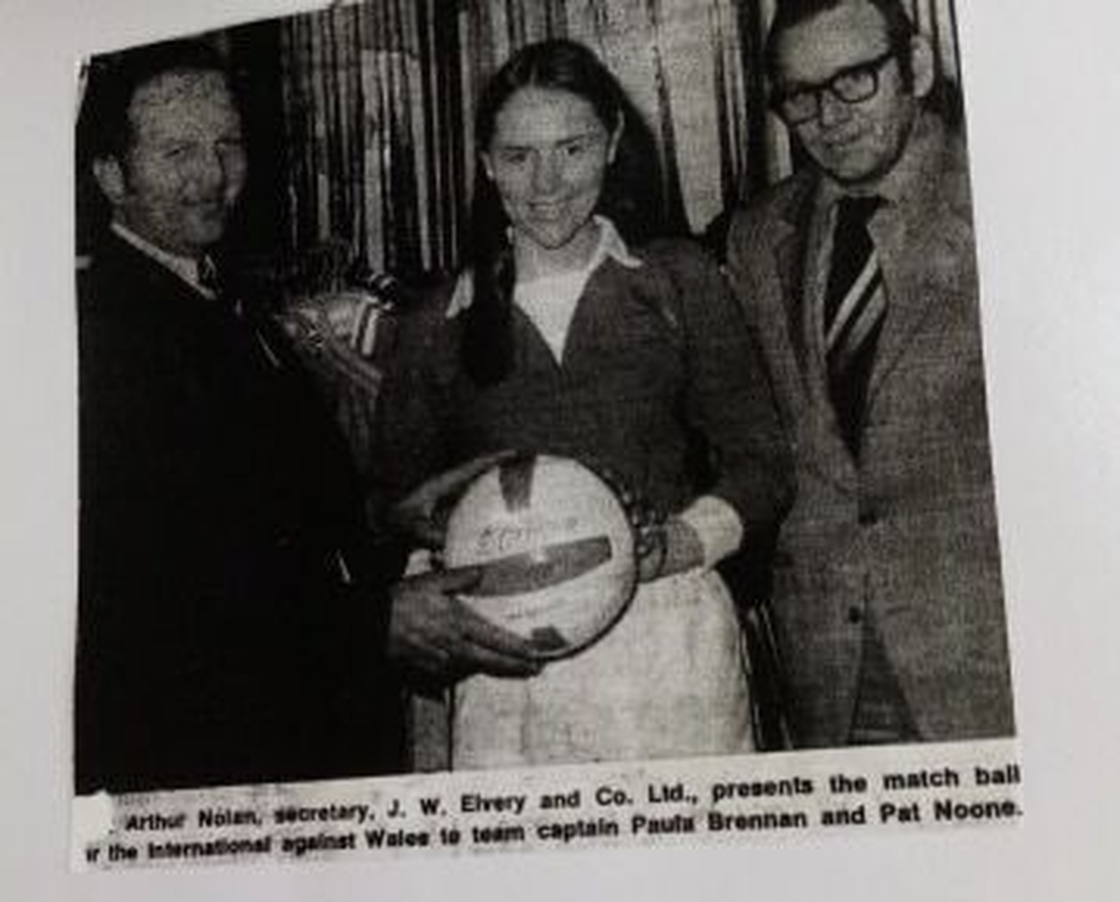 "It was absolutely horrendous the way the ladies were treated," she recalls. "Even when we played our first international match (in 73) we had to pay our way.
"The one cap I have represents my 11 internationals. I didn't get a cap for each game. It was nearly degrading having to go and beg for it."
She is heartened however by the growing support for today's Irish women's team, which she and her former Dundalk team-mates witnessed at first hand after being guests of President Michael D Higgins at a World Cup qualifier in Tallaght Stadium two years ago.
"I think they are being taken seriously now," she says. "The standard of the team has gone so high. They are so professional it what they do, they are representing their country, they shouldn't have to look for anything.
"All they should be doing on concentrating on their training and their football.
"Since that lady (Vera Pauw) moved in to manage the team it's being taken even more serious. She's very professional and very good for the team."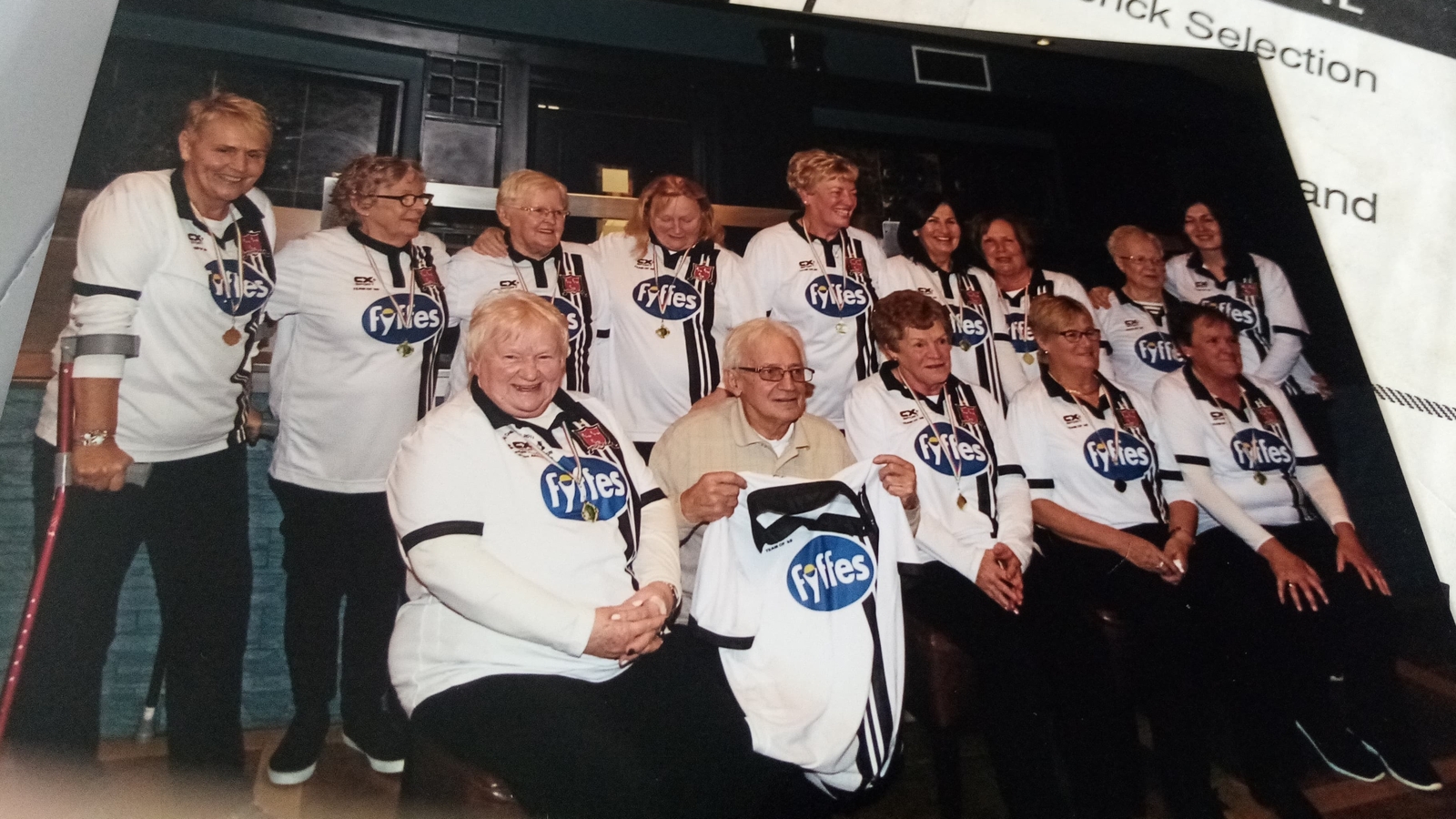 The chance rediscovery of the poster and programme for the 1970 match led to the former team-mates getting back in touch and organising an anniversary reunion - "We got more sponsorship after 50 years than we did when we were playing," laughs Gorham - which has unfortunately been postponed by the Covid-19 outbreak.
Nonetheless, half a century on, the game's historic nature is now finally being recognised.
"I didn't see any significance at the time, only us getting away," reflects Gorham.
"But now, it was absolutely massive. It was kind of the start of the women's football association and the fight against men not allowing ladies' games to take place."
The County Museum in Dundalk is looking for any further information on the 1970 match between the Corinthian Nomads and the Dundalk Ladies. Please contact brian.walsh@louthcoco.ie if you can help.