If League of Ireland football alone was to recommence tomorrow and there were no restrictions on public gatherings, how many fans would attend, say for example, a game between the two best sides in the country?
After being starved of live sport for what seems like an eternity, you'd imagine the crowds would flock to see Dundalk square up to Shamrock Rovers again.
After all, over 7,500 packed into Tallaght Stadium in February to witness a great game between these two fine sides, with Jack Byrne's beautiful effort swinging a 3-2 win for the Hoops.
Jordan Flores' jaw-dropping volley for the Lilywhites that night subsequently went viral and offered yet another reminder of the quality the Premier Division possesses.
Shamrock Rovers 1-1 Dundalk - Wow! Jordan Flores scores a goal of the season contender to level things at Tallaght. You'll be watching this goal for years to come. #rtesocer pic.twitter.com/tIhtCrKfml

— RTÉ Soccer (@RTEsoccer) February 28, 2020
There are of course many Irish supporters who journey to England for their fix, and many of those never darken the turnstiles of their local LOI ground.
That's a real shame.
There are some who look down on our league, believing the standard is poor. But standards are relative.
My son Rory played underage football for an all-conquering Templeogue United side which featured a number of lads who tried their luck in England and some others who are now sprinkled around the League of Ireland.
They were all excellent young players and, under the guidance of their manager Alan Kinsella, they played an extremely attractive brand of football that was rewarded with numerous FAI national titles.
Watching that Templeogue team gave me so much enjoyment; it was pure entertainment on a regular basis.
Maybe some people would trot out that lazy argument about grassroots or amateur football being of a poor standard but it doesn't hold up.
It's great to watch players express themselves and do the fundamentals of the game well, no matter if it's on a Sunday morning on a council pitch or in a noisy stadium in front of thousands.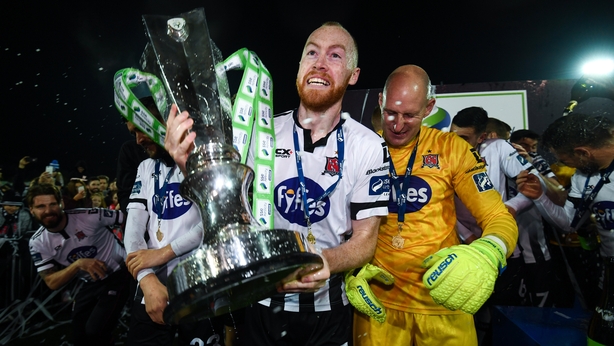 Dundalk have been the standard bearers in the Premier Division over the last few years and they have consistently played a wonderful brand of attacking football, transitioning through midfield from the back and into attack with precise, swift passages of play.
They've been involved in plenty of European games and acquitted themselves well, looking at home at this perceived higher level, particularly away from home, where their approach has not been one of apologetic underdogs, but of a confident, accomplished side ready to face down whatever opposition the draw threw up.
This positive attitude came from a belief in their own abilities, a belief instilled in the players by their previous manager Stephen Kenny. Kenny's successor Vinny Perth has tried to keep the same philosophy.
When I watched the Republic of Ireland in the final games of the O'Neill/Keane era, with its midfield woefully out of sorts, I couldn't help but think that an on-form Chris Shields would have made a more significant contribution than some of those out there.
Yes, I know it's a step up, but I think of the attributes of Shields, and see him as the best player in the league at winning the ball back, distributing it quickly and efficiently, while being strong in the challenge.
The naysayers will say, "ah, but it's a different level, pal".
Sure, but international football is not the Champions League, it's not the Premier League.
Yes, it's of a very high standard when you talk about the likes of Germany, Italy, Brazil, France, England and Spain.
But most countries in the bracket below those elite nations select from their own domestic leagues. If they're lucky they'll have one or two playing in the Bundesliga, La Liga, Serie A or the Premier League.
Of course we will look to those plying their trade across the water first, but we should not discount players from our own league too quickly.
Mick McCarthy gave the league and the players the respect they deserved by attending matches and assessing the talent on show. He capped Jack Byrne, who looks well able to cope at that standard.
Will that trend continue under Kenny?
I would say yes. But despite his affiliation with and love for the LOI, the new manager will not be handing out caps to Premier Division players for the sake of it.
You can safely say that anyone lucky enough to get into the squad will have earned his place.
It's always interesting to listen to the reception an LOI player gets when he makes an appearance for our national team. It tends to be a bit louder and, dare I say, warmer.
These are tough times and of course we all have far more important things to be worried about than sport right now but when the games begin again, there's lots to be excited about.
For so many reasons I hope the LOI is the first of our team sports to get back up and running, even if it's behind closed doors.
Some short-term pain may have to be endured but who knows, managed correctly, there could very well be some long-term gain for the league of our own.
Sometimes you take what's on your own doorstep for granted. Perhaps people might now realise we have a league that deserves more love and appreciation right before us.