In April 1998, Argentina came to Dublin to play the Republic of Ireland in a friendly at Lansdowne Road.
Boss Daniel Passarella wanted a test on European soil ahead of that summer's finals in France, a tournament Ireland would not be heading for after they were beaten by Belgium in the play-offs.
It presented a chance for Mick McCarthy to blood some young talent.
Damien Duff missed out due to a groin injury - given the friendly was sandwiched between two full rounds of Premier league games, Blackburn didn't want him risked - so the spotlight was trained solely on the other great hope of Irish football: Robbie Keane.
Keane, just 17, and Duff, 19, had made their senior debuts against the Czech Republic in Olomouc the previous month. Duff started, Keane replaced Alan Maybury at half-time. Both showed flashes of their precocious talent.
The word had long been out on these young bucks, two of the stars of Brian Kerr's golden crop. In February a crowd of 10,000 squeezed into Tolka Park to see them line up in a B international against Northern Ireland.
Incidentally, two more future players of pedigree - Richard Dunne and Steve Finnan - were also part of the Irish panel that evening.
There was huge expectation around Duff and Keane, and neither seemed particularly fazed.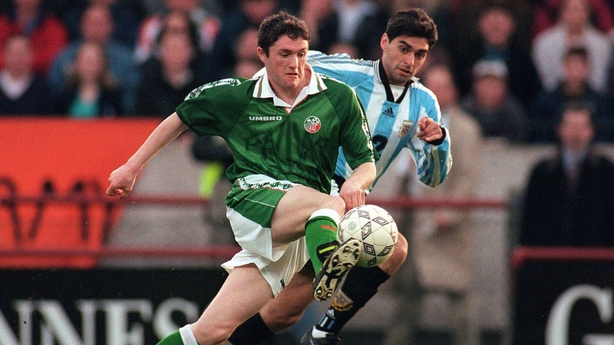 Keane would get his chance to shine against one of the world's established powerhouses as Argentina swaggered into the Irish capital, a team littered with superstars. 
Their starting team that night was as follows: German Burgos; Roberto Ayala, Roberto Sensini, Nelson Vivas, Matias Almeyda, Sergio Berti, Diego Simeone, Juan Sebastian Veron, Gabriel Batistuta, Claudio Lopez, Ariel Ortega.
Carlos Roa would replace Burgos in goal for the World Cup but apart from that, this was about as strong as the visitors could have been.
Such was the strength of their squad that Hernan Crespo was left on the bench and the mercurial Fernando Redondo was omitted completely after he refused to comply with old-school disciplinarian Passarella's insistence that all the players cut their hair. Even Batistuta had been left in the cold before he eventually relented and trimmed his flowing locks.
Argentina were flawed, but they could also be brilliant.
And within the ranks, they possessed a diminutive gem who would mesmerise those in attendance in Dublin 4.
Ortega had been hyped up on the international stage ever since he filled Diego Maradona's shoes at USA 94 after the No 10 had been sent home from that tournament in disgrace having failed a drugs test.
It was easy to make the comparison. Ortega, nicknamed 'El Burrito' (The Little Donkey), had the same build as his compatriot and played in a similar style. Small, with a mop of black hair, magical ball control and exceptional cunning, he was also cursed with a combustible temperament.
Many players have been saddled with 'the new Maradona tag' in the last 30 years but Ortega was the first. 
He was a wonderfully gifted footballer who ultimately couldn't handle the pressure and expectation that was placed upon his shoulders from a young age.
More on that later.
Because on a crisp spring evening in Dublin 22 years ago, he looked nothing less than world class.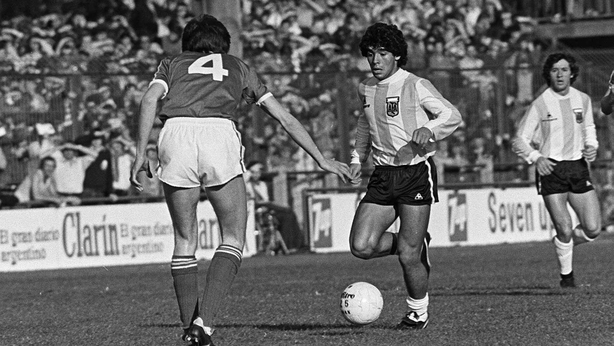 Ortega had just turned 25 and had actually fallen out of favour with Valencia in La Liga, manager Claudio Ranieri losing patience with the attacker's tendency to ignore tactical instruction and do less than the bare minimum in training.
The older fans in attendance that night may have been casting their minds back to 1980, when Argentina played Ireland at Lansdowne Road in Eoin Hand's first game in charge.
The Argentinians won 1-0, the contest enlivened by the introduction of a 19-year-old Maradona after the break. In his second visit to Dublin (he played in a charity game against an Irish/Shamrock Rovers XI the year before) Maradona made his mark, drawing oohs and aaahs from the crowd in an eye-catching cameo. His free-kick set up the winner.
It was a similar story 18 years later with Ortega. He danced around the pitch in the first half, conducting a brutal dismantling of the Irish defence and scoring a magnificent goal.
Two up at the break, the visitors took their foot off the gas in the second half, though Ireland, run ragged for the first 45, improved somewhat on the turnaround. Regardless, it was Keane who hogged the next day's headlines.
When the Lansdowne Road stadium announcer named the man of the match - "No 10… for Argentina, Ariel Ortega" - boos rang around the ground.
The home fans ached to see their No 10, the dynamic Tallaght teenager, get the acclaim.
In the post-match interview, a cherub-faced Keane shuffled shyly beside Mick McCarthy as his manager lavished him with praise.
"I think (the fans) showed their appreciation for Robbie," he told RTÉ's Ger Canning.
"Even when their No 10 Ortega got the man of the match - and I have to say he was brilliant, he was outstanding - but a 17-year-old kid making his debut, I think everybody in the crowd showed who should have really got the man of the match."
McCarthy couldn't resist cooing over the game's defining moment though.
"That goal," he sighed, "… was something else".
And it was. It really was.
Argentina had taken the lead through a close-range finish from Batistuta and were operating on a different plane to their hosts.
Ortega hared on to a through ball down the left side of the box but with the angle against him, he checked back on to his preferred right foot, sending Jeff Kenna sliding five feet in the other direction in the process.
From there, time seemed to stand still.
Ortega was confronted by a wall of green, with Shay Given directly in front of him and four Irish defenders protecting the goal.
'El Burrito' seemed to calculate just how high the 6'2" Gary Breen could stretch, added another inch to clear him, and then executed an insulting slow-motion lob that almost shrugged its shoulders as it sank into the net. It was a majestic piece of skill.
"They rate him as the new Maradona," Steve Staunton reminded us afterwards, "and he proved it with that goal".
At that point Ortega was expected to become one of the stars of the World Cup.
It didn't happen.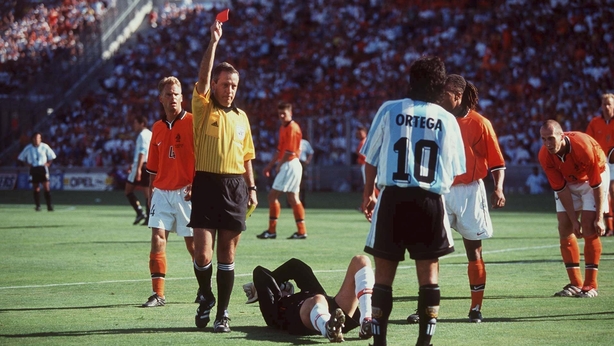 Ortega had some great moments in France. He was brilliant in the 5-0 hammering of Jamaica in the group stages, and helped his country get past England in a memorable last-16 clash.
But he self-imploded in the quarters against Holland (above), seeing red for aiming a headbutt at Edwin van der Sar who had confronted Ortega for diving in the box. Argentina crashed out of the tournament thanks to Dennis Bergkamp's moment of genius in the dying embers of the game and Ortega's star began to fall.
He moved to Sampdoria from Valencia in '98 and again pockmarked a disappointing period with occasional magnificence. Ortega's dinked finish in a 4-0 thrashing of Inter Milan displayed such astonishing speed of thought that no matter how many times you rewatch it, it looks like somebody has removed a frame from the footage.
By '99 he'd switched to Parma, and again flattered to deceive.
In July 2000, Keane headed for Italy to join Inter just as Ortega was going back to his first club River Plate.
Keane's explosive rise had taken him from Wolves to Milan - via Coventry City - in just two years. Still only 20, he walked into a dressing-room that contained Clarence Seedorf, Andrea Pirlo, Javier Zanetti and Laurent Blanc.
It proved to be too much too soon for Keane. Marcello Lippi, who signed him, was sacked just one game into the season, and Keane was back in England, with Leeds United, by the new year. 
A striker of Keane's pedigree should probably have ended his career with more trophies but he destroyed the Irish goalscoring record and bagged 126 Premier League goals for six different clubs. 
Ortega's talent was far less fulfilled. 
He found sanctuary at River Plate in 2000 and rediscovered a consistency of form that had evaded him for years.
Manchester United were even reported to be considering a swoop but he ended up making a disastrous move to Fenerbahce. Having played just 11 games, Ortega flew back to Argentina for a friendly against Holland and never went back. 
FIFA handed him a four-month ban and a €9.5m fine for the walkout and he stayed in his homeland, playing for Newell's Old Boys and then River Plate again.
For years it seemed Ortega couldn't escape the shadow of the past even if he wanted to. 
In 2002 Argentina's request to retire the No 10 shirt in honour of Maradona was refused by FIFA and so Ortega went to South Korea and Japan wearing a jersey his country believed was unworthy of anyone else. His team didn't make it out of the group stages.
Plagued by indiscipline and alcoholism, Ortega would still occasionally leave an imprint of his brilliance on the public consciousness with a flash of impish genius. On so many occasions that would manifest itself in the form of his favourite party trick: the chip.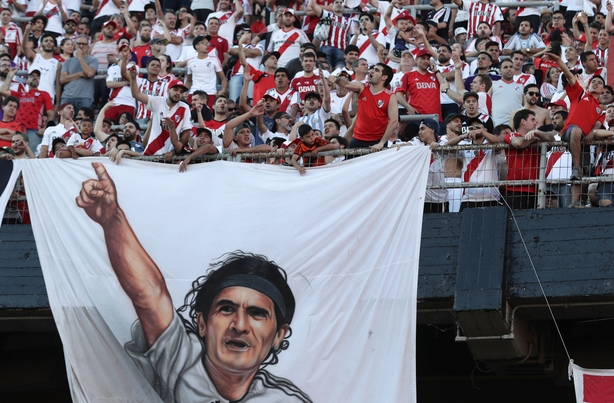 No player has such an extensive showreel of delicate lobs from all conceivable angles. His goal against Ireland was just one of many similarly breathtaking efforts.
Those present at Lansdowne in 1998 knew they were witnessing the birth of one outstanding career but they were also seeing the very peak of another.
Three months previously, Ranieri had provided a scathing critique of the player when he said:  "Ortega has a lot of quality, but he doesn't like to train. He has worked 43 hours fewer than the rest of his team-mates since he arrived at Valencia. He's always tired and bloated."
Watching him when he was at his best made a mockery of that assessment, but that was Ortega - unpredictable is every possible way.
Perhaps Maradona put it best when he said: "Everyone thinks El Burrito is a little idiot but I think he is very intelligent. We shared a room for a while but he was moved out because executives from his club, River Plate, thought I would fill his head with... whatever was in mine.
"He spoke to me about how professional he was and also about how unprofessional he could be, just because he f*****g felt like it."