Bohemians midfielder Keith Ward fears that the coronavirus crisis will claim the 2020 SSE Airtricity League season.
The ongoing Covid-19 pandemic has accounted for many sporting events this year, from the summer's Euro 2020 football tournament, to the Olympic Games in Tokyo.
The League of Ireland campaign began in mid-February, but was stopped in its tracks less than a month later with just five rounds of games taking place.
Shamrock Rovers topped the table at that juncture, and while the initial plan was to halt proceedings for two weeks, it soon became apparent that there would be no competitive games until mid-summer at the earliest.
The current plan would see the matches resuming on 19 June, however, judging by the latest Government directives, that mass gathering will not happen throughout Ireland until September at the earliest, there is little chance that games will return as normal at any stage throughout the summer.
"I'm quite worried. I think our season is going to be scrapped," said Ward, speaking to RTE Sport.
"You hear that a pub can't open, so how's a ground going to open?
"Everyone wants to know when the lockdown is finished, but how do people know? 
"The virus, it is what it is so you've just got to play it day by day, but I am a bit worried that our league could be in a bit of trouble."
Should League of Ireland action return in the summer months, the likelihood is that matches would have to be played behind closed doors, or with very small crowds, maintaining social distancing.
And while that would perhaps suit some clubs, players and fans as a stepping-stone towards the resumption of normality, Ward questions the concept and admits that he would struggle to play in such scenarios.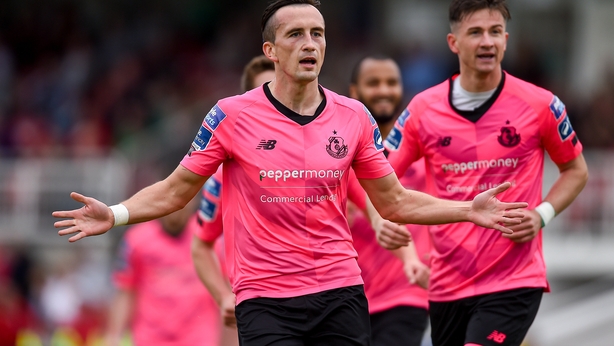 "If it meant it helped the club, I would [be in favour]," said Ward, when asked his thoughts on games without supporters. 
"Personally, I don't think I'd enjoy it. I love playing in the league because I get to go out in front of fans every week. That's what it's all about. 
"If I didn't get to play in front of fans I'd just sign for Swords Celtic tomorrow and play with my mates. 
"Look, what do I know? I haven't got a say in it. But as a player, in my opinion, I just think the buzz would be taken away from it. 
"But it is what it is. It's hard to know. If it was good for the club and it meant income was coming into the club, you'd just get on with it."
Yet Ward does not believe that anyone is able to answer such questions with any sort of authority in the current climate, as he feels it is a situation that is changing day by day. 
In the meantime, the 29-year-old is looking to maintain a modicum of normality by following training schedules set out by the club, who are, in theory, at least, still preparing for that June re-start.
Zoom training sessions for the squad have been arranged on a daily basis, while Ward also has a personal plan to work from.
"Trevor [Croly] has kept us going with a lot of Zoom sessions in the morning with our fitness coach, just keeping the group together. 
"Then we have been given runs to do. We've just tried to keep things together and keep ourselves sane. 
"It's been good for me. I've enjoyed that. I get to see the lads every day. It might be just through an iPad, but it's still good to interact with the lads and have a bit of craic."
So while the intensity levels remain high, from a physical perspective, Ward believes that a lot of what Bohemians are doing relates to the mental wellbeing of the players throughout these strange days of self-isolation.
"That's why we've been doing the Zoom sessions. I don't think it's because the staff just want them. They are doing it to keep us sane. 
"It's hard to substitute mixing with 20 or 25 lads in training every day. 
"Sometimes you are running, it's like 'f**k this', we're not going back training so why am I doing this? It's hard. We've been given a date and we'd love to be back in the middle of June, but it's the unknown that's the worst part. 
"The not knowing if we're going back because, I'd run all day if I knew we were going back in eight weeks' time or whatever." 
The former UCD man accepts that he is merely theorising the concept of scrapping the entire campaign, however, should that come to fruition, Ward admits that he will be devastated to lose an entire season in what is a short enough career anyway as a footballer.
"I'm 30 this year, football is a short career and I've had a cruciate, I missed a year, and I had two or three bad years at clubs. 
"I'm at an age now where I can't afford to miss out a year in football, I would be devastated."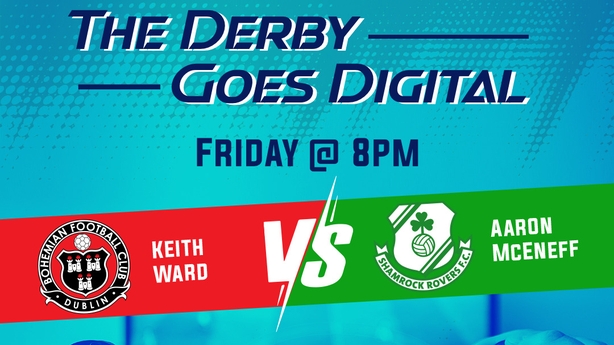 Ward, will get to make some sort of return to competitive action on Friday night as he resumes rivalries with Shamrock Rovers and former team-mate Aaron McEneff, as the two players go head-to-head for a charity e-Sports match in a virtual Dublin Derby.
Still a few years left in his playing career, Ward admits that he is a veteran of the football-based computer game and it is a badge of honour that he has brought with him as he traipsed his way across the country playing for Dundalk, Sligo Rovers and Derry City.
The early season bragging rights went to Shamrock Rovers when the Hoops beat Bohs 1-0 on the opening day in February, however, Ward says that he would be happy to beat Rovers at any discipline.
"I'm a bit of a nerd when it comes to FIFA, I've been playing it for 20 years.
"I know Aaron well. We played together up in Derry. The lads used to come around for little FIFA competitions. 
"Any club I've been at, I've always backed myself as the best player. There's a bit of pressure on me, because I do back myself when I come to FIFA. 
"Me and Aaron had a warm-up game today and it went well, so hopefully I don't s**t myself come Friday."
"Anything against Rovers, we want to win. If it's a game of kerbs or hopscotch, I want to win. If we get a bit of banter out of it and our fans get a little one over on them, then it's worth it."
Bohemian FC's Keith Ward will face Aaron McEneff of Shamrock Rovers in FIFA 2020, a virtual #DublinDerby at 8pm on Friday 24 April. The event, produced by Teneo, will be streamed live on Balls.ie.