The quote from Ruaidhri Higgins is three years old, but it could turn out to be as relevant in the coming days as it was back in January 2017.
Dundalk's assistant head coach is wanted by the new Republic of Ireland manager Stephen Kenny to continue a working relationship that began when Kenny was in charge of Derry City and Higgins was plying his trade as a midfielder, in two separate spells with the Candystripes.
They later teamed up again at Dundalk, before Higgins went north to finish his playing career.
"I was fortunate enough that Stephen [Kenny] offered me a very good opportunity," Higgins said three years ago of his return to Dundalk, as an opposition analyst, when Kenny was at the helm. 
Another opportunity looks like it could lead him to international football with talks continuing between the FAI and the League of Ireland club, though it is expected he will join Keith Andrews, Damien Duff and Alan Kelly as part of Kenny's backroom staff.
Dundalk have made no secret of their displeasure at the prospect of losing a key figure in the club. 
"The manner in which the approach was conducted is something that I'm not happy about and I will leave that with our board of directors and the FAI to deal with," Vinny Perth said of the expected departure.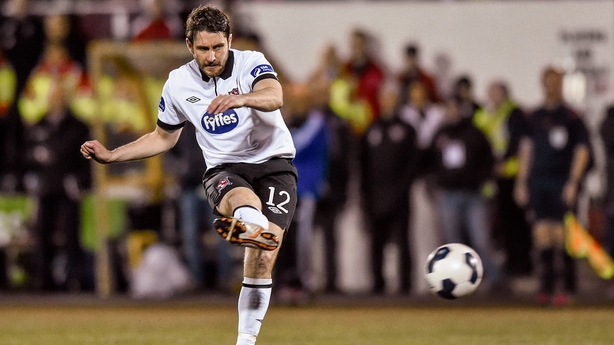 Higgins has carved quite the reputation for himself since his playing days came to an end with Coleraine after helping Dundalk to a league and cup double in 2014.
When Gerry Spain left his post as opposition scout in January 2017, Kenny turned to a player he had managed on three separate occasions (twice with Derry).
St Patrick's Athletic manager Stephen O'Donnell saw Higgins at close quarters as both a team-mate and in his backroom team capacity and had little doubt he would excel providing detailed, yet concise breakdowns on opposition both domestically and in Europe.
"It was a smooth transition," he told RTÉ Sport. "He showed his qualities straight away. 
When it comes to his job, his professionalism is second to none and that's what you want
"Some lads, they like to think about the game as little as possible, but others are students of the game, and he would be one of them. He'd have a deep understanding of the game. Dundalk wouldn't have got someone in as opposition analyst lightly."
O'Donnell was also a house-mate with Higgins and the pair keep in regular contact. As well as his technical abilities, O'Donnell believes the 35-year-old's temperament and man-management is first class.
"He knows when to keep things light, but is serious when he has to be. When it comes to his job, his professionalism is second to none and that's what you want."
Higgins is among a batch of 20 coaches that have been accepted on the FAI's latest UEFA Pro License course and it isn't the first time the callow coach has attracted suitors, with Dundalk last summer rejecting advances from Coleraine as they sought to fill their managerial vacancy.
"We were unable to pursue this any further and, like ourselves, we believe Dundalk clearly see his potential," the NIFL Premiership side said at the time after their two-week pursuit of Higgins ended in failure.
It appears Dundalk and Stephen Kenny also recognise the potential of a 35-year-old with a soaring reputation.