Last year we were warned that Irish football was getting dangerously addicted to nostalgia.
The Irish Daily Star's Kieran Cunningham noted that between the 17th and 19th century, nostalgia was considered a disease. And that any pre-Victorian quack would have to conclude that Irish football was hopelessly riven with it.
These fears have gone out the window in the lockdown. Now it's all the sport we have.
A number of people have contacted RTÉ recently demanding that they show the whole of Italia '90. Or at least every second of the coverage of the five Ireland games.
Perhaps the broadcaster could go the whole hog and replay the entire schedule from that summer, complete with episodes of 'Alf' and a few Brian Farrell interrogations of Charlie Haughey. Or maybe an episode of Hanly's People featuring Sean Boylan or somebody. 
There has been the odd show of dissent. At least one observer with a vivid memory of the Ireland-Egypt game has cautioned that this is terribly unwise.
Irish self-deprecation being what it is, a number of Ireland's World Cup games have been suggested for inclusion in the 'Worst Game Ever Played In A World Cup' competition.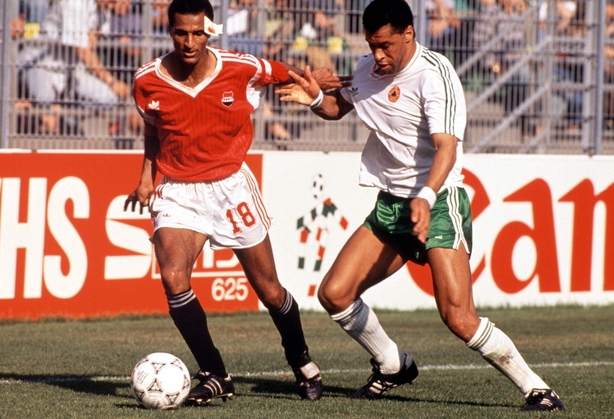 There's the Egypt game. But also the 0-0 draw with Norway in New Jersey. And Eamon Dunphy even suggested the 1-1 draw with Germany in Ibaraki should be in there during his post-match analysis, in between bouts of laughing at Carsten Jancker's inelegance.
Whatever about the other two, the match in Palermo seems an obvious contender, a game so offensively awful that it helped precipitate a rule change in a sport that doesn't change its rules very often. 
Jonathan Wilson wrote in 'The Outsider' that the Egypt game was much cited in the lead-up to the change in the back-pass rule, when Packie Bonner held the ball in his hands for a cumulative total of six minutes out of the 90.
One can easily imagine footage of Packie - ball perched in his glove, grimmacing as he tried to pick out Big Cas down the other end of the field - being shown in a presentation to the delegates at whatever FIFA's version of GAA Congress is called as FIFA's version of Central Council tried to get their rule change over the line. Thankfully for the FIFA Ard Comhairle, Sunday 17 June 1990 was fresh enough in the memory that goalkeepers picking up back passes was outlawed forever.
The obsession with Italia '90 is probably doing more harm than good at this stage.
'The best you've ever seen' - Part two of the #RTESport documentary about the glory days of Irish football airs on @RTEOne and @RTEPlayer 9.35pm tonight #TheBoysinGreen #rtesoccer pic.twitter.com/mJDm1kO5KU

— RTÉ Soccer (@RTEsoccer) March 16, 2020
Re-creating that summer has felt like the sum-total of our ambition for a while now. Reaching the next tournament - whatever that happens to be - has been the imperative, long or even medium term thinking regarded as not worth it. All those documentaries and montages have a lot to answer for.
I'm happy to say this as I have always slightly resented the fixation with 1990.
I belong to that generation of people who don't remember Italia '90 but do remember USA '94. This seems to be a very narrow tranche of people, Italia 90 nostalgia being so prevalent that many people who don't actually remember it often end up feeling that they do.
(The first three Ireland games I watched start to finish were a 1-0 away win against Holland, a 2-0 away win against world champions Germany and the 1-0 win against Italy. This was possibly unfortunate, giving, as it did, a highly distorted impression of what it was actually like following the Republic of Ireland soccer team.)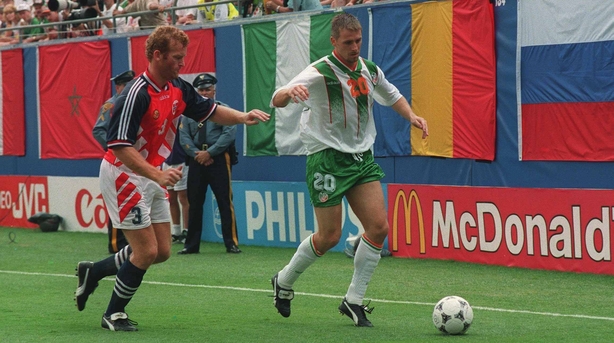 I personally thought USA '94 was great craic and for many, many years after, could give you the full-time score of every game played, even the most inauspicious of group games.
It was only in later years that I realised that the veterans of the Walkinstown roundabout regarded it as a dreary sequel, not worth reminiscing about much at all. (Apart from Paul McGrath with a banjaxed knee repelling waves of Italian attacks - there's the self-deprecation again, Ireland deservedly won that game).
I would try and argue for the merits of USA '94 as a communal and a sporting experience, pointing out that Ireland actually won a game in America but this has seemed to count for very little.
No, seemingly, for a variety of reasons both sporting and cultural, the emotional high point for the nation arrived during Italia '90 and nothing has come around to match it since. 
Apparently food never tasted as good, beer never tasted as sweet, summers evenings were never as balmy or magnificent or celebratory as they were in 1990. 
Bliss was it in that dawn to be alive when Quinn slid in to meet rebound against the Dutch. And to be young and relatively comprehending was very heaven.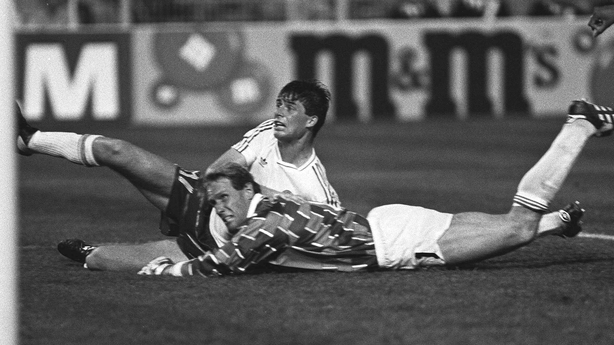 During the height of Roy Keane-mania in the early noughties, nostalgia for the Charlton years briefly went out of fashion. 
Every sportsman and woman in Ireland rushed to profess their fidelity to Keane's exacting and unforgiving mindset. To fail to do so was to out oneself as a loser and a feeble-minded dilettante.
Dewy-eyed romanticism about the craic we had during Italia '90 was a no-no in those years. Seeing that we had taken Holland's spot in the 2002 World Cup, we might as well be as demanding and argumentative and jaded as they were.
"Wasn't the football shite anyway" and "if anything, Charlton held us back," were popular viewpoints at the time.
That era eventually ran its course (no doubt someone will connect it to the end of the Celtic Tiger).
Nostalgia for the 1988-1994 period has come back into vogue in the Youtube years. 
It ran rampant through the John Delaney era.
The FAI's deposed former strongman fired Brian Kerr and hired Steve Staunton explicitly on the basis that he wanted Lansdowne Road to recover that old intimidating fervour of yesteryear, when the pitch was a 'ploughed field' (Gary Lineker, 1990) and the rugby markings were often left visible, perhaps as a warning to foreigners of the type of game they were about to experience.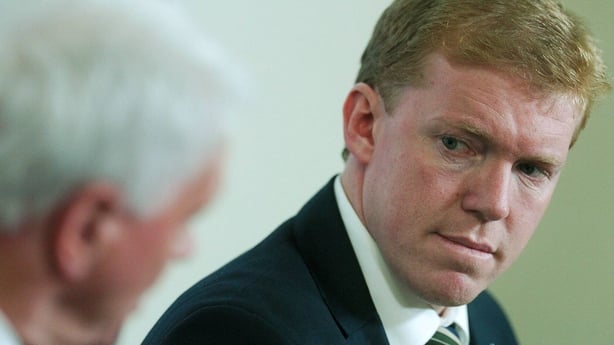 It was time to get rid of the tactics boards and re-embrace the up and at 'em approach. You always got the sense that Delaney deep down believed that Kerr and his fellow LOI lovers were on the wrong side of history anyway and shouldn't be encouraged.
They hadn't got a look-in during the Charlton years and that taught you all you needed to know.
The Mick McCarthy gambit was portrayed as the ultimate demonstration of Ireland's nostalgia addiction. In the late months of 2018, as dismal a period in the life of the national team as most of us can remember, we turned in desperation to the actual captain from Italia '90. 
There was something wistful and comforting about seeing Mick back on the Dublin 4 sideline, still blaring out instructions after all those years, as if nothing had happened in the interim. But that's pure nostalgia talking.
McCarthy's fairly extreme levels of personal charm were helpful in the aftermath of the chippy Martin O'Neill years. 
Morale picked up and the whole thing felt a bit more high energy than it had in 2017 and 2018 but you couldn't confuse it for a revolution. 
Stephen Kenny's arrival as Ireland boss heralds a break from nostalgia. 
The way he's talking, the new manager seems to have more highbrow ambitions that just giving a new generation of fans an experiential re-run of 1990.
Not for him the talk of "The show is the show, the result is the result" (Trapattoni) and "we wanted to score goals, how you do that and go about that is a matter of opinion" (that's Jack Charlton talking football philosophy with Sue Lawley on a 1995 edition of Desert Island Discs).
No, Kenny spoke of how he wanted "every schoolboy team looking at the international team and thinking: 'that's how we want to play.'"
We need your consent to load this YouTube contentWe use YouTube to manage extra content that can set cookies on your device and collect data about your activity. Please review their details and accept them to load the content.Manage Preferences
'Qualifying', while important, hasn't been immediately announced as the be all and end all.
All his recent predecessors believed, a la Charlton, that Ireland hadn't the players to win playing passing football. Hadn't the players to win playing any football in some cases.
Some trumpeted this argument as loudly and as often as possible (Trapattoni), others did so only when under pressure (McCarthy) but all probably believed it.
Now we appear to have a manager bold enough (or naïve enough, whichever you want) to think we can try to dominate possession.
We don't have the players?
There is some liberation in knowing this hypothesis is at least about to be tested.
"Life is short" is the mantra of the new Ireland coach.
With a potentially exciting cohort of players coming through, Irish football is faced towards the future again.
It promises to be an exciting experiment, whenever this pandemic ends.
In the meantime, RTÉ should probably re-screen the whole of Italia '90.