Peter Crouch was in the form of his life in 2006.
He'd just played, and scored, for England at the World Cup having helped Liverpool to win the FA Cup beforehand.
His stock was high that summer, so he thought he'd treat himself. 
The 6'7" striker splashed out on an Aston Martin, and though he was a little apprehensive about it at first - it took him three days to finally pluck up the courage to take it out on the road - he eventually convinced himself. 
And then, he bumped into Roy Keane.
"I've told this a few times," Crouch told RTÉ 2fm's Game On. "I felt I was doing well, I was playing for England, playing for Liverpool. I'd just come off the back of a decent World Cup so I thought, 'right, I can upgrade my car'.
"I got myself an Aston Martin. I had my arm out the window, had some tunes on, had the sunglasses on. I pulled up in Manchester beside Roy Keane.
"I sort of gave him the thumbs up. He looked at me as if I was a piece of, whatever it was, on his shoe. That one look from Roy was enough for me to sell the car that week.
"I knew I was being ridiculous. It wasn't me. But that look from Roy confirmed it.
"I don't even know if he knows this but I did sell the car that week. It was the best thing I ever did."
Crouch retired a year ago aged 38 after a rollercoaster 19-year career that brought him from QPR to Burnley, with Portsmouth, Aston Villa, Southampton, Liverpool, Spurs and Stoke City in between.
These days he's got four young children, his own podcast and TV work to keep him busy but Crouch can reflect on a stellar career. A late bloomer, he ultimately reached the pinnacle of the game, scoring 22 times for his country and playing in the 2007 Champions League final, which Liverpool lost to AC Milan. 
He witnessed a lot of change in his playing days.
"It was 2000 when I broke into the QPR team and there was a lot of older professionals coming towards the end of their careers," Crouch added.
"There wasn't many young players in the side so I only had them to look up to. There was a lot of drinking, fish and chips after games.
"The money that came into the game made the professionalism go up... everything got better. I think it might have lost something in the dressing room and something in the rivalries and passions in the game now.
"When I think of the Liverpool-Manchester United games, we used to kick lumps out of each other, I think of Man United and Arsenal, those fantastic ties, I just don't see that as much any more."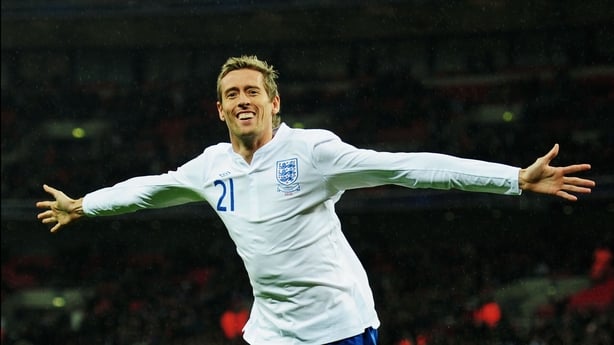 Crouch believes the camaraderie he enjoyed on many of the teams he represented has been diluted by social media and smart phones.
He recalled simpler times, and falling in with a strong Irish fraternity.
"I remember in the early days at Portsmouth, I was 20 when I signed there, everyone had to bring a film and we'd watch a film together around one TV. Each week a player would have to bring a film and you'd get marks out of ten and rated . It was just all a bit of fun. Things like that stopped really.
"Everyone has their own iPads, their own phones and people would watch their own films. It became very solitary. I was with the Irish boys mainly at Stoke, keeping the card school alive - it was me Jon Walters, Glenn Whelan and Marc Wilson. All that's dying out. It's a bit of a shame.
"I miss the dressing room badly. But I do think it's a different place to when I began."
Listen to the RTÉ Soccer podcast on: Apple Podcasts, SoundCloud, Spotify or wherever you get your podcasts.