At the height of the Republic of Ireland's success under Jack Charlton, every player to a man will tell you what craic they had, how much they enjoyed meeting up with their teammates, a break from the day-in day-out routine of club football.
Much of the fun and banter was generated by the players, but Big Jack played his part too in ensuring the squad members enjoyed coming home for those big internationals at Lansdowne Road and elsewhere.
Now Jack could be a tricky customer at times, particularly when it came to being interviewed.
Some questions, particularly any relating to team selection could easily irritate the manager.
In the build-up to every Ireland international, this young football-loving reporter was charged with interviewing a World Cup winner with a love for whippets and fishing. Jack Charlton, an icon of the English game, a no-nonsense central defender who, at times, would fight with his toenails.
I approached some of those interviews with a certain trepidation. One slip of the tongue and I'd be subjected to a very public lashing from the Ireland manager. More often than not it all went well and Jack was usually very forthright and forthcoming. But there's no fun in telling you that, is there?
So here are a couple of typical examples of Jack v Hack that didn't quite go according to plan.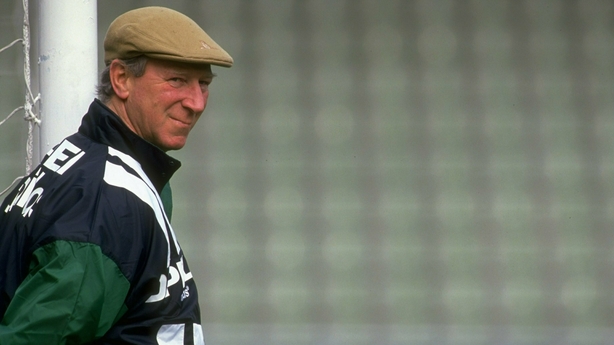 Ireland were scheduled to play Wales at the RDS in an international friendly on the 19 February in 1992.
Part of the pre-matchday interview went along the following lines.
Given the calibre of strikers Wales had at their disposal at the time, I asked the following question: "Jack, Is this a good fixture in which to give Liam Daish his first senior cap outing for Ireland?"
"Yes, it is," said Big Jack. "Wales have top quality strikers like, Dean Saunders and... and... (pause)...(further pause)."
At this point Jack looks at me, prods me on the shoulder and said: "Eh come on, what's the other lads name?" I responded "Eh, eh, Mark Hughes?" "Yeah, him," he said.
The interview was fine, but I went away thinking, isn't it his job to give me the answers?
Jack looked at the average reporter with a degree of suspicion. I always thought he was thinking to himself, what's his agenda?
I can honestly say I never had one. I love the national team more than any other. International football is football in the broader sense, in its purest form. You can't buy your success. Yes, you can stretch the granny rule, but to me that is totally legitimate. No question. Many of my own relatives had to leave our shores to forge careers for themselves elsewhere. Some went to the USA, most went to England. All were proud Irish men and women. Their offspring, my cousins, lived in England, but as far as they were concerned they were Irish, proud of where their parents came from and happy to be called Irish.
So, no agenda, no one wanted the national team to do well more than me.
But the interviews with Jack were still fraught with danger.
USA 94, we're at the World Cup again.
To cut a long story short, Jack was not enjoying himself. The heat, humidity and almost non-stop rain messed up Ireland's pre-World Cup training camp in Orlando and if the truth were told, that had a negative effect on the Irish camp.
But it all started so well. First game, Giants Stadium, New York.
Even before a ball was kicked, Ireland hammered the Italians, outnumbering them by about 10 to one in the 75,000-plus seater stadium.
The rest you know - Republic of Ireland 1-0 Italy - Ray Houghton with the lobbed shot from 30 yards securing a historic win.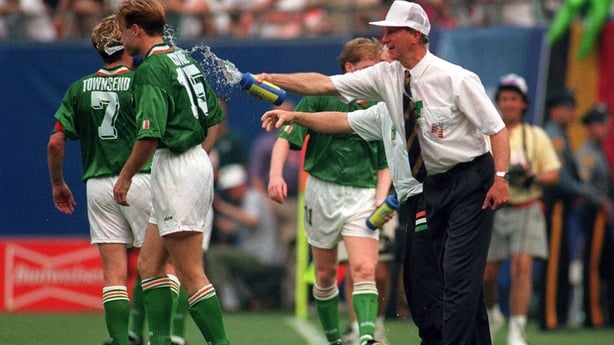 But, the elation didn't last too long. Next up, Mexico in the oppressive heat and humidity of Orlando.
A thoroughly awful experience. Jack was wound up by incompetent officials, John Aldridge was also wound up by the meddling FIFA blazers on the sideline, we were all wound up by the scoreline after 65 minutes, with Ireland 2-0 down.
Following each World Cup match, one of the two managers was nominated by FIFA to do the so-called World feed flash interview. This was to happen immediately after the final whistle. The reporter from that manager's country would conduct the interview.
You know what's coming. Jack was the designated manager and I was the nominated reporter.
John Aldridge pulled a late goal back which was significant, but Jack was still seething after what had transpired on the line. He wasn't too pleased with the result either.
John Givens, who looked after some of Jack's commercial activities off the park, came walking towards me as we set up for the immediate full-time interview with Jack. As he passed, I asked him: "How is he?" John just shook his head and I thought to myself "oh, damn" or words to the effect!
Jack was like a bear with a sore head, the last thing he wanted at that moment was a live interview, but he was obliged to do it.
My first couple of questions received curt, almost monosyllabic answers.
Then came the question that prompted a real sockdolager from Jack.
"Both Denis Irwin and Terry Phelan were booked today, what are you going to do?" I asked.
Now, prior to that question, a clearly agitated Jack was looking everywhere and anywhere, but not at me. Now though, he was glaring straight at me, with a face like thunder. Oh no, I thought, what have I said now. Next thing he let rip.
"What am I going to do?!!!! What am I going to do?!!!! I'm going to pick two other bloody players, that's what I'm going to do."
Boom! And with that he was off and muggins was left standing there with no one but the world looking on. You could only laugh.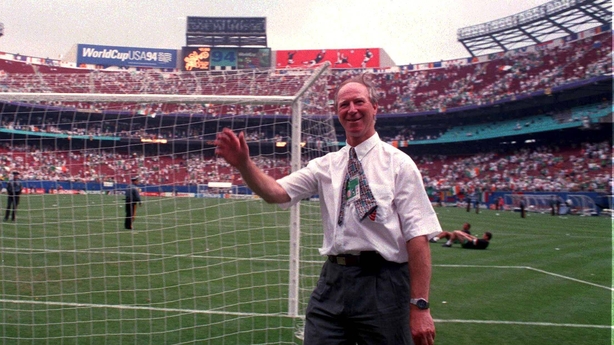 Those two stories may give the impression that the swords were drawn every time we met, but that wasn't the case at all. I had the utmost respect for Jack, for what he achieved with that great Leeds United team as a player and for the magical journey he took us on when he managed Ireland.
The last time we met was at the International Football Awards a number of years ago. He walked over towards me, stopped, and with a cheeky grin and a glint in his eye said: "Ah, I remember you," I said "don't worry, Jack, I remember you too." We raised our glasses and laughed as in that moment, we both remembered all that was good about the Jack Charlton era. Cheers Big Jack.
Did I ever tell you about the time I met one of my childhood heroes, Bobby Charlton? What? I've run out of time? Well, I guess that little yarn is for another day.