With the Republic of Ireland's Euro 2020 play-off against Slovakia postponed until the autumn at the earliest, the question as to who will be in charge of the side has come into sharp focus.
Mick McCarthy's contract as team boss runs out this summer, with Stephen Kenny set to take over for the start of the planned Nations League in September.
The coronavirus pandemic has thrown the fixture schedule into chaos, with the Euros now scheduled for the summer of 2021. Should McCarthy then be allowed to continue on as Ireland boss and so see out the job he was asked to do?
Speaking on RTÉ Radio 1's Morning Ireland on Thursday, soccer analyst Richie Sadlier feels there is no clear answer to the manager conundrum.
"You have to go with one or the other. It's a conundrum for the FAI to solve. I don't know what the right answer is." he said.
Former Ireland international and now Reading coach John O'Shea was much more definite in what he thinks should happen.
"For me it's so straightforward - and that is continue with Mick," he told 2fm's Game On.
"When someone is given a job of qualifying for a tournament and unforeseen circumstances like this pop up, well I'm sure Stephen Kenny would understand. He will be the next manager after Mick.
"If you're the manager and you sign a contract to take a team to a tournament and you've gotten this far to a play-off, well I'm sure an agreement can be found about deferral of contracts.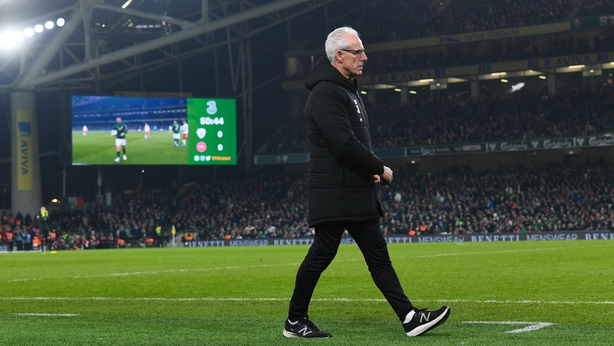 Look it's out of our hands. The FAI will have to deal with that situation. Hopefully it will come to a fairly easy solution if Mick does qualify.
That said, O'Shea will be an interested onlooker in seeing how the FAI deal with the situation.
"It's an early test for the FAI - something that they did not envisage but it's something they are going to have to deal with pretty soon.
"Stephen is looking forward, and rightly so to the honour of managing his country - an amazing honour.
"But I'm confident common ground can be found quite easily."