Best known in this country as Jack Charlton's right-hand man, Maurice Setters enjoyed arguably the lowest profile of all players and staff during Irish football's most decorated period.
The assistant manager took very much a back seat to the imposing character of Charlton, and in truth, a number of senior players have voiced their opinion that the now 83-year-old offered little in the way of coaching expertise.
Roy Keane's first autobiography is particularly scathing, questioning what he offered the Irish set-up aside from keeping "Big Jack supplied with chewing gum", while many of the Italia 90 heroes have admitted that Setters took a hands-off approach, with one telling RTÉ Sport: "Maurice walked beside Jack, never took training, never spoke in team talks, but was a nice enough fella. Beyond that there is nothing."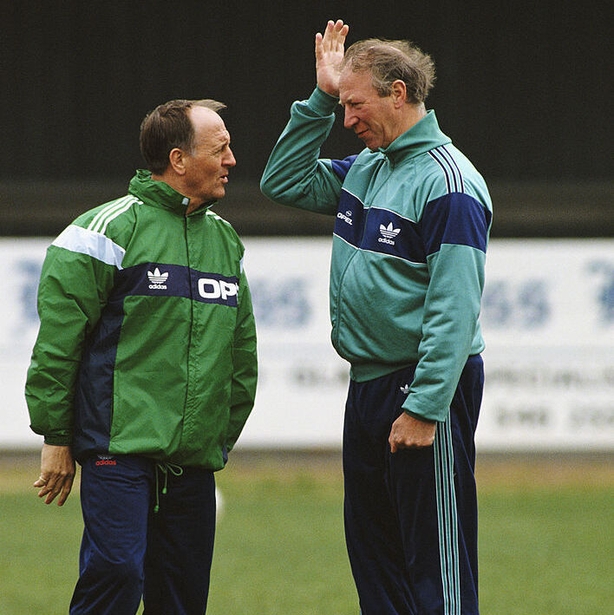 An unknown to many Irish football fans in some respects, this is a man who played for Manchester United under Matt Busby and exacted a strong influence on the Old Trafford dressing room, began and ended his managerial career with court cases and ruffled a few feathers in between.
---
As a player, Setters carved out a pretty decent career for himself, though never earned an international cap despite being on the reserve list for England's 1958 World Cup squad. 
After solid displays in midfield - or wing-half at the time - for West Brom, Manchester United manager Matt Busby was in search of experienced personnel following the Munich tragedy and splashed out £30,000 for his services.
One former team-mate described Setters as "crude, nasty, bullying guy of the sergeant major type", while in his book Jack and Bobby, Leo McKinstry says it was that blunt personality was what made him appealing in later years to Jack Charlton.
It was however with Jack's younger brother Bobby who Setters first struck up a deep friendship with, with Charlton senior choosing Setters to be his best man in 1961.
While Irish international Dave Langan would observe in his role with the Republic of Ireland that Setters was "only there as Jack's yes man", he appeared to be far more outspoken during his playing days at Old Trafford.
In Rocky Road, Eamon Dunphy outlines a character who was among a cohort of growing players who grew more disillusioned under their iconic manager.
"These non-believers, bought expensively to restore the club's fortunes, thought Busby hadn't a clue what he was doing."
It is a sentiment backed up by McKinstry, who details one particular game against West Ham where the midfielder voiced his tactical frustrations in the dressing room, much to the chagrin of his boss.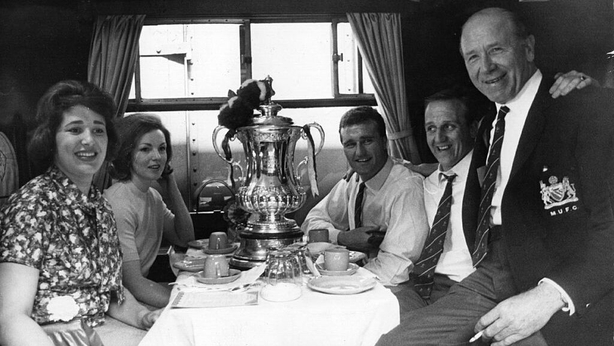 "It seems to me Maurice, that yours is the only voice I hear when I come into this dressing room. Well, I don't want to hear it again."
While most past Ireland players found the low-key assistant to be a decent man, strategic insight appeared to be in short supply, notwithstanding the fact the Irish game plan was relatively simplistic.
"Maurice didn't have much of a say tactically, he was more about geeing people up," Niall Quinn told RTÉ Sport. "I never saw him as a coach."
As player however however, Setters was often found discussing modern coaching methods, partly why he was a dissenting voice at times to Busby's approach.
Pat Crerand, Noel Cantwell and Maurice Setters entertain the crowd at the 1963 Cup Final... pic.twitter.com/JoWsAVpwL7

— Red_Devil (@RetroRed2) March 5, 2020
Setters lost his place to Nobby Stiles and after four years, 159 league appearances and an FA Cup winner's medal to show for his time in Manchester, he departed for Stoke City, with stints at Coventry and Charlton Athletic before hanging up his boots.
The first, and what transpired to be his last management role came at Doncaster Rovers. He was unable to lift the club out of the Fourth Division doldrums, with the highlight arguably a draw away to then reigning First Division champions Liverpool in the FA Cup - up until three years ago, the last time a side from the fourth tier claimed a draw at Anfield in the competition.
His time in charge however ended sourly, and in court, with Setters successful in legal action against the club for unfair dismissal and remained out of the game until Charlton came calling in 1980, offering the role as coach at Sheffield Wednesday having previously crossed paths at a coaching course at Lilleshall.
They continued the working relationship at Newcastle and while the pair were similar in style, the power dynamic was illustrated clearly when Charlton quit Tyneside so abruptly he didn't even inform his then chief scout.
Setters, having only found out the decision when he turned on his television at home, was told by Charlton: 'Oh, I forgot all about you'.
The third reunion, and by far their most successful partnership, was of course on these shores. While Charlton himself was fortunate enough to succeed Eoin Hand as Republic of Ireland manager in 1986 - Bob Paisley lost out after a controversial voting process - his sidekick too was somewhat fortunate to gain FAI employment.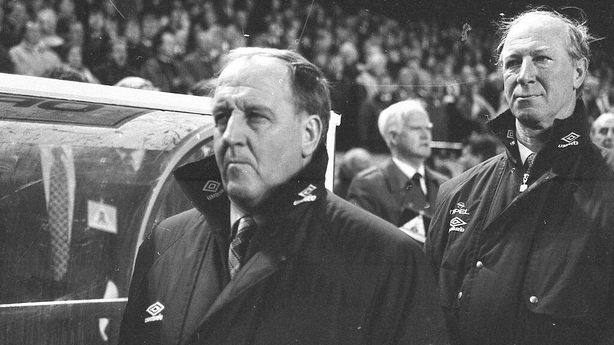 The Association tried to encourage Charlton to appoint an Irish assistant, but the incumbent's mind was made up, also propelling Setters into the Under-21 hotseat. 
Roy Keane was handed his U21 debut by Setters shortly before his senior bow in 1991, but described the environment as "a bit of a joke", lacking the professionalism he was accustomed to at Nottingham Forest.
I liked him. He was always very straight
Pat Scully played on the same U21 team and holds a differing view to the former Manchester United captain.
"Maybe Roy was talking about the coaching, because Maurice was more of a man-manager," he told RTÉ Sport.
"I liked him. He was always very straight. I thought he was very direct and honest in what he wanted from you. You want that clarity."
It wasn't a view shared by Davy Langan, who despite playing four games in the Euro 88 qualifying campaign, didn't make the cut for the tournament and never added to his tally of 26 Ireland caps.
"Maurice Setters was a waste of time," he wrote in Running Through Walls in relation to the coaching set-up, adding that Setters' input was non-existent.
Jack Charlton and Maurice Setters at Croke Park to watch the final of 1989 All Ireland SHC #gaa #nostalgia pic.twitter.com/CQtpvn2vSZ

— GAA Nostalgia (@gaanostalgia) July 16, 2015
The 1994 World Cup thrust Setters, normally a man who played second fiddle to the manager in the media limelight, front and centre following a training ground incident in the searing American heat.
With the boss absent, his number two implemented a demanding physical workout from the players. Or as Keane would write in his book, he proceeded to "run the bollocks off us".
Captain Andy Townsend, with the backing of the players, led the troops off the training field in protest, but when the returning boss was informed of the incident, he singled out Keane as the ringleader.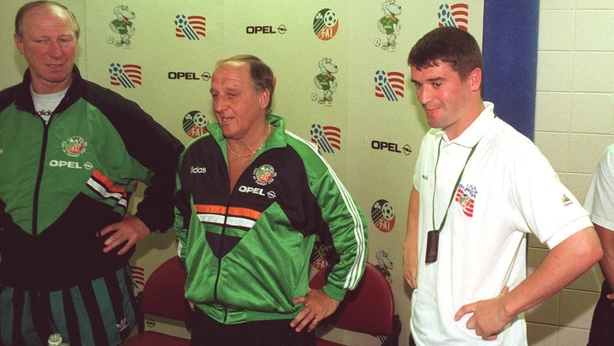 Keane recalled how he was a more "convenient patsy" than captain Townsend and was frogmarched into the glare of the press alongside the assistant manager and admonished for the incident.
While Charlton and Setters shared a similar philosophical outlook on football, the two were contrasting in other ways. The Irish manager often referred to his number two as 'Mr Organiser' given that when the pair shared rooms on away trips, it was Setters who found the need to keep some order to their living quarters.
Charlton was famously no-frills to most things in life and this was applied at times to almost extreme levels. 
Journalist Jimmy Mossop once recalled paying a visit to his friend at a Bilbao hotel during the 1982 World Cup where Charlton was working at the tournament as a pundit, only to find him hanging his socks and underwear out the window after hand washing them in the bath because of what he felt were eye-watering laundry prices in the hotel. 
And that despite the fact ITV would have picked up the tab.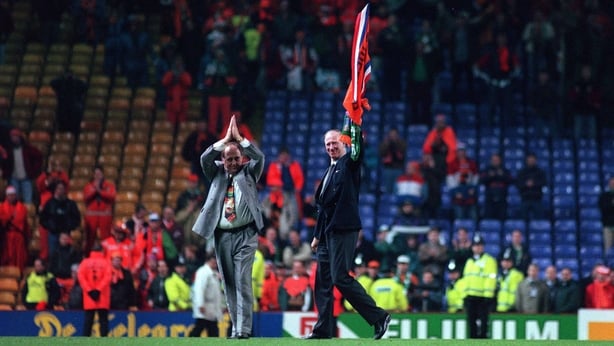 Setters' role with Ireland would be his last in football, though it ultimately ended up in court. After the Netherlands once again got the better of Ireland, this time in the Euro 96 play-off, Charlton brought the curtain down on an unforgettable chapter in Irish football history.
The FAI took the view that since both men were part of the same management team, Setter's position of assistant manager automatically lapsed, but the man himself thought otherwise and sought compensation for unfair dismissal, claiming a verbal agreement was breached by the Association.
Charlton travelled from Newcastle to support his former assistant at Employment Appeals Tribunal, but the case was withdrawn shortly before it was due to begin after a settlement was made.
It was to be his final act in football management.