Bohemians manager Keith Long has praised the club's pledge to honour the contracts of players and staff describing the decision as "admirable".
While some other League of Ireland sides made the reluctant decision to stop paying their players and staff following the suspension of domestic fixtures due to the coronavirus, Bohs announced that they will uphold wage agreements - although the situation will be kept under "continuous review".
The SSE Airtricity League season was halted as a result of the Covid-19 pandemic, and while it was initially for a two-week period, it has since been announced that matches will not resume until 19 June, at the earliest.
"I think we're very lucky to be associated with the club at this moment in time," Long told RTÉ2fm Game On's Marie Crowe.
"We're in the midst of a national emergency, a global emergency and for the club to come out and support the players at this time in really difficult circumstances for all clubs, I think it speaks volumes for the regard in which they hold the players and staff and the work that's being done on and off the pitch over a good number of years, allows us to be in that lucky position to continue to fund and pay the players' wages over this extended, trying and difficult time that we're going through."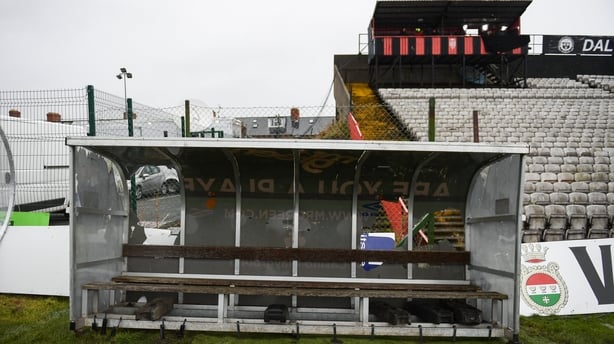 He added that Bohs are also fortunate that they have many young players in the squad which means "they live at home and not many have mortgages to pay" and that the decision might have been difficult for the club to make in other years.
However, Long acknowledged that Bohemians and other clubs will also have to contend with reduced gate receipts with fewer matches left to play in a curtailed season.
"With the reduction of games now with the reshaped season, we'll have 22 games left to play," he said.
"We've played five of [the 27 games] already so we'll see a reduction in terms of games, so that will have a knock on effect in terms of gate receipts.
"But the decision of the board of the club to continue to the players over an extended period of 36 weeks as opposed to 30 weeks which would have saw us up until the end of the season - of a normal season - so I think we can't underestimate that."
Long added that "there is no club at the moment that won't be affected by this and I include Dundalk and Shamrock Rovers in that also".
The challenge for every club is keeping the players fit in a time where collective training is not possible.
"All the players will have individual training programmes," said Long.
"They have to adhere to those and we have GPS monitors on all the players that we review on a weekly basis.
"We'll give them conditioning programmes that we'll review on a weekly basis but it's difficult because you're not in a team environment.
"But the players have to motivate themselves. They have to have that inner drive and professionalism to continue because when the league returns, we want to be ready."