Enda Stevens is looking forward to returning to a sense of normality as soon as the coronavirus threat has been lifted throughout the world, and is confident that he will be fit for Ireland's scheduled Euro 2020 play-off in June.
The Ireland defender is currently on a forced sabbatical from the day-to-day life as a Premier League footballer and admits that things are pretty surreal as he attempts to make sense of the ongoing pandemic.
Stevens plays his football for Sheffield United and will not return to competitive action until 30 April at the earliest, which means that the Bramall Lane club are taking three weeks off, before hoping to return to training.
"Hopefully things will die down as quickly as possible and we can get back playing," said Stevens, speaking on Morning Ireland.
"The safety of the players, staff and the fans will come first, if they are to get back into the stadium."
But the former Shamrock Rovers man accepts the real possibility of playing games behind closed doors should the sport get the green light to return while the Covid-19 risk remains throughout society.
"If it means that we cannot do it that way, it will have to be behind closed doors and that is something that we will have to get our heads around.
"Hopefully the games would be televised, just for the fans to get their minds off the situation."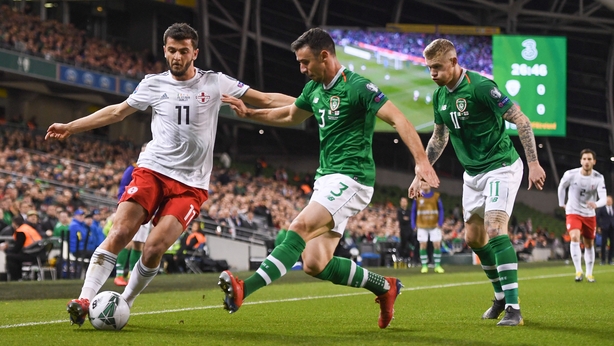 Stevens was one of a group of players from the Integrity Sports agency to donate €25,000 towards a fund to help League of Ireland players during the coronavirus outbreak.
Fellow former League of Ireland players James McClean and Kevin Long are among others who contributed to the fund, which Stevens hopes will raise awareness to the dire situation for some players, and will encourage others to help.
"The League of Ireland was a stepping stone to get me where I am today. It taught me a lot about the game and it was a big thing for me back then.
"When I played, when you were stopped playing in the off season, you could go out and work, but that opportunity has been taken away from the players. And it looks like it will be a much longer period.
"It is a difficult time for the clubs and the players, so it was just a donation to raise awareness to the situation and hopefully it will get bigger people and bigger companies involved."
Stevens is currently returning from injury and the enforced lay off should actually aid his recovery to a certain extent in that he believes he will be ready to train once the club return from the enforced break from day-to-day club life.
But the Dubliner admits that it is harder to train in isolation as he feels that working on fitness away from the training ground is a tough task.
"When you are on your own, it is very hard to replicate what you do in training, working on your technical ability and fitness.
"But if you cannot go to normal training, the best thing you can do to keep yourself fit is to get on a bike or a treadmill to keep your body in the best condition that you can.
"I probably came back a bit too soon and aggravated the injury. I think it is three weeks off and then it is back to training, and I will be ready for that."
Ireland are scheduled to face Slovakia in early June as they attempt to qualify for Euro 2020, which has been put back 12 months as a result of the coronavirus, and should the national team qualify, the FAI will have a difficult situation to manage as a result of Stephen Kenny being set to take over duties in August.
The FAI said that they will address the situation in June, but while Stevens said that he expects to be fully fit for the encounter, should it go ahead, he added that he was not thinking about the managerial conundrum in such surreal times.
"I probably just mentally shelve all that, because the main focus must be to get back to a sense of normality, because it is a bit surreal what is actually going on."