Republic of Ireland international Aine O'Gorman says her team-mates will take the current uncertainty over Euro 2021 in their stride as "everyone's health becomes the priority".
Wins over Greece and then Montenegro - which was played behind closed doors last Wednesday - left Vera Pauw's team top of Group I and in a great position to secure a play-off position at least as they try to make a major tournament for the first time.
However, exactly when that tournament will take place is now unclear.
On Tuesday, the men's event - due to be played over the course of June and July - was pushed back to the summer of 2021. This would result in a slight overlap with the women's tournament.
UEFA president Aleksander Ceferin commented: "We are thinking of postponing this Women's Euro and Under-21 championships as well. We will have to postpone both because I don't think that we should cannibalise the women's Euro with the men's Euro just one month before."
It means Ireland, should they get there, may have to wait until 2022 to line up at the finals in England.
For now, O'Gorman is concentrating on the bigger picture.
"We went over to Montenegro focused on the game," she told RTÉ Sport.
"We weren't really expecting a massive crowd anyway so when we heard it was behind closed doors I don't think it affected us in any way.
"When we landed back in Dublin on Thursday to hear the schools were closing, that's when it all kicked off. Then everyone's health becomes the priority.
"We've just waiting to see what happens. Obviously everyone is thinking about staying safe and well and helping in any way we can. It's hard to know what's going to happen.
"The men's tournament is definitely pushed out and I think it was inevitable that was going to happen. It's for the best as well, but with regards to the women's Euros, we're all just waiting to see what happens. The focus remains on trying to qualify."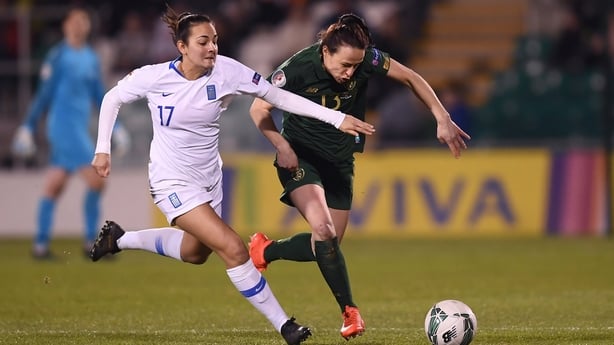 Peamount United player O'Gorman, 30, works as a personal trainer. On Tuesday, the gym shut its doors as part of nationwide measures to help prevent the spread of Covid-19.
As a result she, like so many other Irish people at this moment in time, has had to tweak the daily routine.
"I'm a personal trainer in a gym and the gym closed down yesterday. It's about trying to keep ticking over, get outside, go for runs in a safe environment, do whatever you can at home to keep the mind and body healthy.
"It's important to have a routine, get up in the morning and make a little plan for what you want to achieve, try and get at least 30 minutes of exercise and fresh air in."
O'Gorman recently came out of international retirement, going straight into the side for the clash with the Greeks in Tallaght.
Pauw and Katie McCabe have both been full of praise for the versatile Wicklow woman, who's relishing being a part of the new set-up.
"It was great to get back in with the girls. It felt like I never left when I went back training and mixing with the group. It's been a while since I played 90 minutes so it took me a little while to recover after two tough games.
"I was delighted to get back and wear the green jersey with pride.
"Vera brings a positive vibe to the squad and the camp. She knows what she wants, she's very good at getting her message across and I think we're all on the same page when we cross the line.
"We came off the back of two good wins and now all football is on hold, so we're not really sure where we stand at the moment. We're all just taking it in our stride.
"The main focus is everyone staying as safe as they can."