When it comes to Premier League results this season, a word like relentless perfectly sums up the way Liverpool have carved their way through the campaign.
For many of an older vintage, their run evoked memories of the Reds' late '80s outfit that won the club's last league title to date in 1990.
To put it mildly, no members of that team would have expected the wait for league glory to go on as long as it has - a wait that may to go on indefinitely due to the coronavirus outbreak, but a wait that the Premier League insist will end.
"If you'd said to me back then that Liverpool wouldn't win the league for 30 years, I would have said you're crazy," former Republic of Ireland international Ray Houghton told RTÉ Sport as he reflected on his time in the Anfield side's last title-winning edition.
"You just couldn't see it because they were that dominant. But it just shows that if you take your eye off it and you have problems... the recruitment wasn't as good as it had been and we lost key players at the wrong time, so there were a lot of reasons why it started to go awry."
While Houghton would go on to be part of Ireland's squad for the World Cup that summer, the 1989-90 season was far from the fondest of his five years at Anfield in spite of more silverware.
In all, he made 19 appearances in the old First Division and four more in the FA Cup, way down on his previous output.
"That season was a very fractious one for me," he recalls.
"I was in and out. I had quite a few injuries and even at the end of it, before going to the World Cup, I remember Kevin Moran, Ronnie Whelan and I being in Malta before we went to the World Cup and we had to make a decision with Jack [Charlton] if we were going to be fit for the World Cup itself.
"So it was one of them seasons for me, if you looked at my number of games, it wouldn't have been very high.
"If you looked at the two seasons before it, it would have been very high and all the other seasons I had been playing a lot of matches.
"But this was the first season where I didn't play a lot of games because of injury. I played enough – I think it was 20 or something like that but it wasn't a great deal."
One match does stand out, although its significance has been aided by decades of hindsight. Perhaps armed with the knowledge that 30 years awaited Liverpool, the players back then might have celebrated that bit harder after getting the result they needed against Queens Park Rangers on 28 April 1990.
"I remember playing in the QPR game when we won [the league]," says Houghton.
"I remember the celebrations afterwards. It's elation but you see they were so used to doing it and it's not arrogance but they were just that good.
"My first season in '87-88 we won it, '88-89 we lost on goal difference to Arsenal and we won it in '89-90.
"If you go through Liverpool's record back then in the '70s and '80s, you'll see first, first, second, second, first, first etc. That's what you'll see. You didn't see anything else.
"There weren't thirds and fourths and sixths. That only happened once in my time and that was at the end with Graeme Souness.
"But before that, we were finishing first or second nearly every year. So that was what they were used to.
"Anything else was failure. Second was failure to be honest."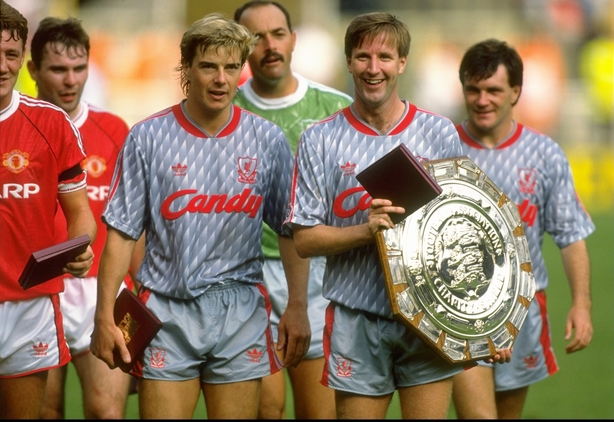 Houghton would score once in the league that campaign against Chelsea in mid-December 1989, a delicate chip over an on-rushing goalkeeper to make it 3-1 after 23 minutes en route to a 5-2 win at Stamford Bridge.
That finish was reminiscent to the way his attacking team-mates put Nottingham Forest to the sword in a famous 5-0 thrashing in April 1988 that still earns reverential monikers.
Houghton opened Liverpool's account that day after being played in with a deft pass back by John Barnes but if you watch fellow Ireland man John Aldridge's finish after running onto an outstanding Peter Beardsley through ball, another delicate clip over an advancing goalkeeper is unsheathed.
And then if you fast-forward back to that Chelsea game in December '89, the chipped finishes are dusted off again and again, and not just with the third by Houghton.
Watch Ian Rush's first goal – also make sure to bask in the glorious nature of Ronnie Whelan's through ball while you're at it – it's another delicate chip over the goalkeeper, although with a little more height than Houghton put on his and Steve McMahon's goal for the fourth after another through ball into acres of space from midfield is another delicate chip.
Yet Liverpool's players did not put much store in practicing finishing, although that deft clip over a goalkeeper was something liked to do at training in his pre-Liverpool days.
"I used to do it a lot when I was a bit younger, when I was at Fulham with Gerry Peyton when he was in goal," Houghton says.
"He didn't like it, Gerry, and used to chase me around the training ground because if you do that to a goalie, it's like the worst thing you can do to them. It's as if you're taking the mickey out of them.
"But I just felt I wasn't a great finisher and when I look back on my career, I've seen games I played in where I missed absolute sitters to be honest. And when I look back, I think, 'How did I miss that?'
"At Liverpool, you weren't encouraged to practice your finishing. But still my highest goalscoring record was at Liverpool because we were creating so many chances."
Of course, Ireland fans will be happy with the fact that he saved two key goals for Euro 88 and USA 94.
But before we digress, Houghton's Liverpool era and Jurgen Klopp's current squad do share relentlessness.
When Houghton first arrived at Liverpool, defeat was alien to him in the first part of the 1987-88 season until a loss against Everton in the Merseyside derby, which as he recalls resulted from a goal going in at the post he had just been marking moments earlier.
"Where I should have been is where the ball went in," he recalls.
But on that sense of sheer relentlessness, he feels a few threads unite the two eras of past and present.
"Your manager has got to believe in you, that what you're doing is right and keeps encouraging you," Houghton says.
"You did the simple things well and you didn't over-complicate your game and kept doing what you were doing.
"I mean, everyone talks about a Plan B but you need your Plan A to be absolutely bullet-proof. If your Plan A is that good, you don't need a Plan B.
"The Liverpool team that I played in to the Liverpool team today, it's that they never give up.
"It doesn't matter if it's the 94th minute, they still feel they are going to score and we were exactly the same back then.
"There were varieties of ways to win and there were times you weren't playing well but found a way to get the winning goal. That's football, you're not going to play brilliantly every week."