It's been a long time since the Republic of Ireland had a teenage talent as hyped as Dubliner Troy Parrott.
The gifted 18-year-old has been the name on every Irish fan's lips for at least the last year, despite the fact that he has yet to really break into the Tottenham Hotspur first team and he has just one senior international cap to his name.
Ireland and Spurs fans are itching to see more of the attacker, but his managers - Jose Mourinho and Mick McCarthy - are less keen to throw him into the fray, with Mourinho appearing to question his off-the-field attitude.
"He is not ready," said the Portuguese last week. "He is a good kid we want to help, not only on the pitch but off it. He is a kid who is going to have a real opportunity but when we decide it is right."
Paul Corry, appearing on this week's RTÉ Soccer Podcast empathised with the youngster.
Corry went to Sheffield Wednesday as a promising teenager and admits he made costly mistakes. Making it across the water is no easy feat.
"I struggled at times off the pitch when I was in the UK," he said.
"It's only when I reflect on it now that I see the link between how you live your life as a professional, and how that ties in to your performances on the pitch. The game can pass you by very quickly.
"I don't think that's going to happen with Troy but you have a certain responsibility to live your life professionally. I think that's probably the question mark that maybe dangles above his head.
"I made a huge amount of mistakes when I wasn't in the team. When you're not playing it's very challenging but at the same time that's when you really have to knuckle down.
"When I went over things happened very quickly for me. I got into the team probably quicker than I expected. Then one or two things didn't go my way. I felt my confidence starting to lack, my self esteem started to struggle.
"There was probably a lack of communication form the manager to me. I started thinking I wasn't in his plans and probably didn't train hard enough when I wasn't in the team and realised that there were certain weaknesses that I needed to work on with regards to my fitness and strength and ability to last the 90 minutes that I could have worked on in the background when not in the team.
"When you're not in the team it's very easy to become the victim and say, 'Well I'm not playing because of the manager'. You'd struggle to find a footballer who says they don't have regrets. Maybe one of my regrets is that I didn't get myself to a level of fitness that I could have when I wasn't playing."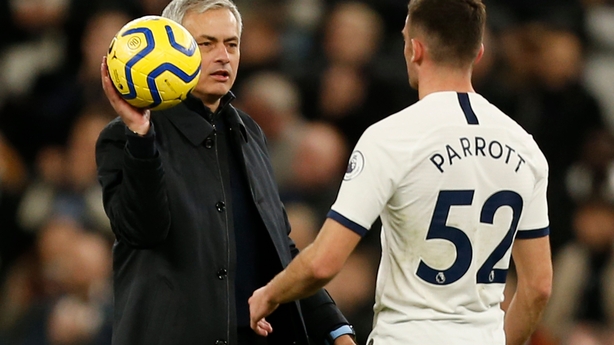 Parrott came off the bench in Spurs' extra-time FA Cup defeat to Norwich, missing a penalty in the shootout. Mourinho was critical of how he played in his 30-minute cameo, and Corry hopes the Irishman now reacts to that criticism in the right manner.
To do that, he must absolutely dedicate himself to the profession and avoid falling into off-the-field pitfalls that could hurt his progress, adds Corry.
"His ability as a player is never going to be in question. I don't think anybody is going to question that. He has all the tools to make it to the very, very top, but the ones who stay at the top for the longest amount of time... you look at Harry Kane, he's just a picture of professionalism.
"If you are to extract every bit of potential (from yourself), you have to do things right off the pitch.
"You have a decision on how professional you want to be. You have a decision on what food you eat, how much you rest you get, whether you go out on the weekends or midweek, how you spend your money.
"There's one part of football that's about looking like a footballer, and there's a second side of it that's about actually being a footballer.
"I'm not accusing Troy of anything like that. I've met him. He's an unbelievably intelligent young man, unbelievably down to earth, but there are certain question marks I'd still have. If he is to go as far as everyone wants him to go, I think there's a bit of professionalism needed.
"If Troy was to benefit from a loan move and get 20, 30 games, that'd be unbelievable. But while he's stuck at Tottenham and while he's not playing you have to train yourself as best as you can.
"I don't want to see Troy make some of the tiny little mistakes I made that impacted my career. You just have to stick to the core of what made you fall in love with the game. Focus on your football, your core friends, your family and that is ultimately what brings you success."
We need your consent to load this SoundCloud contentWe use SoundCloud to manage extra content that can set cookies on your device and collect data about your activity. Please review their details and accept them to load the content.Manage Preferences
Listen to the RTÉ Soccer podcast on: Apple Podcasts, SoundCloud, Spotify or wherever you get your podcasts.
Follow Montenegro v Republic of Ireland via our live blog on RTÉ.ie/sport and the News Now app, or watch live on RTÉ2 and RTÉ Player from 2.30pm.