Ireland are expected to move top of their Euro 2021 qualifying group in Montengero on Wednesday, however, star midfielder Denise O'Sullivan stressed that their is still a long way to go in the qualifying campaign.
Victory in Montenegro would see Vera Pauw's side move one point clear of Germany in Group I, although the top seeds would remain favourites to top the table as they play Ireland twice at the end of the campaign.
But more importantly for Ireland, a win would move them nine points clear of Greece and 13 ahead of Ukraine, which would put Pauw's side in pole position to guarantee a second place finish in their quest to qualify for the 2021 event in England.
A second place finish, combined with a strong points tally, could see the Irish qualify automatically, however, that runners-up spot does guarantee a play-off at least at the end of the campaign.
But Ireland midfielder O'Sullivan is not looking too far ahead and is solely focused on the next game, which is Wednesday's fixture in Petrovac.
"We're in a very good position but we're not going to get ahead of ourselves," said O'Sullivan, speaking to RTE Sport following Thursday's 1-0 win over Greece.
"We're not taking Montenegro lightly. They're going to be a good team, they'll be well organised.
"They sit deep, they are compact and we'll have to try and break the lines and score goals.
"It will be tough against them, but we'll just go into the game confident, backing each other 100% and hopefully get the three points."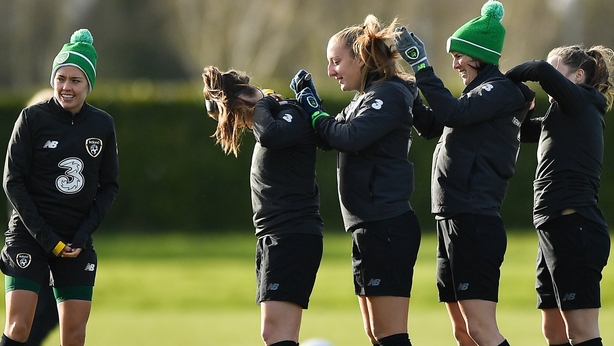 Confidence is very evident throughout the Ireland camp as the side remain unbeaten from four qualifying games and the team spirit under new coach, Pauw is thriving.
Yet O'Sullivan stresses the need to stick to the game-plan and remain patient for this fixture despite dominating their opponents in the first match at Tallaght Stadium.
Ireland were by far the better team in that particular encounter, however, they only managed to score two goals against the team that Germany put ten past in their opening Group I fixture.
"I think we just have to stick to the game plan and take it as it comes, keep patient, move the ball quickly and once we do that, they'll start to break up and we'll score goals.
"As I said, we aren't taking Montenegro lightly and Ukraine are very good team as well," added O'Sullivan, looking ahead to the remainder of the group and securing a top-two finish.
"We aren't going to take [Ukraine] lightly either, we beat them already but they're a tough team.
"And then obviously Germany are top guns. Our realistic position is to be second, but we're still not done. We have a lot to go."
After Montenegro match, Ireland will have three matches remaining, two against the highly fancied Germans, and a crucial clash with Ukraine, who were originally the second seeded side in the group.
And O'Sullivan knows that the added incentive going into the Montenegro match means that an Irish win would leave Ukraine needing to win all five remaining matches to get past Ireland in second spot.
"They probably have to win all their games so I think we'll just take Montenegro next. As I said, we'll just kick on and beat Montenegro and then we'll worry about Ukraine.
"Germany, those are the games you want to play in.
"They're absolutely fantastic games to play in, they're a great team, they have world-class players and our team wants to play in big games like that.
"I think we'll just take Montenegro next and see how it goes from there."