As Ireland's chances of qualifying for their very first European Championships continue to move from dreams towards reality, captain Katie McCabe insists the team's main focus is on Wednesday's away match in Montenegro.
Four games into an eight-match campaign, the Ireland women's national team remain unbeaten with an impressive tally of ten points and sit in second place in the Group I table.
Vera Pauw's side are two points behind the leaders, Germany, while they have moved six clear of third placed Greece, with Ukraine and Montenegro yet to register a point.
Ireland secured a comfortable, if slender, 1-0 victory over Greece at Tallaght Stadium on Thursday night and now head to Montenegro knowing that a win would see them move top of the table, albeit with a game more played than favourites Germany.
The 2021 championships take place in England with automatic qualification guaranteed for the nine group winners and the three best second-placed sides.
As things stand, Ireland are rated second out of the nine teams vying for the three places – the other six will play off for the three remaining berths – with only Switzerland performing better, as most groups move into the second half of their campaign.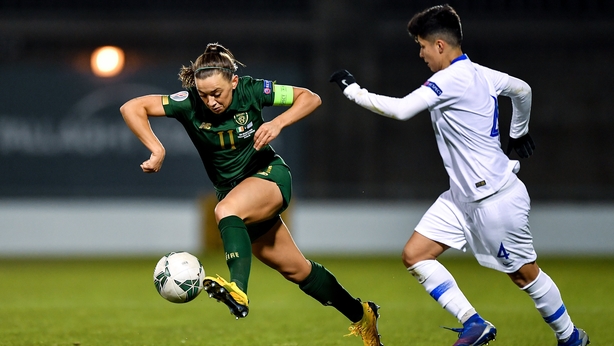 Victory in Montengro would also mean that, barring a remarkable run of results, Ireland would more or less be guaranteed a second place finish – Ukraine would have to win all five matches, including one against Ireland to move ahead of the Pauw's side.
Arsenal midfielder, McCabe, however, is not looking past Wednesday and emphasised how important the victory over Greece was on Thursday as the team learnt from the mistakes of the first game with the Mediterranean side.
Back in November, Ireland dominated the Greeks in Athens but were stunned in injury time as the home side grabbed an equaliser to disrupt the Irish campaign, but in Tallaght, the home side held on to their 1-0 advantage throughout the latter stages, sticking to the gameplan and securing the victory.
"They were always going to push forward towards the end of the second half to try and get that equaliser, but we stayed compact, we stayed defensively organised and got the three points in the end," said McCabe, speaking to RTE Sport after the game.
"We've learnt from our mistakes, especially over there. We made sure that towards the end of the game if we were only 1-0 up what we had to do, the girls executed the plan great, and like I said, we got the three points.
"The full focus is recovering after this game and having a look at Montenegro.
"We'll look at them on Saturday, we're travelling and stuff, having a look at them, seeing what we need to work on, and see how we get the three points over there."
McCabe, of course, understands the significance of securing the three points in Montenegro and believes that the team have a "massive job" to undertake to put real distance between themselves and the rest of the second-place challengers going into the latter stages of the campaign.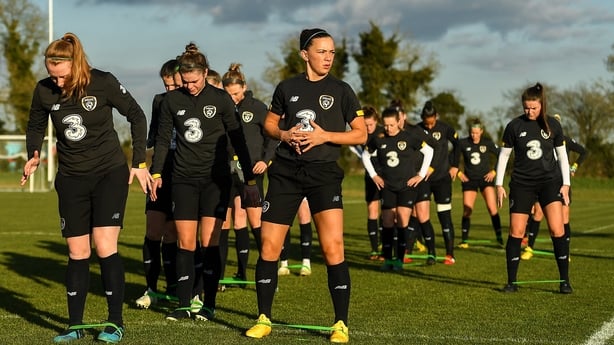 "Of course, we definitely want the six points in these two games and we're halfway there, but we can't get too far ahead of ourselves.
"We've a massive job to do over in Montenegro and they won't make it easy for us, but we've showed by the players we have, Ruesha Littlejohn and Aine O'Gorman coming back in and Denise O'Sullivan playing that deeper role, we've so much creativity in there and hopefully we get a few goals over there.
"We've showed how far we've come as a team. What Vera has brought in, how we're executing it as a team, what she wants us to do. It's been fantastic so far. Hopefully we can continue that now and bring it into Montenegro."
Should Ireland secure the vital win on Wednesday night, the Girls in Green can go into the April encounter with Germany with virtually no pressure and attempt to cause another shock in European football, as they did in 2017 when they drew with reigning European champions, the Netherlands.
"I suppose, the Germany game is always going to be a big one for us," said McCabe.
"They're top seeds, they've dominated European and world football for years now.
"We've shown what we can do against the big nations in previous years - obviously the famous result against the Netherlands - but as I said, I'm not going to get too far ahead and look at the Germans, it won't mean anything if we don't beat Montenegro."