Twenty one minutes into the Republic of Ireland's must-win Euro 2021 qualifier against Greece at a packed Tallaght Stadium and the home side are under pressure.
The big and physical Greek side, who held Ireland to a 1-1 draw in Athens back in November, were slowly working their way into the game and had a real chance to threaten from a corner.
The cross dropped into the Irish penalty area and panic struck as goalkeeper Marie Hourihan flapped at the ball and allowed it to bounce loose. Hoofed clear by a defender on the line, the ball headed straight for Denise O'Sullivan, who was stationed on the edge of the penalty area.
Another player may have struggled to cope with the pace of the clearance hit straight at her from 18-yards away, but O'Sullivan didn't just kill the ball with her first touch, she flicked it around her marker and with one insouciant wave of her right foot, she was away and Ireland were on the attack.
The Cork women showed enough of the ball to the next scrambling Greek defender to invite a tackle, and when that inevitably arrived, she nimbly poked the ball past the outstretched foot and galloped into the open space.
Surging into the Greek half and with the every-dangerous Rianna Jarrett ahead of her, O'Sullivan played an inviting through-ball for the striker to chase, and while Jarrett's effort on goal eventually came to nothing, that 10-second passage of play summed O'Sullivan's game perfectly.
O'Sullivan has it all. A creative playmaker whose delicate touch and eye for a pass is matched only by her boundless energy and running and who is described by Ireland manager Vera Pauw as "one of the best players in the world." It's easy to see why.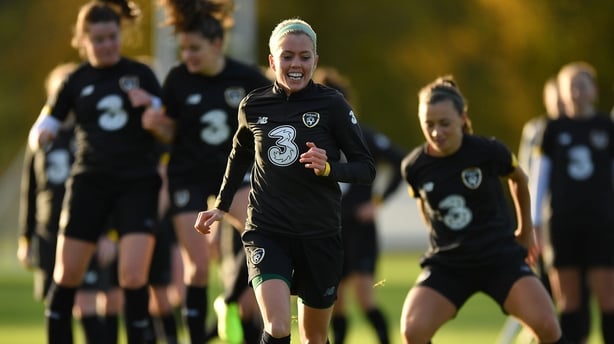 The midfielder is not just the engine of Pauw's Ireland team, but the metronome that sets tempo and the rhythm and keeps things ticking over as she dictates the play from the centre of the pitch.
At just 26 years of age, O'Sullivan plays with a calmness that belies her years. But as someone who is not yet halfway through her journey as a professional footballer, she has already managed to amass a career's worth of experience.
Playing on boys' teams until she was eleven, the young O'Sullivan made an early impact on the international scene as she, along with Jarrett, was part of the Ireland Under-17 team that caused a major upset when they made their way to the UEFA European U17 Championship final, where they narrowly lost out on penalties to Spain.
Playing spells with Cork and Peamount followed, along with Champions League experience, which saw O'Sullivan's stock raised higher, and it wasn't long before professional teams in the UK came sniffing around.
The self-confessed 'homebird' turned down the first offer of professional terms that came from Bristol, but when Glasgow City came calling a year later, O'Sullivan felt that at 18 she was old enough to make the move and three hugely successful seasons followed.
O'Sullivan's spell in Scotland saw her help establish Glasgow as Champions League regulars, driving them on to the quarter-finals in 2014 and helping the club win a domestic treble as she named the SWPL Players' Player of the Year.
Further personal accolades would follow, but itchy feet and a desire to test herself against the best players in the world led O'Sullivan to the US, where she joined National Women's Soccer League side Houston Dash. However, it was there where she suffered her first major setback in the game.
This week 20x20 launched a call to action (in the lead up to a big celebration for International Women's Day on March 8th) that asks the whole country to #ShowYourStripes for women in sport by choosing one of the pledges:

Pledge to Participate or play more, or

Pledge to Attend more women's sporting events, or

Pledge to Promote, discuss, share, like or follow more female athletes.
After a solid first season under head coach Randy Waldrum, O'Sullivan appeared to have found her feet in the demanding league, but Waldrum's sacking and the appointment of interim boss Omar Morales saw her increasingly sidelined at the BBVA Stadium, so much so that she sought her release and was granted it.
With an offer on the table from a German side, O'Sullivan expected a return to Europe, but a surprise late move from North Carolina Courage to sign her put those plans on hold and gave the Cork woman the platform she needed on which to show the world what she could really do.
It was an opportunity she grabbed with both hands.
With O'Sullivan pulling the strings in midfield, the Courage have won back-to-back NWSL Championships and she's twice been named the team's Most Valuable Player.
"What happened with the Dash was the biggest setback of my career, but it's just gone upwards from there," O'Sullivan said in an interview with the Irish Examiner last November.
"I think I've become better as a player and better as a person as well.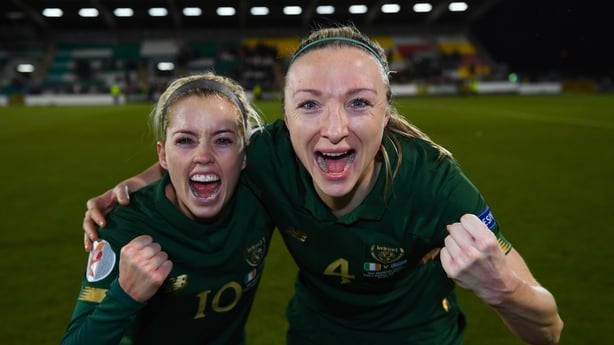 "I had to prove myself. I'm sure some people in the team were thinking, 'why have we signed this girl who's been on the bench?' And I wouldn't blame them. I'd got let go from a team that wasn't really ranked very high in that league, but I knew I was better than that."
Have proven herself at the top level of club football, it's the international game where O'Sullivan next big target lies.
The tantalising target of 100 internationals caps is very much within reach, but it's qualification for the 2021 European Championships in England that really motivates the Cork woman now.
"It's been a dream of mine to get to a major tournament with Ireland," she told RTÉ's The W podcast. "It hasn't been done in women's football.
"With this group it would be really special. I think this is a time where we are really good. We're after getting fitter and improving as a team. This could be the biggest opportunity for us to get to a major tournament, it would be special."
How it was and how it is, isn't how it will be. #ShowYourStripes and help shape the future of sport in Ireland. Pledge to PARTICIPATE, ATTEND or PROMOTE women's sport. We're proud to partner with @20x20_ie. #EachForEqual #20x20 pic.twitter.com/z5HZWA9Pbc

— RTÉ (@rte) March 6, 2020