Sligo Rovers manager Liam Buckley is confident that new striker Ryan De Vries will be a useful addition to his side as they look to pick up their first win and goals of the SSE Airtricity League Premier Division season on Saturday.
On paper, victory looks to be a tall order as a Sligo side rooted to the bottom after three games face leaders Shamrock Rovers who have won four from four including against title rivals Dundalk last Friday.
Buckley's side have yet to find the net in their three games but he is hopeful De Vries can bring that much-needed cutting edge.
"It's going to be very difficult against a strong opposition on Saturday. We've worked on bits and pieces during the week to help us get something from the game. I'm sure Shamrock Rovers are coming here a confident team and a cohesive side and all of that," he said.
"We've got some good players as well and we will show that ability. Ryan De Vries has trained with us for a couple of days, he's going to add to what we have here. We'll see what role he will play in this game. There are some factors to consider there. 
"I think the fans here appreciate we have been hindered by missing some players but we all know that points on the board are crucial and the sooner you can get them the better.
"It's not going to be easy and it's one of the most difficult games in a hard league but we're going to be ready for it."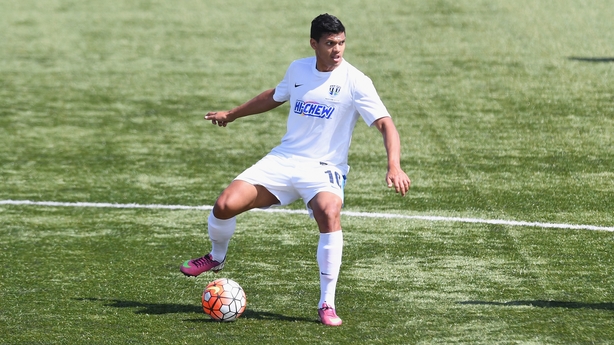 Sligo's game against Waterford was postponed last week due to Storm Jorge and Buckley backed that decision.
"We had trained all week ahead of Waterford, so we were ready to go until we got the call on Friday afternoon. We were looking to get the season up and running given the results so far, but it was the correct call to postpone it with Storm Jorge and the dangers with the wind. So we just had to get on with it," he said.
On the injury front, Regan Donelon has returned to light training following a shoulder problem. Meanwhile, Johnny Dunleavy (knee) will also face a late fitness test.
"We haven't got too many players returning this week, we have to look at a couple on Saturday evening. Regan is back with us, although it is early so we'll have to check if he's ready to come in to start. We're not sure," Buckley added.
"Danny Kane is getting closer certainly but he isn't back with us yet. We'll check on Johnny Dunleavy too and if he can feature. Lewis [Banks] won't be ready for this game.
"It's frustrating talking about five key defenders and injuries, it's a factor of course in how we've started. I do think when we get the lads back we'll be a strong-looking group. 
"That said, we will have all the players that featured against Bohemians where we played well in good parts of the game and the team that goes out there will be well-versed and can get the job done for us. We showed against Bohs that we're good enough."