The Ireland team have travelled from all over the world to meet up in Dublin for their Euro 2021 clash with Greece, but despite all the coronavirus chaos, everything has gone very smoothly in the Ireland camp.
While Saturday's Six Nations rugby match between Ireland and Italy was called off due to the ongoing global threat of Covid-19, the Tallaght Stadium encounter never appeared in any doubt for the visit of Greece.
Ireland remain unbeaten after their opening three games of the campaign and sit in second place in the table behind favourites Germany, who are expected to take the top spot in Group I.
Automatic qualification remains a very viable option for the Irish, however, as the three best group runners-up will also go through to the England-hosted event.
In essence, Ireland are targeting that particular placing and will need to maintain that winning momentum in the week ahead as Vera Pauw's side take on Greece in Dublin, before travelling to face Montenegro next week.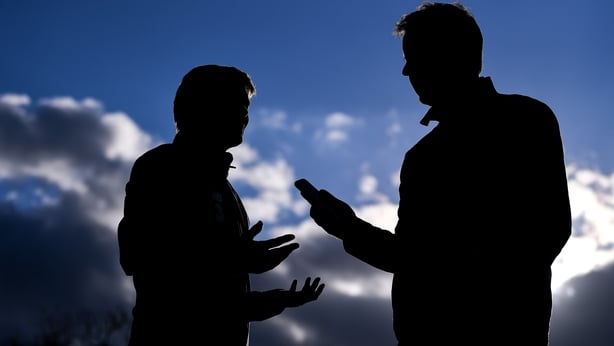 "When we assembled, the coronavirus was not the huge thing in Europe yet," said Ireland manager Pauw, speaking to RTÉ Sport at the team base at Johnstown Estate in Meath.
"So I feel we are a bit away from it, and in that sense we are lucky.
"Our management are in contact with the health service and they have told us to act as normal; wash hands, of course, just in case.
"So that is what we have done."
And there is a real sense of confidence coming from the Ireland camp, with manager Pauw justifying that confidence ahead of the visit of Greece.
"The camp is going so well, and everyone is in the mindset of winning, because we are better," said Pauw.
"We have better teamwork, better quality throughout the team and we have the crowd behind us in a fantastic stadium with an unbelievable atmosphere, so there would not be a reason why we are not confident."
Regarding that coveted second-placed finish, Pauw – just six months into her tenure as Ireland boss – believes that the home clash has become a must-win encounter.
Ireland secured a 1-1 away result to Greece last November and to stay in control of their destiny, Pauw feels that, while a draw would not be the worst result in the world, they must avoid defeat.
"We consider this a must-win game if we are to secure second place in the group.
"We played Greece in our last game so we know a lot about them and we are ready for this test, which will be different as we have more of our players available to us this time.
"If we do not win, if it is a draw, it is not over.
"If we lose, then we are really depending [on results elsewhere]."
As mentioned, Ireland gained an away point in Greece, yet they could, and perhaps should have come away with all three but for an injury-time equaliser from the host team.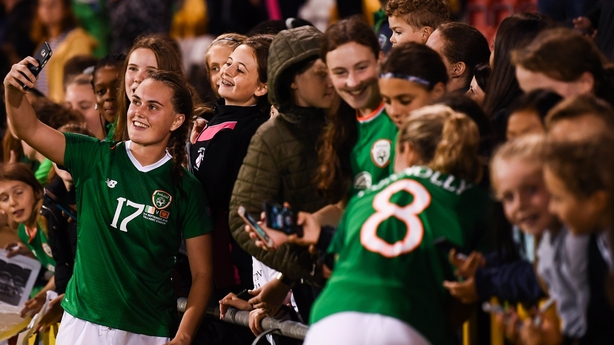 Pauw believes that if her side had been a little bit luckier, they could have claimed the win, but she was not too concerned about dropping two points, as she travelled to Greece with a weakened squad, compared to what has been assembled in Dublin this week.
"Game by game. All the concentration is on tomorrow," said Pauw, who may be looking at the overall group outlook, but said that she is not thinking about the away trip to Montenegro until after the Greece clash.
"If you look at the players that we were missing [in Greece] and you look at the maturity that we have brought in now, and you compare that, then you have to happy with a point and that we haven't lost there.
"When you see the game and the chances that we created, we are disappointed about that late goal.
"On the other hand, with a bit of luck we would have taken all three points."
And while Ireland had enough chances to win the game in Greece, Pauw admitted that her side were not at their best, performance wise, and she expects a different showing at the Dublin venue on Thursday.
"We have to be realistic, missing so many players meant we would naturally lose team-work.
"The players that were there are good players, but we lacked team-work."
Harriet Scott and Heather Payne are back with the squad having missed out on the trip to Greece due to club commitments, while experienced duo Aine O'Gorman and Ruesha Littlejohn are available for selection once again.
"We did not have these players in November. Ruisha was not playing and was just thinking about getting back to high-level football and she has worked really hard over the last four months to get back to that level.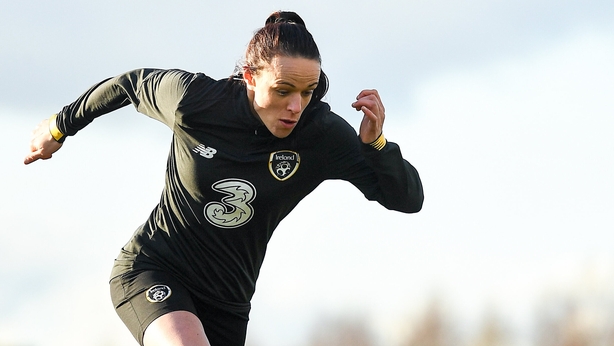 "Aine had just retired and did not feel like reviewing it, but now a few months later, she said she felt it in her stomach [to return].
"So they have both been great additions in maturity. And don't forget Harriet Scott or Heather Payne who were not available because of their universities."
There has also been a new addition to the attacking department as American-born, Kyra Carusa has been added to the squad, after receiving international clearance.
But the San Diego native, who qualifies through her maternal grandparents, from Cork and Laois respectively appears a bit of an unknown quantity, with the manager admitting that she is still getting to know the player and her attributes.
"She is a strong attacking player," said Pauw.
"She is not the most creative player, but very determined and very direct to the goal.
"But we don't know her either, so we don't know yet if she is playing."
Follow the Republic of Ireland v Greece (kick-off 7.15pm) on Thursday via our live blog on RTE.ie/Sport and the News Now app or watch live on RTÉ2 and RTÉ Player from 7pm.