Tottenham Hotspur boss Jose Mourinho has reiterated his belief that Troy Parrott is "not ready" for first-team Premier League football.
Parrott made his second top-flight appearance off the bench in the 90th minute of Spurs' 3-2 loss to Wolves on Sunday, and though both of his league cameos have come during Mourinho's reign, there's a feeling the 18-year-old Dubliner has regressed since Mauricio Pochettino departed.
Mourinho said he only brought Parrott on in the final minutes of the game because he had so few options, though he did talk up the Republic of Ireland international's potential.
"He is not ready. He is not ready," said the Portuguese.
"He is a good kid we want to help, not only on the pitch but off it. He is a kid who's going to have a real opportunity but when we decide it is right.
"He was on the bench because [Erik] Lamela said he was not ready to go on it. He was on the bench so, for the last five minutes, we brought him on to give some more space for Dele [Alli]."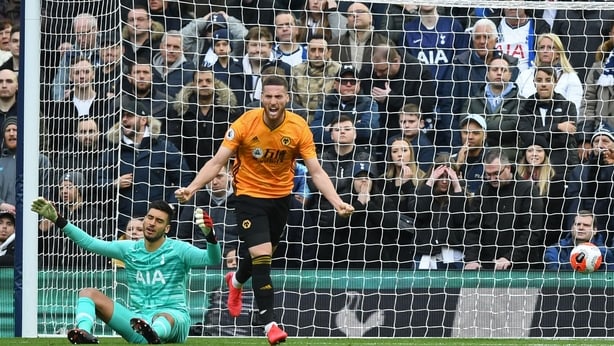 Speaking on BBC's Match of the Day, former Arsenal striker Ian Wright said: "I was a little bit confused...they need a striker.
"I'd say put Parrott on [earlier]. I don't know what three minutes is going to do for him.
"If he's on the bench then give him 20 minutes, let's see what he's about. Let's see if he can link the play, hold it, so Spurs can play in a different type of way. 
"He only got three minutes, I was gutted for him." 
Mourinho believes his team were punished for being "too nice" after Wolves twice came from behind to win at the Tottenham Hotspur Stadium.
Steven Bergwijn and Serge Aurier twice gave Spurs the lead, but Wolves hit back each time as another Irishman, Matt Doherty, and Diogo Jota levelled before Raul Jimenez scored the winner.
It was a result that saw Wolves leapfrog Tottenham into sixth as Mourinho's side lost a third game in a row in all competitions.
"They had the correct mentality and I think we were punished," Mourinho said.
"Not just today on the second and third goal, but for quite a long time because we don't have that aggression, that ruthlessness.
"I think we are too good, we are too nice and that was the only thing that made a difference in the game, because tactically I think the team was really good.
"I think Wolves was not expecting and they were in trouble for periods of the game.
"We didn't have one single problem apart from Wolves' individual qualities, so it's difficult to cope with some individual qualities that they have.
"So I think unfair result, totally unfair result, but for the neutral - great game."