Former Cork City attacker George O'Callaghan and ex-UCD winger Alan Cawley have spoken about the bullying culture that existed within English football dressing rooms in the late 1990s.
O'Callaghan, the Premier Division Player of the Year when Cork City won the title in 2005, was interviewed on this week's edition of the RTÉ Soccer Podcast, where he talked at length about his varied and colourful career, the glory days at Cork City, the early days trying to break through at Port Vale and his "crazy" later years as a manager in Malaysia (where he had the misfortune of managing ex-Liverpool forward El Hadji Diouf).
The Corkman also spoke frankly about his experiences at Port Vale, the club he joined as a 15-year-old in 1995, and the occasionally brutal dressing room culture that existed there at the time.
"I had just come from a country village," O'Callaghan said. "In the environment back then, there would have been a lot of bullying in the changing room, which lads could get away with
"What I learned is, I just had to train harder, have a better touch than everyone so if they slagged me off, I'd go 'well at least I can control the ball, you can't'.
"I got that cheekiness to protect myself. And I think I always had that for the rest of my career even though sometimes I should have just kept my mouth shut.
We need your consent to load this SoundCloud contentWe use SoundCloud to manage extra content that can set cookies on your device and collect data about your activity. Please review their details and accept them to load the content.Manage Preferences
Listen to the RTÉ Soccer podcast on: Apple Podcasts, SoundCloud, Spotify or wherever you get your podcasts
"You just had to deal with it. It was just the way it was. You had no other choice.
"If you didn't do one of the pros' football boots right, you could end up locked in one of the skips for half an hour.
"At the time, lads probably just found it funny. But I do see a lot of lads when I'd meet up with - say, when I play with the Irish legends - and you see a lot of lads, some of them are still mentally tortured from it. I'm kind of lucky in that I just let it all go.
"Days were completely different then compared to what they are now and what kids have now. I've been over at Ipswich's academy and Norwich's and Villa's and you see the guidance and support that they have. But back then, it was just accepted and that was the way it was."
This experience chimed with those of RTÉ Soccer pundit Alan Cawley, who was at Leeds United in the same era.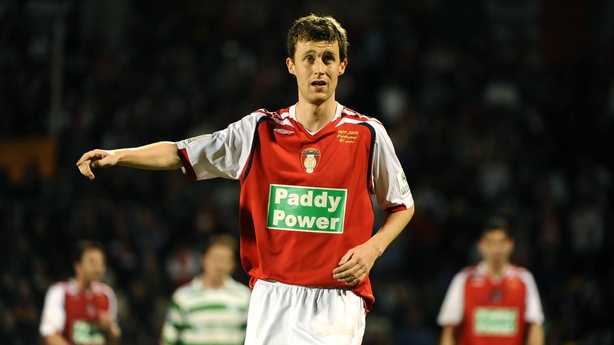 Cawley, who subsequently joined Sheffield Wednesday and then played for a host of League of Ireland clubs, including UCD, Shelbourne, Bray Wanderers and St. Patrick's Athletic, recalls one incident vividly from his first year in digs.
He said: "That was just the environment and you had to just get on with it or you'd be left as an outcast. I remember some of the initiation things we had to do when I lived in the Leeds digs.
"There was first years and second years. All the first years, we were brought out on a Sunday afternoon - I'll never forget it - and it was like a Royal Rumble.
"The place was empty on the weekends except for the people left staying in the digs.
"We (the first years) were all stripped naked on the pitch and you had to run up to the centre circle and fight and wrestle like a Royal Rumble type thing and the last man standing (won it).
"This was all made a joke of, made fun of, but what people don't realise the impact it has on people in later years, or even at the time.
"I was coming from a small town in Sligo, going into the big bad world. You just had to get on with it or else you'd be cast aside. I think if you weren't to get on with it, they'd even take more advantage of you if they saw you were vulnerable.
"There was one or two who said 'no, I'm not having this' and it made things even tougher for them. That was just the industry. That's all gone now."