When the very future of football in Ireland was under threat, one point driven home was the importance of the game in relation to participation.
It was the strand of the sport that the likes of Niall Quinn and the new FAI board had to cling to, because as an industry, despite all of the employees and the 20,000 people that attend senior football each week, it doesn't get the same levels of attention of the likes of Gaelic Games and rugby.
When the All-Ireland finals take place each year, commentators will describe the sport as our lifeblood, a sense of community, an element of society that makes us unique and Irish.
But it isn't for everyone who lives on the island. Football can be the game to unite those who do not have the same sense of belonging.
Around 18 months ago, Mamoud Mansaray moved to Ireland from Sierra Leone. He left his home country at the age of 20 in a difficult situation, desperately needing a new start in life.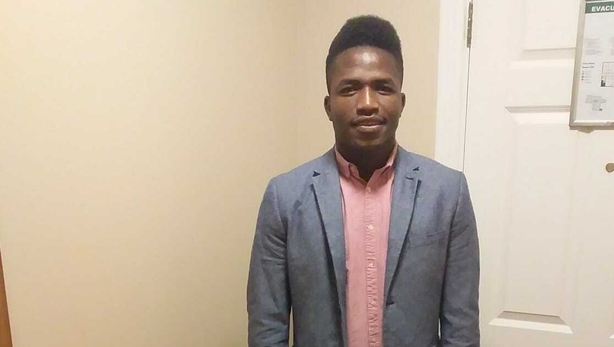 After receiving assistance in his application through an agency, he travelled to Ireland and after two months living near Drogheda, he found a place to stay in Globe House in Sligo – a Direct Provision centre that accommodates asylum seekers. 
Globe House, which has a capacity for 218 people, had a handful of beds left when he arrived. It was a home, albeit a packed one.
In his previous life, he played at a local level in Sierra Leone – all the time dreaming of one day playing professionally.
A weekly astro game is part of life for so many people here as a means of exercise, socialising and it can form an element of society.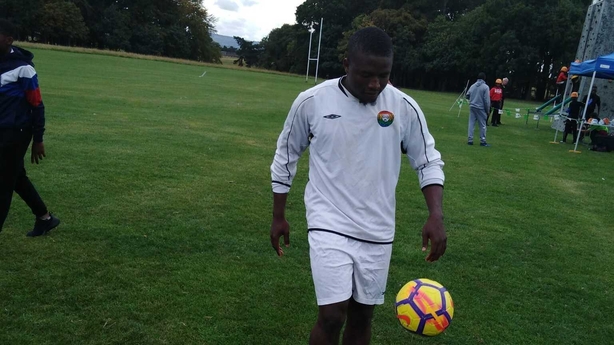 Mamoud was introduced to Dave O'Hara – who runs a regular game in the county. It is affectionately known as Dave-ball and is now a decade old.
What began as eight people gathered legs, as firstly students joined and then residents from Globe House learned of it. The game is open to all. 
Mamoud's friend, Yeslam from Oman, introduced him to Dave and every Monday and Thursday he began to take part. Immediately Dave saw something in Mamoud.
"He was just so eager. He was playing in other games during the week but he wanted to play every night of the week. He just loves football.
"One day I said to him that he had talent and he looked really good out there. He hasn't really had any coaching but you can see it in him.
"He said to me with such eagerness that it was his dream to play professionally and I just had never seen such enthusiasm. He begged me to open some doors if I could. The look in his eyes, I just had to help him."
That was early 2019.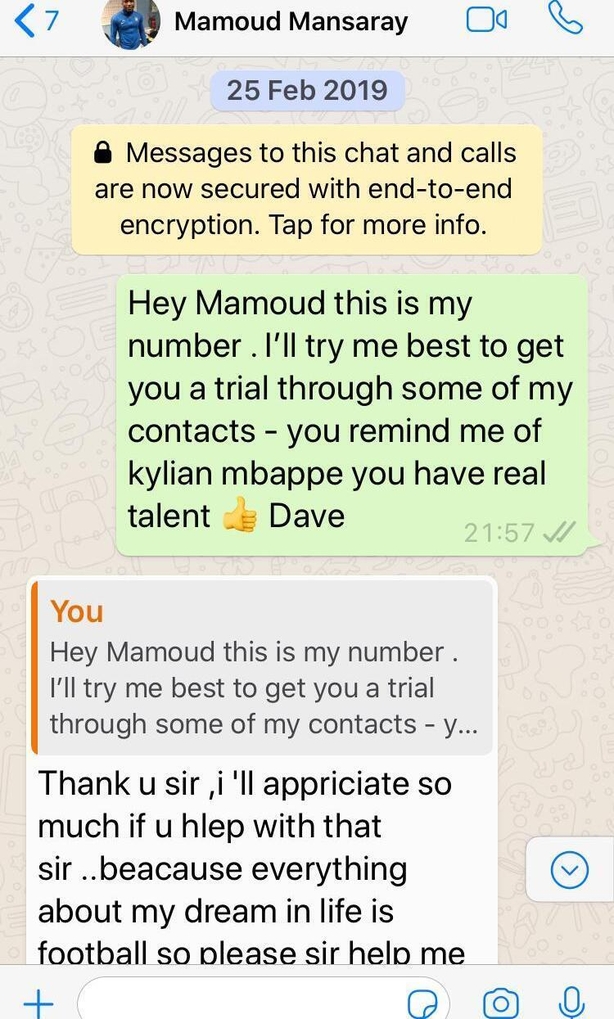 As Dave made contact with some football people in Sligo, such as Colm Jinks and another crucial figure in Sligo, John Russell, Mamoud, through Dave's assistance, trained with Sligo Rovers Under-19s.
However, being overage, he was not eligible to play in games and insurance was an issue for the club if he continued to train without being on forms. 
Sligo needed him to gain more experience if he was to make it at a higher-level. 
Mamoud signed with MCR and then Calry Bohs FC in the Sligo-Leitrim league and did well, along with continuing Dave-ball each week.
He began to work part-time as a kitchen porter in a local hotel but it was football that gave him the chance to really become part of the community.
Ahead of his Calry debut, his now mentor wished him luck and the 21-year-old promised to make him proud – subsequently scoring a hat-trick.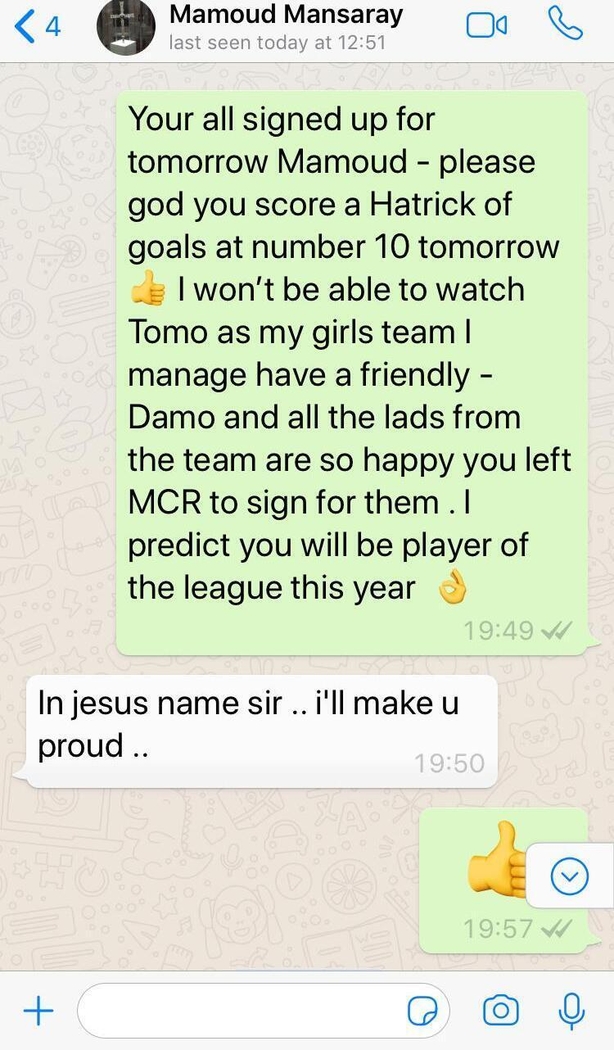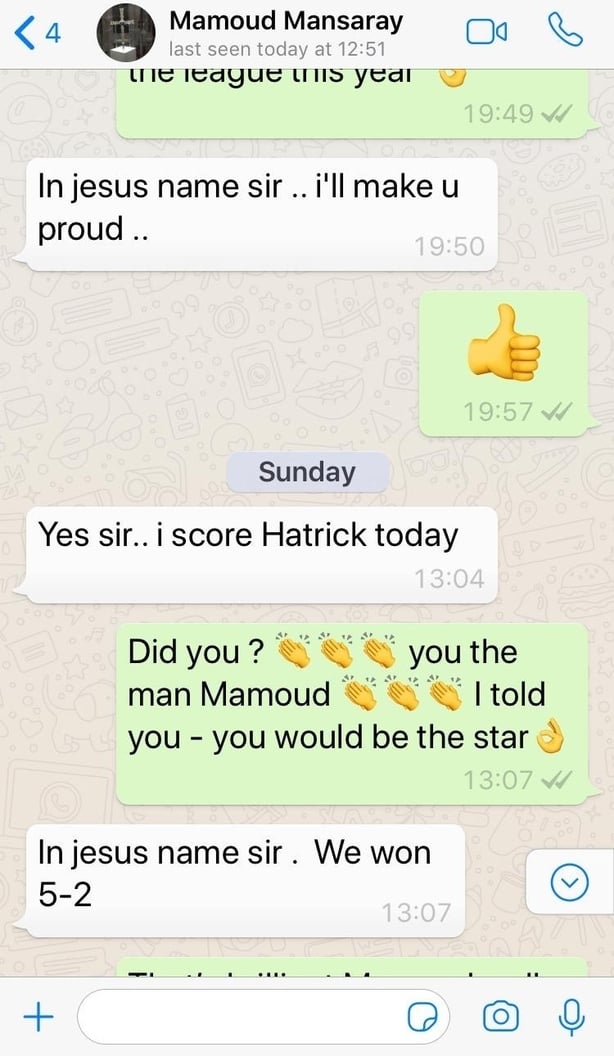 But still came the dream of making it at senior level.
Jim Sheridan is a familiar name with those involved with football in the region and a former school-friend of Dave.
After a request from Dave, Jim made contact with the Athlone management who spoke to senior boss Adrian Carberry. He agreed to take him on trial in January as Athlone were looking for strikers. This was it, a lucky break. 
The two drove to Athlone for training on the Monday, with Dave giving his own time to make the trip. The now 22-year-old did well and was invited to play in a pre-season game later in the week. 
Again, they drove down to the Midlands, not expecting what was to come against one of the leading teams in the country, St Patrick's Athletic.
The Dave-ball Whatsapp group – which now consists of 87 people and has turned into multiple games at times – were informed of the news and sure enough Mamoud would start the fixture.
"We didn't know what to expect," O'Hara explains.
"We didn't think he'd be starting. But Athlone really needed someone. I was texting the group and there was such excitement. I'm 44 and I hadn't been so nervous since my wedding day speech.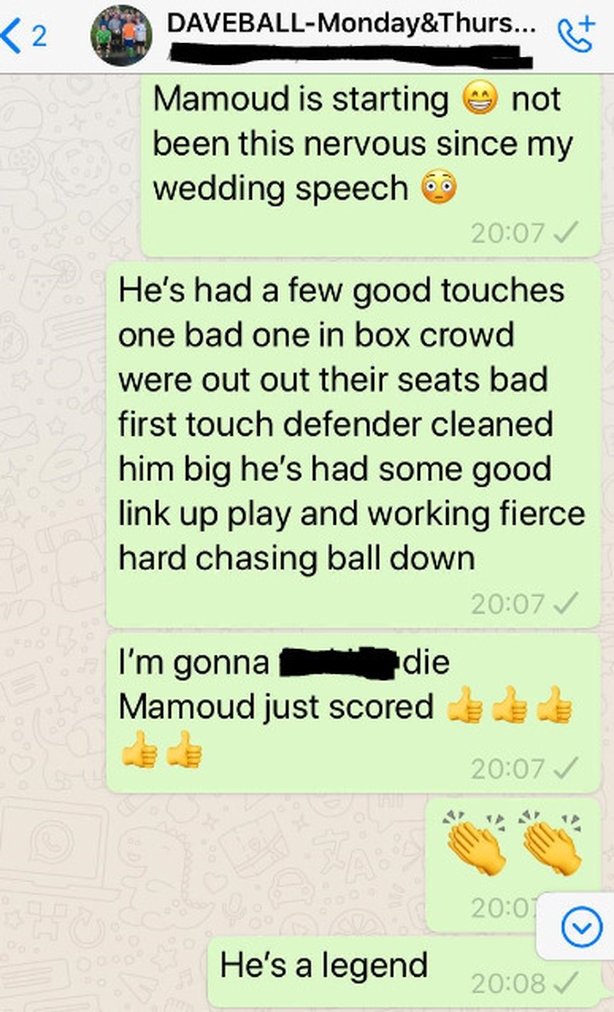 "Mamoud can be quiet in day-to-day life but when he gets on to the pitch it's a different story. He is loud and puts himself about. He also has a bit of style about him."
Pat's were expected to romp home in the game. However, after 20 minutes, at 2-0 to the Saints, the ball fell in the box to the number 10 from Sierra Leone and he struck it into the back of the net.
Amid a friendly game in Athlone came some of the most wonderful scenes that will be witnessed in the league this year.
"There was about 100 people at the game, I was sitting beside the St Pat's fans. Mamoud celebrated like you wouldn't believe, like a gladiator after victory.
"He has that bit of showmanship about him. I jumped out of my seat and the Pat's fans were talking about me and why I was getting so worked up for only a friendly. But I knew what it meant. This was someone on the way to living out their dream."
Pat's won 6-1 but more importantly Mamoud Mansaray had done enough to impress in his trial and shortly afterwards signed a contract with Athlone Town for the 2020 season.
A weekly wage for most clubs at the lower end of the First Division is nothing more than expenses - a far cry from some of the figures discussed when the FAI rescue package was being put together to save the game here. But this is what it was saved for.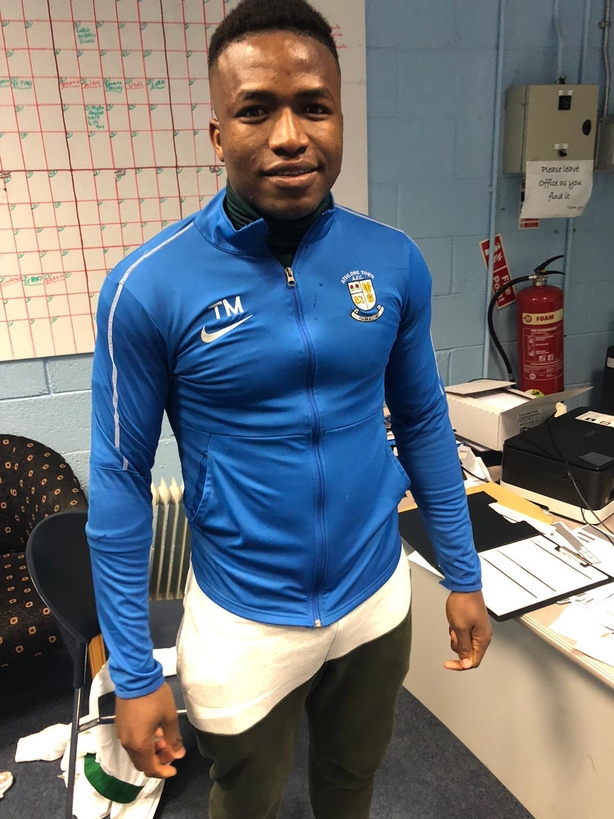 Dave doesn't have time to drive the new Athlone front man to training or matches so, with no car, Mamoud is now relying on public transport. 
Public buses do not return to Sligo late in the evening so instead the footballer journeys to Dublin after training and stays with a friend before a bus back west to Globe House the next day and hopefully arriving in time for work. 
He sacrifices one training session a week and joins in at a junior club Carbury in Sligo to save the overnight trip midweek.
Mamoud has had his work permit renewed and is seeking residency in Ireland, but with training two nights in Athlone and trying to balance work in the hotel in Sligo, he is now attempting to switch to the Athlone Refugee Centre to become even more dedicated to his club.
He would leave a way of life in Sligo behind but football is all-important.
A place in the Athlone centre has yet to materialise but Dave has already lined up work with a friend in Athlone if it it does.
Dave-ball is one member down but when the First Division season starts next Friday, Mamoud Mansaray will be in Eamonn Deacy Park where all the sacrifice and endeavour will bring the fulfillment of a life-long ambition that was a world away in Sierra Leone.
O'Hara adds: "There are so many people to thank like Colm Jinks, John Russell, Hugh Cunningham, Brian Dorrian.
"These are people who are trusted with football in our region and when you see the effort they went to support Mamoud, you can see why they do such a good job and that there are so many good people working for the clubs and FAI."
A friendly astro-group which has featured 65 nationalities and ages 17 to 58 for over a decade - and the support of its organiser - has made it all happen.
While the new season may not garner the entire nation's attention, especially after so many administrative woes, it is still producing moments to remind us all why it remains the beautiful game.