Former Cork City boss John Caulfield believes a restructured, trimmed-down League of Ireland consisting of 10-to-12 fully professional teams would invigorate the domestic game in this country, enhancing both player development and Irish football as a whole.
In a wide-ranging interview with RTÉ Sport's Darren Frehill, Caulfield called for a "progressive, professional league" which would serve as a better platform for Irish players who remain in the country or who return from clubs in the UK later on.
However, Caulfield insisted that this vision couldn't be realised with the number of teams currently competing in the League of Ireland across both divisions.
The 2017 League-winning manager has called for "hard decisions" to be made, admitting that some clubs and supporters would suffer in the process.
"We're all hoping decisions will be made quickly to progress the league on," Caulfield told RTÉ Sport.
"We all need investment. For too long the league hasn't progressed. I think what's gone on for the last year, there's been huge changes and there seems to have been a clearout.
"Niall Quinn has come in and there's a lot of positive talk going on but we need action. We need a progressive, professional league in this county and the sooner the better.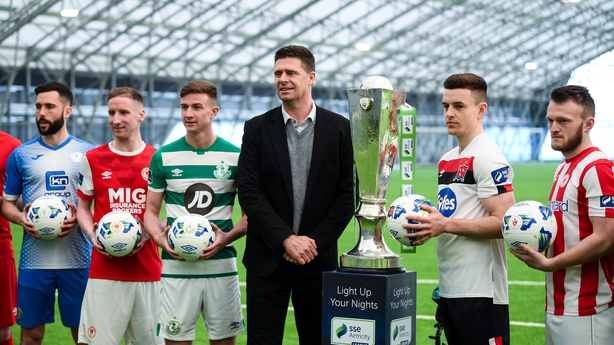 "There's enormous talent coming through. When you look at the like of Jack Byrne coming back here... what he brings and what he offers, there's so may of those guys who are coming back from the UK and also so many young lads coming through our academies who need a proper professional league.
"There's a lot of talk but it's time for rolling up the sleeves and making hard decisions.
"When hard decisions come about it means some people will suffer, and that's just the way it is, but the time has come for a professional league, otherwise we'll be talking like this in 40 years time.
"We have to decide, can we have 20 (professional) League of Ireland clubs? No we can't."
At present it's unclear whether there will be 20 or 21 teams in the League of Ireland in 2020, with an 11-team fixture list released for the First Division, containing both Limerick FC and Shamrock Rovers II.
John Caufield says dramatic change required for League of Ireland. He outlines the tough calls the FAI and clubs need to make with me on @morningireland sport after news at 0830 on RTE Radio 1 @RTEsoccer @SoccRepublic pic.twitter.com/HsQPVFeYWO

— Darren Frehill (@Darrenfrehill) February 11, 2020
Either way, Caulfield insists that number would need to be whittled down substantially to sustain a professional league in the country.
"What would be the ideal scenarios of having a premier, fully professional league in the county, a sustainable league, where there's TV money, there's Championship money, there's UEFA money. What would sustain that?
"And I think if you look at that model you're down to probably ten clubs, possibly 12 at most.
"But if you got ten properly run academies, properly professional clubs... well then you have a pathway for young players to come through.
"You'll always have players that will go to England at 16, that will always happen.
"But at the same time, if you can channel more players into a professional league and professional set-up, like a lot of clubs are trying to do, and they can go to England at 21, 22, that is a better platform."
Listen to the full interview on RTÉ Radio 1's Sunday Sport this Sunday 16 February