Niall Quinn has called on Basketball Ireland to open dialogue with the Football Association of Ireland after Irish basketball's governing body questioned the Government's financial rescue package for the FAI.
Last week, the Government announced that it will double the FAI's funding and give them an interest free loan of €2.5 million annually for the next three years as part of a refinancing arrangement to help save the organisation.
However, Basketball Ireland released a statement that pointed towards "double standards" as to how the two sports bodies were treated during periods of financial strife.
Responding to that statement, FAI Interim Deputy CEO Quinn called on sporting organisations in Ireland to come together to lobby government over funding rather than "quarreling" among themselves.
"This is not a contest. I'm a basketball fan, my two nieces played for Ireland and I used to love going to watch them up in Tallaght," Quinn told RTÉ Sport.
"And I hope basketball get as much money as the next fella.
"But what happened at that particular point with basketball, you must remember that the country was on its knees. The Troika were in town and our government's money just wasn't there for them.
We need your consent to load this YouTube contentWe use YouTube to manage extra content that can set cookies on your device and collect data about your activity. Please review their details and accept them to load the content.Manage Preferences
"There is a different landscape now and I believe Basketball Ireland are probably deserving of more funding and I would support them to get more funding.
"Come and have a chat with us, rather than give out about us. Let's do this together.
"Sport in this country should join up and actually tell government far more loudly of the value - the social, economic return on investment in sport - as opposed to quarreling among ourselves."
Speaking at the launch of the 2020 SSE Airtricity League, he said the onus on the FAI is to improve the domestic leagues.
"We took government support and support from UEFA and Bank of Ireland and are obliged now to make the League of Ireland better," said Quinn.
"It's part of the reform agreement as you'll see and that was signed last week in the minister's office.
"We have to help the clubs; A, start good academy structures that can be considered best practice and we must also help with infrastructure and the building of better stadia.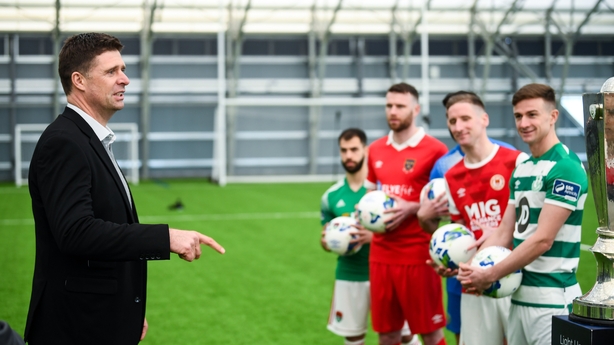 "We have a big task ahead of us in the next five years but we have no choice because if we fail in that task, government will look for their money back and the association will be in big trouble again.
"So it's not a nice thing to do for us for League of Ireland. It's actually part of an agreement that we must deliver on this."
The former Republic of Ireland striker touched on his early experience in his new deputy chief executive role, having been appointed in late January.
"Hectic but thoroughly invigorating because there is so much to be done and I'm learning so much as is Gary Owens who is also in there working very hard," he said.
"Underneath it all, delighted to be in football, delighted to be helping bounce an association back into play and trying to find trust and credibility from the outside world.
"That's our target now in every vertical that comes under the FAI banner.
"There is a lot happening and it's whirlwind stuff in many ways. But the great thing is the game is starting to come back in the right way."