In the past, they've been regularly assailed for their slackness in this area but James McClean has offered words of praise for the English football authorities due to their recently hardened stance on sectarian and racist abuse.
However, as his kids grow older, the Republic of Ireland international admits he isn't relishing having difficult conversations about abuse his family still routinely hear in the stands.
McClean's Stoke City have been moving in the right direction in the Championship table since the arrival of Michael O'Neill as manager in November.
Then languishing at the bottom table, they now find themselves in the relative safety of 19th spot, having won four of their last six league games.
McClean himself has plundered five league goals this season, recently adding the second in the 2-0 home win over Swansea City at the weekend.
The upturn in form has coincided with a pro-active and energetic approach from the authorities.
A fortnight ago, the anti-racist group Kick It Out released a statement saying that McClean had been subjected to "anti-Irish and sectarian abuse" and called on the FA to investigate.
"I've been very critical in the past of the powers over there, and rightly so but credit where it is due. They've stepped up in recent weeks," McClean told RTÉ Sport.
"They seem to be going to tackle things head on, and they have, and it has quietened down over the last couple of few weeks, which is great.
"So long may that continue."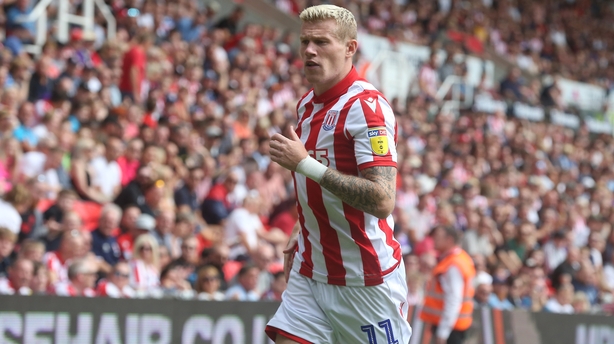 McClean says the abuse from the stands makes little impression on him currently but he is mindful of the effect on his kids, the eldest of whom is reaching the age where she is beginning to comprehend what is happening.
The Derry man would rather not be forced to have an in-depth conversation about the matter.
"I don't give a s**t. No. For me personally, it's never troubled me or bothered me. Now because my kids are at the age where they're starting to ask questions, that's different altogether, because I shouldn't have to explain to my children...
"You know, if they want to come and watch football, I shouldn't have to explain to them why I'm getting so much abuse. As a parent, it's not a conversation I want to have.
"The oldest, she's six now, and she asks questions. She picks up on everything. So she has been asking, and it's not a nice conversation to have or one that I wish to continue on. But like I said, the last few weeks have been great, it's been quiet, there's been no abuse, so hopefully that's the case going forward.
"She's not aware of the context. She's just asking 'Daddy, why are they singing that to you?' or 'Why are they saying that to you?'
"You're thinking that it's easy now because she is six, to kind of brush her off, but if it continues she is going to get the stage where she is aware of what it actually means. Then it's obviously a different conversation, and it's one I don't want to have."
"All my family go to every home game. Why should they miss out because of mindless idiots in the stand? That's not fair on them.
"They love going to games, they love watching the games and obviously I love them being there, you know? I'm not going to let some idiots keep my family at home."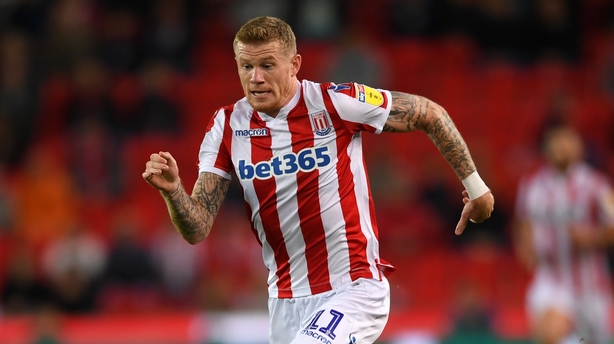 McClean stresses that the problem isn't confined to football and feels that society at large has regressed and ignorance reigns supreme in the stands when it comes to his own background.
"I can 100% say they haven't a clue," he says of fans who partake in the booing.
"They are so uneducated [on Derry], it's complete ignorance. If you sat down and quizzed them you would end up blowing their brains because they wouldn't have a clue. It's like, the person beside me is booing, so I have to boo as well. I think that's a football fan mentality.
"I think that now in general it's just a society thing. I think society has got worse. With football, obviously it's in the spotlight so it brings it to light a bit more because of the platform it gives. But no, I think society in general has just gotten a lot worse in terms of being racist, [dealing with] diversity."
Notwithstanding everything, the Republic of Ireland midfielder is in sanguine mood two months out from the crucial qualifier game against Slovakia.
Even the bile from the stands, McClean has endured it for so long that he allows his mischievous side out.
"I find it funny. I have a bit of craic back and, you know, wind them up and that. It seems to annoy them more than it annoys me, but I probably should stop that now because I don't want that to continue or have to talk to talk to my children about it, so I probably shouldn't be stoking the flames when it happens.
"It shouldn't be happening to me anyway but I probably shouldn't be having the bit of fun with it when it does happen. I'll probably rein that in a little bit."