Timing is everything in football.
The timing of a new move; the timing of a spike in form; the timing of a good tackle.
On Saturday, James McCarthy got his timing right in one fluid, 91st-minute passage of play that ultimately salvaged a 2-2 draw for Crystal Palace at Manchester City.
It looked like the Eagles were leaving the Etihad empty-handed after Sergio Aguero's brace in the last ten minutes wiped out Cenk Tosun's first-half header. But McCarthy kept fighting.
His brilliant challenge on the halfway line turned over possession in injury-time and allowed him to feed Wilfried Zaha down the left channel. The pacey attacker drove at John Stones, before fizzing in a low cross that Fernandinho bundled into his own net.
It was a great moment for the visitors - who've been something of a bogey team for City in recent seasons - but it was particularly sweet vindication for McCarthy.
This was his best performance in a Palace shirt since Roy Hodgson signed him from Everton last August. That brought to an end a three-year pursuit of the Republic of Ireland midfielder, who almost went to Palace in 2016 when Moussa Sissoko seemed destined for Goodison Park.
Had the deal gone through it would have squeezed McCarthy out, but Sissoko went to Tottenham late in the day instead and the Irishman stayed put.
Palace have admired the player from afar for a long time, but it hasn't been plain sailing for McCarthy since he headed to London. Before Arsenal came to Selhurst Park two weeks ago, Hodgson had only started him four times in the league, and there was speculation he would be sent out on loan.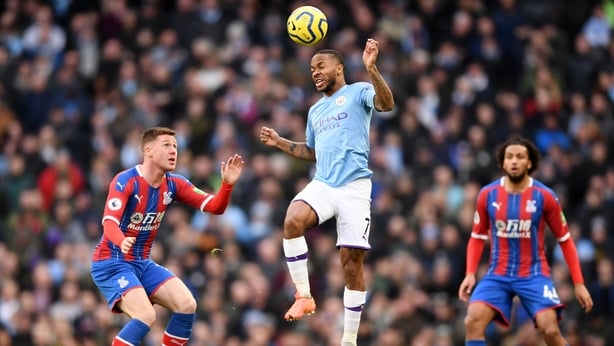 McCarthy started in a 1-1 draw with the Gunners and against Pep Guardiola's reigning champions. In both games he showed what he can bring to the table.
Against City, he really caught the eye. McCarthy covered enormous ground, with that telling contribution so late in the game a real signifier of where his fitness is right now.
The hosts had 72% of possession which they popped around at speed in their efforts to crack Palace open.
It was a day for hard graft; and McCarthy excelled.
"He's been excellent and he's getting better and better," Hodgson said on Monday as the dust settled on their dramatic draw in Manchester.
"We knew it would take a little time. He was training with Everton, so when he came to us he was technically fit and there was nothing wrong with him but of course he was not that close to the first team for periods of time, not knocking on the door if you like.
"I knew the more he did with us, the chances he would get, he would get stronger and stronger. The action he performed for our equalising goal was quite incredible.
"That amount of running at that point in the game and to produce that pass was a class act. My faith in him and his faith in himself and determination to get back to that level of football has been rewarded.
"When you get these serious injuries which take you out of football for a long period of time it's not easy."
This is the James McCarthy Ireland fans need right now.
Still only 29, his career was badly hampered by the dreadful double leg fracture he sustained against West Brom in January 2018.
It's probably taken until now for McCarthy to really get up to speed, to shake off the psychological and physical implications of suffering such a horrific injury and get back to a place where he can positively impact football matches at the highest level.
His game centres around energy and stamina, so McCarthy really needs a good run to have himself properly conditioned. He looks like he's about to get just that.
This upturn in form has coincided with Glenn Whelan being released by Hearts in acrimonious circumstances.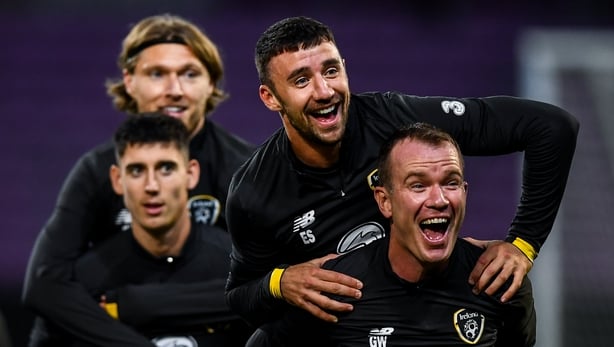 Whelan, now 36 and searching for a new club, said he was "thrown under a bus" by manager Daniel Stendel, who had questioned the Dubliner's leadership just after Christmas.
He'll get a new side before the end of the month and will subsequently be able to tune up his fitness before March's Euro 2020 play-off semi-final against Slovakia, but Whelan is extremely unlikely to be plying his trade in the Premier League come the spring.
Mick McCarthy has consistently aired his desire to stick with the players who've served him well over the course of the qualification campaign - which Whelan has - but James McCarthy could make himself very difficult to ignore over the next few weeks.
Charlton's Josh Cullen has been sidelined since November with an ankle injury that was aggravated in training last week. He had been due to make his return to action at the weekend against Preston.
Instead, it looks like Cullen's return will come in the Addicks' home clash with Fulham on Wednesday night
Jayson Molumby has been turning heads with his all-action performances for Millwall. The Ireland Under-21 midfielder is on loan there from Brighton and has really flourished, but it's more realistic to expect the Waterford man to get his big chance once Stephen Kenny takes the reins in the summer.
Mick McCarthy, pragmatic by nature, craves experience down the spine of the team. James McCarthy gives him that. He is a Premier League midfielder coming into good form.
The 26 March date is a long way away, but if McCarthy can stay on this upward curve he will remind everyone that he offers more dynamism and bite in that holding midfield role than other players making their case.
"It's been a tough couple of years, but I'm back and hoping to kick on," McCarthy said on 21 December, having played in a 1-0 loss to Newcastle.
That was the first time he'd completed 90 minutes in three years.
It's been a long, tough road back. Few would begrudge him his chance if it came his way in Bratislava. He hasn't played in a a green shirt since the 3-1 win in Moldova back in October 2016.
McCarthy has had to show guts and heart to come through his spell in the wilderness since. His time may be coming back around.