Irish referee Alan Kelly insists that football's Video Assistant Referee (VAR) system has been successful overall.
The Premier League is among the major club competitions which use VAR, while it has also been implemented at a number of international tournaments including the 2018 FIFA World Cup.
Speaking to RTE 2FM's Game On at the FIFA Club World Cup in Qatar recently, Kelly acknowledged that VAR has split opinion among fans, players and observers.
But the Cork man believes, on balance, that the technology has been a positive addition.
"Some people don't like it. It's here to stay for the foreseeable future for sure and it's corrected more decisions than it hasn't," he said.
"The whole purpose of it is to have minimum input for maximum benefit. I think that mantra has maintained."
The three-time Major League Soccer Referee of the Year has had first-hand experience of refereeing with the contribution of VAR.
"I've worked with VAR in MLS and I've worked with it in FIFA," he said.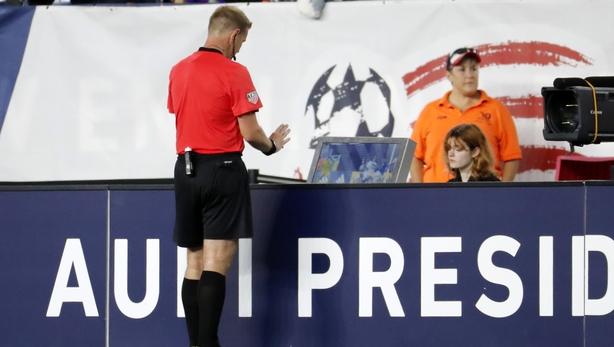 "Some other countries do things a little bit differently with it. But I think overall, it's been a success, having been involved in the preliminary stages of it, and then going live with it."
Kelly also detailed how the process works for a Video Assistant Referee.
"Literally, we're in a room, we've got screens in front of us. We've got a live screen and a three-second delay," he said.
"We've access to all the camera angles within the stadium. We watch the game but not from the point-of-view of a fan. We watch the game as a referee. So we literally check every challenge.
"The four items that we intervene for are penalty kicks, red cards, goals and cases of mistaken identity.
"So we literally check every single thing that happens in the game. I think there is a misconception that just because the referee doesn't act on something on the field of play, it hasn't been checked.
"It has been checked but the VAR has communicated to the referee that nothing else needs to be done in terms of whatever decision happened at that particular time. And if there is an intervention required, then we inform the referee through an earpiece that an on-field review or a factual decision has to take place.
"Not all countries do that, in terms of on-field reviews."
The Premier League is the high-profile example of a competition that does not use on-field reviews as an option for referees.
It was used in the FA Cup for the first time at the weekend in the game between Crystal Palace and Derby County. 
Kelly concluded: "I think from a media perspective, the pressure is on to do that."