Hibernian have handed police CCTV footage of four men throwing missiles during Friday night's defeat by Rangers.
A glass bottle landed near grounded Rangers left-back Borna Barisic as he lay injured during his team's 3-0 victory at Easter Road.
A club statement read: "Hibernian FC today confirmed that it is passing over CCTV material to Police Scotland investigating several incidents of missiles being thrown at the Hibernian v Rangers match at Easter Road on 20 December.
"An initial review of the footage has identified four men involved in throwing missiles, including a glass bottle.
"We will continue to review the footage, and we expect to identify any others involved.
"Fans must understand that throwing missiles is dangerous for the players and for fellow fans, and it blackens the good name of the club.
"All supporters identified as taking part in any unacceptable behaviour will be dealt with by the club and by the legal process.
"We invested in enhanced CCTV cameras to tackle precisely this kind of behaviour, and those who misbehave should know we will leave no stone unturned to identify them and bring them to book."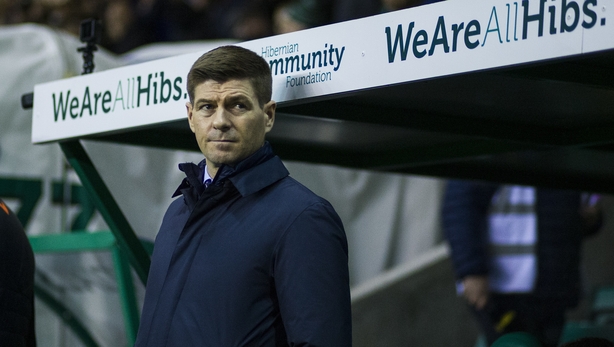 Earlier, Rangers boss Steven Gerrard aired his fears the trouble on the terraces will only get worse unless a "severe" example is made of the missile throwers putting players in the firing line.
He said: "Only action from the clubs will help or stop it in the long run.
"We can't just talk about it in the media. There's got to be serious actions taken. The individuals need to be identified because I do believe it's a minority.
"They need to be punished and punished heavily so it stops other people trying to do it in the future.
"It's a crazy decision to throw a bottle onto a football pitch. The damage you could do is unthinkable.
"It's very disappointing to see that but I'm sure Hibs will deal with that. It's something for Jack Ross and Hibs to deal with as a club rather than us.
"We again just send a message to our own fans to make sure they behave.
"If the punishment isn't severe enough then people will continue to make bad decisions from the terraces.
"There needs to be an example set - a severe one - and then that will make people think and things will improve. But it does seem like we're going backwards rather than forwards.
"It goes quiet for a little while and it seems like people are listening. Us and managers and players will keep saying the right things but the fans have to take responsibility for their actions when they go to the game. They need to concentrate on watching the football rather than misbehaving."