Sligo Rovers have signed midfielder Garry Buckley from Cork City
The former league and two-time FAI Cup winner moves to the Bit O' Red having spent his entire career at his hometown club.
The 26-year-old played 29 Premier Division games for the Rebels last season and represents a significant capture for Rovers.
Buckley says he chose to move to Sligo to win trophies, and not rest on the success previously achieved with Cork.
He said: "I'm really excited. It's a fresh start, a new challenge. It wasn't something I did lightly. I had to consider many things.
"I could have stayed at Cork and been comfortable. But I wanted to challenge myself and hopefully win another trophy. I've won a few but I don't just want to look back at that. I know Sligo are looking to move towards winning trophies and I've bought into that.
"The word Liam gave to me was 'potential'. I can see it. I know from being in the league that the support the club gets, particularly when doing well, is very good. It's a bit like Cork the way it's an entire community and the fans drive it.
Sligo manager Liam Buckley added: "It's a fantastic signing for us. He's won everything with Cork and brings a great deal of experience. I'm really looking forward to working with him.
"He brings height, physicality and I think he'll be a very positive influence in our dressing-room. His overall game will be a major asset to us. We are switching some things around, having kept 13 players from last year so far. These are the first two and others are being pursued. There's lots going on in that area.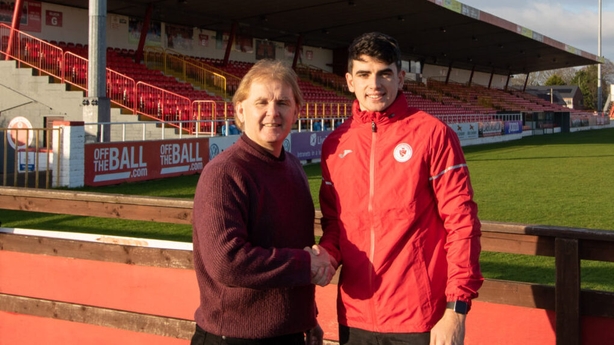 Sligo have also signed midfielder Darragh Noone.
The midfielder was with Bray Wanderers in the Premier Division before joining Shelbourne as they sealed promotion to the top flight next season.
The 22-year-old scored against the Bit o' Red in 2016 as one of his first career goals.
Manager Liam Buckley said: "Darragh has been on my radar for the last few seasons.
"He did very well with Bray and was part of the successful Shels side last year. He brings a lot of energy to the midfield and he'll get his chance with us.
"At 22 he has his best to come after getting established in the league.
"It's a big opportunity for him to come here and be full-time in the environment. I think that'll bring more from him and we look forward to seeing him go from strength to strength."