The head of the Professional Footballers' Association of Ireland (PFAI) Stephen McGuinness has welcomed the recent improvements in relations between the FAI and the players in what has been a year of controversy for football in this country.
As the association prepares to announce a new interim chief executive, McGuinness expressed the hope that the governance and financial affairs of the FAI will be run a lot better.
The PFAI general secretary said the atmosphere at Abbottstown has greatly improved in recent months, though he conceded the fear of job cuts hangs in the air.
"Relationships are better," McGuinness told RTÉ Sport at the launch of a training camp for out-of-contract professional players.
"The staff up to not too long ago weren't encouraged to even speak to my staff. Things have got better. I know how hard people in this building work.
"You're hoping that if there are cuts that it doesn't affect too many people. It is a difficult time, a difficult time for Irish football. You can feel it a little bit in the building.
"Obviously there's a new CEO coming in (to replace outgoing interim general manager Noel Mooney) and people don't know what's coming next. I think it's important for all that to be cleared up as soon as possible.
"I think what's happened had to happen. I think we'll have a leaner, better organisation and from a governance point of view we can all be assured that it will be run a hell of a lot better."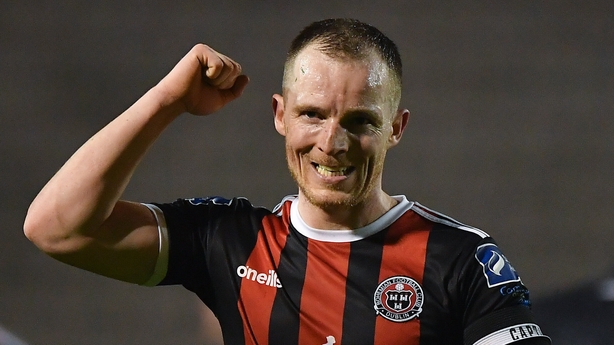 Former Bohemians captain Derek Pender will manage the PFAI squad, who'll play League One side Rochdale in December.
McGuinness said running the camp is a crucial part of the role of the association, and expanded on the introduction of this year's player-swap endeavour with Finland.
"From a service point of view, it's vital for any players' association to assist their members to find employment," he said.
"I think that's one of the core reasons we're around.
"We're all involved with FIFPro, the world players' union. We were at a conference recently where a better interaction and opportunities for players in other countries (was discussed).
"This year we're linking up with Finland. Finland will send a player to Ireland and we're going to send a player to Finland. It's a good opportunity for one of our members to maybe look at playing in Scandinavia.
"We're delighted to have Derek Pender in to manage the team, and we're delighted to have the use of the facilities in Abbottstown as well, which hasn't been something we've had over the last couple of years.
"Derek has had a massively successful playing career, he's now looking to get into the management and coaching side of things. We're not an association that just looks after the players; we have to promote our members as well.
"If you look at the guys who've ran this camp over the last couple of years, the likes of (Longford Town manager) Daire Doyle, (Cork City boss) Neale Fenn, and Stephen Bradley who's just won the FAI Cup with Shamrock Rovers, they're people who've cut their teeth with this job.
"If Derek can follow in their footsteps he'll be doing really well.
"I think we have 105 players on the transfer list. It is a very tough industry professional football, it is difficult. Our role is to try and promote the players as best we can to give them the best opportunity to get a contract."