Bursting with pride but ultimately extremely disappointed, Mick McCarthy said that Denmark's goal felt like a kick in the nether regions following his side's 1-1 draw with Denmark at the Aviva Stadium.
Needing a victory in the final game of the campaign to secure a place at Euro 2020, Ireland dominated the game but conceded a goal in the 73rd minute, which left a real uphill battle for McCarthy's men to salvage a result.
Matt Doherty would restore parity in the 85th minute following a downward header at the back post from an Enda Stevens cross.
And while the onslaught continued for the final five minutes and four more of injury time, Ireland could not add a second, and it was Denmark who progress to the Euros alongside group winners Switzerland.
The manager did not have a bad word to say about his players for their endeavours throughout the game and the camp that they have completed over the past nine days.
And McCarthy offered real hope for the upcoming play-offs, as he believes that Ireland can beat whatever team they come up against if they play in a similar manner to the way they performed throughout the 90-minute battle with the Danes.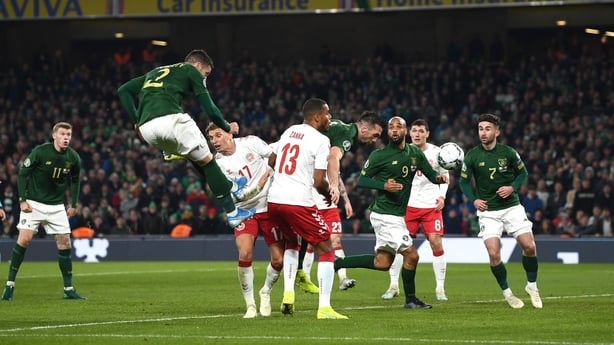 "Mixed [emotions], disappointed that we have not qualified yet," said McCarthy after the pulsating qualifying clash.
"But I am immensely proud of the players the way they performed tonight and even more so when we went 1-0 down.
"'I thought we played well, I thought we competed well and I said before the game if they leave everything on the pitch and they give everything for me, I would take that.
"So I have to take the result. I'm disappointed with that, but that is the only thing I am disappointed with in the whole week."
Doc [Matt Doherty] said it was his man, it was on him, but he has gone and scored the equaliser so I will forgive him slightly
The manager conceded that Denmark's goal was a soft one to give away, and one that felt like a real sucker punch, as just a few minutes earlier, the manager had sent Callum Robinson onto the pitch to add an extra attacking dimension.
"It was a poor goal to give away," said McCarthy. "Doc [Matt Doherty] said it was his man, it was on him, but he has gone and scored the equaliser so I will forgive him slightly.
"I was giving out to him about the goal and I forgot to congratulate him for the goal he scored, so I will go back in there and do that.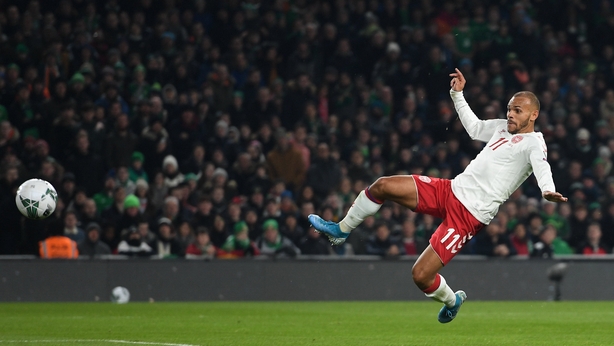 "But it wasn't if we hadn't played well up to that point. It came from a throw in and a pretty simple cross into our box, we shouldn't have conceded.
"It's always a kick in the nuts when you concede, but even more so when you are trying to do a positive substitution and trying to win the game."
McCarthy lauded his side's never-say-die attitude as Ireland, once again, fought back from the concession of an opening goal to work their way back into the game.
"That's three games, Denmark away, Switzerland at home, having conceded the response that we have produced," said the manager.
And McCarrthy admitted that his side had to really improvise in the final stages, as the manager attempted to make up for the fact that he had used up one of his three substitutions at half time, with John Egan gone off injured.
"I tried to jig the subs so I could keep hold of one, and put the shape of the team as I did.
"Glenn Whelan, who was excellent, then had to come off, and we were winging it completely at that stage.
"John Egan was injured and I had to replace him with a centre back, it's unfortunate really."
Here is how Group D finished up pic.twitter.com/1SLvrtiMeF

— RTÉ Soccer (@RTEsoccer) November 18, 2019
Ireland finish Group D in third place with 13 points from eight games, and while the standings went according to the seeding, with Denmark and Switzerland qualifying automatically, the manager did admit that the seven-goal return proves that his side are not clinical enough in the final third.
"How many goals have we score? Seven out of eight games. That's clearly not clinical enough.
"But we don't get beat in too many games, and maybe a bit of luck, a bounce of the ball at the end, we nick it. Who knows. Had we nicked it, we'd have deserved it."
Looking ahead to the play-offs in March, McCarthy's side will have to win two games over the course of a week to get through to next summer's Euros.
If we play the way we are playing, and play as good as that against other teams, we can beat them
Ireland will find out who they will face in the play-offs later in the week, but the manager appeared upbeat about his side's chances of being able to host games in Dublin next summer.
"I have three months to prepare for that. We'll see who we get and I'll plan for it when we get it.
"If we play the way we are playing, and play as good as that against other teams, we can beat them."