The RTÉ panel was unanimous in agreeing that Ireland's performance against Denmark was the best in a long time, but differed somewhat on where the team currently stands.
After some blunt attacking outings in Pool D – Mick McCarthy's side scored just six goals in their seven outings before Denmark arrived in Dublin – it was a performance laden with significantly more attacking intent.
A defensive lapse allowed Martin Braithwaite score against the run of play before Matt Doherty's 85th minute equaliser revived dreams of automatic qualification.
The Danes however held on and the Boys in Green must now negotiate the play-offs to reach Euro 2020.
"I think it was the best we played for years," Liam Brady told viewers. "We were really good in possession of the ball. Our fight, tenacity and commitment was there for everybody to see. We really put it up to the Danes.
"One little lapse of concentration let Denmark in for their goal. We threw the kitchen sink at them.
"For effort and invention, that's the best we have played for years."
Didi Hamann added that while the home side could consider themselves somewhat unfortunate on the night, the entirety of the campaign tells a different story, with Ireland finishing three points adrift of the Danes and four behind table toppers Switzerland.
"If you look at the whole qualifying campaign, they played eight games and scored seven goals," the former German international said.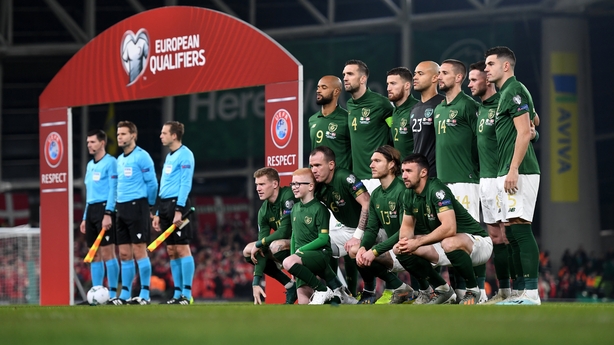 "They didn't get what they deserved tonight, but over the whole qualifying campaign, I don't think the team did enough to warrant a place in the finals.
"I think the worst thing they could do now is to say, 'well actually we are better than what people may think', because then you go to the play-offs in March with a feeling 'if it's enough against Denmark, it will be enough against whatever team in the play-off.
"It's a dangerous thing to think.
'Over the whole qualifying campaign I don't think the team did enough to warrant a place in the finals' - @DietmarHamann feels overall in Group D Ireland got what they deserved #IRDEN #rtesoccer pic.twitter.com/RixjBi74Sz

— RTÉ Soccer (@RTEsoccer) November 18, 2019
It was statement echoed by fellow panellist Richie Sadlier.
"Didi is right, we can't sit here and say we deserved to qualify, given what we have seen over the eight games. Enda [Stevens] said it in his interview, the final ball let us down.
Brady however felt this was a glass half-empty observation.
"I think that is being too negative, We need to build on this performance. We should take what we have seen tonight, particularly how we played in possession and take it forward.
"If we can repeat that performance, hopefully over the next two games, we can make it."