Mick McCarthy admitted that he woke up on Sunday morning with an anxious, unsettling feeling in his stomach, ahead of the vital Euro 2020 qualifying clash with Denmark.
The Ireland manager, however, embraced the emotion, as he knew that it meant the must-win encounter with the international side's recent nemesis was imminent.
Ireland face the Danes at the Aviva Stadium on Monday knowing that victory would see them qualify for next summer's tournament.
A draw for the Danes would be enough to see them progress, while McCarthy's side also have the safety net of the Nations League play-offs should things go awry at the Aviva.
"I've woken up this morning with the butterfly with the boots on," said McCarthy, speaking at the pre-match press conference.
"It's the day before the big game, and I'm pleased about that to be honest.
"That nice feeling getting ready for the game and you know that the big game is coming now. And this is the last part of the preparation, I enjoy that feeling."
Another potential era-defining game for Ireland as they look to defeat the Danes, yet the manager does not think about the significance of the match when compared to other big occasions in Irish football.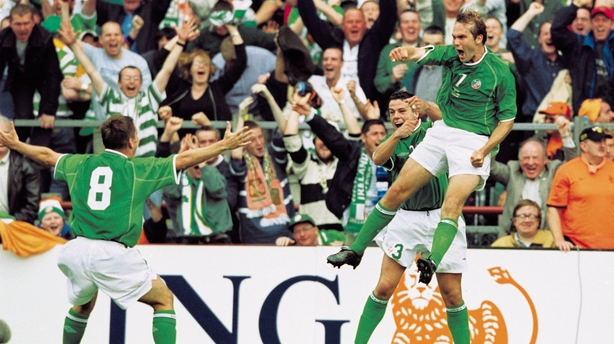 Ireland enjoyed a massive home win back in 2001 during McCarthy's last time in charge, beating the Dutch 1-0 at Lansdowne Road to help secure World Cup qualification, yet the manager believes that the current game will always be the biggest one.
"Do they get any bigger? It's the one that you are playing in is the biggest one, isn't it, so this is it.
"I hope I am going to have a bigger one in July, bigger games playing in the European Championship, but for now, this is the biggest one."
Roy Keane's early challenge on Marc Overmars set the tone in that famous victory against the Netherlands, and while McCarthy's side will be looking for something similar to energise the players and the packed stadium, he is not sure that it can be achieved in the same manner as before.
"I do think a tone can be set," said the manager.
"I'm not so sure if it can be a tackle now, even strong fair tackles seem to get pulled up for fouls and yellow cards.
"You can affect the game by a dribble or a shot, something positive or a collective positive. Winning the ball up the pitch, keeping the ball, a good start to the game, that sets the tone.
"The fans have always been wonderful, and there have been some big evenings at Lansdowne Road, the Aviva, so I am hoping they are going to create a great atmosphere, but that is down to us as well."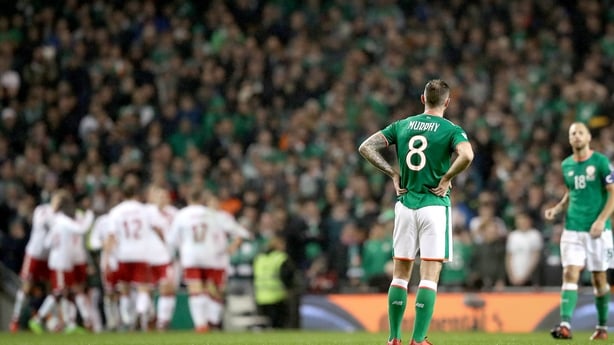 McCarthy said that the players need little motivation ahead of such a vital encounter, while adding that he did not see the need to remind them of the 5-1 defeat to Denmark two years ago.
In fact, sometimes a manager's job is to calm the players down ahead of such a big occasion, suggested McCarthy.
"I hadn't given [the 5-1 defeat] any thought and it is not something I will be speaking about.
"We drew in Denmark and played well in Denmark, and actually could have won it in the end, so I would prefer to talk about that and the positive side of things rather than remind people of the negative.
"I can't imagine in your life that if someone keeps bringing up the negative stuff that you have done helps you be any better than you can be.
"The players are all looking forward to a full house, a game that means so much to them and to the country. Sometimes you might have to just calm people down rather than wind them up."
Richard Keogh, who is ruled out through the horrific leg injury picked up in the much-publicised car crash, arrived into camp on Friday night.
And the manager said that his arrival was not a motivation factor, but rather his way of showing the defender some love in a time of need.
"I invited him in to show him a bit of love from the rest of us, from the lads – and they all did, they were all delighted to see him.
"It's not some kind of motivational tool getting him in, it's just he's been around – I don't know how many games he's played for us now, but in the games he's played, he's been brilliant, and he's such a great guy."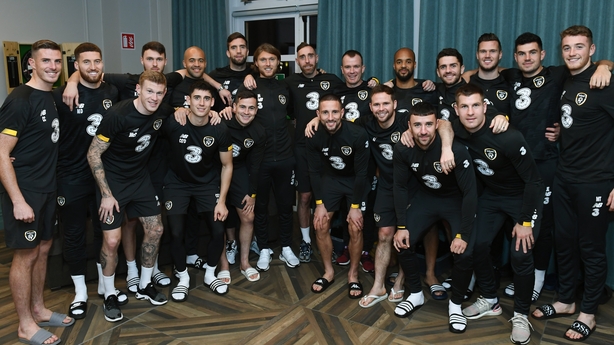 And while McCarthy was reminded that Ireland have not beaten Denmark in five attempts in recent years, he admitted that he could take that and use it as a motivational tool ahead of kick-off.
"When people tell me that, 'You haven't beaten somebody for so many times' – well, I always believe it's about time we did and that's the mentality that I try to instil into everybody else."
Looking ahead to the game, the manager admitted that Christian Eriksen would take some stopping, while also pointing out the fact that the Spurs midfielder is far from a one-man team.
"It has to be a collective effort to stop Denmark, because they have only been beaten once in 31," said McCarthy.
"I could put [a plan] for Poulsen, Braithwaite and Cornelius and the good players that they have got.
"Eriksen is a special player, and we will be doing everything we can to make sure he doesn't hurt us the way he did last time."
The manager is focusing on what his own side can do to influence matters, while he was also quick to dismiss a Danish journalist who suggested that Denmark were better technical players than the Irish.
McCarthy lauded his side's performance in the away fixture in Copenhagen during the summer, and believed that while Denmark were the better team for most of the game, he felt that his side could have nicked it at the end.
"Self-praise is no praise, I'm afraid," said McCarthy, when the journalist conceded that it was the Danish who were suggesting that particular theory.
"If I sat here and said I was better than everyone else you wouldn't believe me, would you?
"It doesn't concern me. People's opinions don't concern me. Because it's on the day.
"I thought Denmark shaded [the 1-1 game in Copenhagen], certainly for a bit of the game, most of the game, but towards the end, we could have won it having equalised."
"We've been pretty good at keeping the ball out of our net," retorted McCarthy when asked did he think his side might need to score at least two goals to win the match.
"So I will state the obvious that if we manage to keep a clean sheet and score one, that will be enough.
"I just think that for us, always there's a big performance in us that can win a game.
"If I don't believe it I might as well go home, and I'm not going home anytime soon."
One area that does need improving, according to the manager, is Ireland's ability to hold onto the ball in possession, having lamented his side's poor play in the last two games in Georgia and Switzerland.
"Yes I would like to improve on that. Denmark always have been a very good side, and a possession-based team.
"We've tried to press them, I thought we did it effectively at times, other times we have to sit in and try to make sure they don't play through us as they are very good at it."
McCarthy believes an Irish victory will surprise many, however, he knows that if his side do come up short then it will not be from lack of passion in their play or endeavours on the pitch.
"The players leave everything on the pitch for us and for Ireland.
"They give everything they have got. I have never questioned that, and I guess you never want to come off the pitch regretting not playing as well or run as far or as hard.
"But I would never accuse any of lads of that, they are brilliant."
Follow Republic of Ireland v Denmark with our live blog on RTÉ Sport Online or the RTÉ News Now App, watch live on RTÉ2 from 7pm or listen live on RTÉ 2fm's Game On