Ireland midfielder Glenn Whelan insists that Denmark are 'beatable' as his side prepare to take on the Danes in a winner takes all Euro 2020 qualifier at the Aviva Stadium.
Mick McCarthy's men welcome the Danes to Dublin knowing that victory will secure their place at next summer's showpiece tournament.
The two teams have been here before and in 2017 the Danes hammered Ireland 5-1 at the Aviva for a place in the 2018 World Cup.
There's a real sense of familiarity between the sides, having played five times in the last two years and drawn four games but Whelan is confident that Ireland can gain a measure of revenge for 2017.
"I think every team is beatable, we can't worry about them too much," he said.
"They've got some top players but for us, we're at home, we've got a chance to qualify so we've got to go and give our fans something to shout about and get them behind us.
"This is where we want to be, this is why we're here, this is why we show up and on nights like this it's what everyone wants – to play for Ireland and to play for Ireland in a tournament."
Christian Eriksen was the man pulling the strings for Denmark in that 5-1 game and he ran the show, scoring a hat-trick as his side claimed an emphatic victory.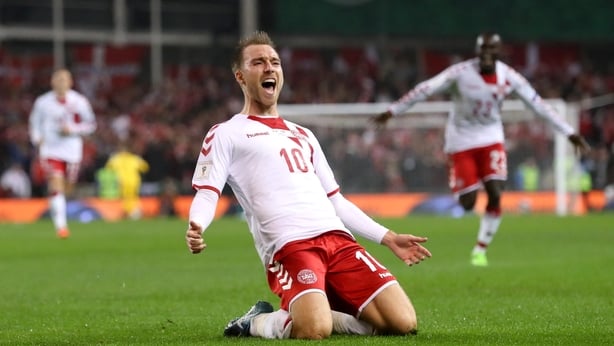 While Whelan remains aware of the threat Eriksen still presents, he's warns that he's not the only dangerman for the Danes.
"We've worked really hard this week, obviously we've played Denmark quite a bit over the last few years so we know what they're all about.
"It's not just Eriksen we need to be careful off, they've quite a few players so please god for us it's our night tomorrow night.
"I know it's a cliché but it's what we can do and how we're going to play and please god they worry about us more than we're worrying about them. We're at home and we need to go out there with real passion and a real fight to qualify."
Whelan emphasised the importance of setting the tone early for Ireland, giving supporters something to cheer in the early stages and hinted that there could be some fierce early tackles flying in.
"I think a tackle could do it, I think if you get a good tackle, a hard tackle and you get the lads going and get the fans going.
"If it's a goal a defensive tackle, anything that we can use to get everyone get and getting up to speed quite quick, we'll use.
"We're going to need everyone on top form, the 11 that plays and the three lads that come off the bench because it's going to be a tough night.
"It's not going to be easy and Denmark know that as well, that they're coming in for a tough game and hard game."