Gareth Southgate has been touched by the warmth shown to England's players and supporters in Kosovo, where the locals have put up hundreds of St George's flags and welcome banners as an extraordinary greeting.
England's travels often bring a sense of trepidation for host cities, yet Europe's newest country are going above and beyond in Pristina ahead of Sunday's Euro 2020 qualifier.
'Welcome and respect' banners featuring poppies can be seen from the airport to the main drag in the capital, where many waiters and waitresses are wearing specially made tops greeting England.
The United Kingdom was part of the international coalition which forced the Serbian forces to withdraw following clashes with ethnic Albanians in the territory in the late 1990s.
The UK was one of the first countries to recognise the newly independent Kosovo in 2008 and became a shelter for thousands of Kosovan refugees, leading to a show of warmth and generosity rarely experienced.
"We've had an incredible welcome on the way from the airport from the local people," Southgate said.
"Also, it was lovely to see some of our troops who came out to see us at the airport as well, so (it's) a reminder of some people who represent our country in an incredible way.
"We were just greeted with some flowers and, as I said, some of the British troops were there, which was lovely to see.
"Then there was the bus journey from the airport and there were people at a couple of points along the way so a really warm welcome."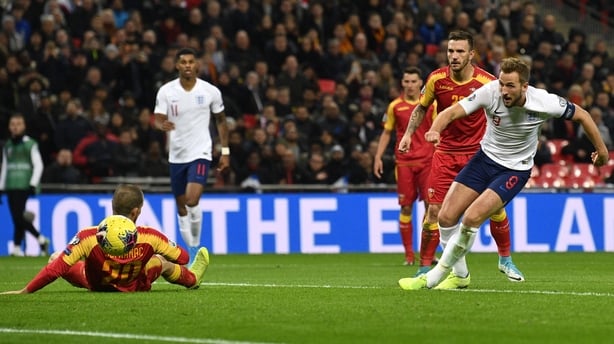 Locals also convened at the team hotel and it's understood that locals are preparing fan choreography to welcome Southgate's team to Stadiumi Fadil Vokrri.
The streets leading up the ground bear as many English flags as Kosovan ones, while local authorities even planned to give free beer to English fans - an idea scrapped after talks with their British counterparts.
Anticipation for this match has been huge and there were reportedly 120,000 applications for tickets at the 13,500-capacity ground, where the Three Lions are in for a far different experience than their last away match in Bulgaria last month.
"I think that tomorrow is a celebration for Kosovo," Southgate said ahead of the Group A encounter.
"It's a shame that they're not able to qualify from tomorrow's game, but I know that for the players (this can be a scalp) and some of the pressure is off.
"So, I think they'll put on a really strong performance with a chance to create a historic result.
"And we're very confident that we're going to receive - as we have already - a brilliant welcome, but they'll want to beat us and during the game I'm sure they'll be fully behind their own team."
"I think that tomorrow is a celebration for Kosovo."
Given the abuse in Bulgaria and Montenegro earlier in the year, the Kosovans have also moved to allay any concerns over further racism in the Balkans.
'Miresevjen broo' (Welcome brother) accompanies an image of Raheem Sterling on one of the main streets in Pristina, where another banner features Sterling, Fabian Delph and Danny Rose reading 'Welcome, brothers'.
"In fact, a couple of the players were talking about that a couple of days ago," Southgate said.
"They had received social media postings, which were highlighting the banners that were going up around the towns.
"We're all looking forward to that experience and very much looking forward to the game."
Agim Ademi, president of the Football Federation of Kosovo, has no concerns over racism given the discrimination the Kosovan people have been subjected to over the years, with defender Amir Rrahmani echoing those sentiments on the eve of the game.
"Of course the relationship with England was and is very good," the Hellas Verona centre-back said. "That is not political but also like people.
"I know that that (racism) happens a lot. I don't know the reason why.
"But in our country that can't happen because we are very friendly.
"A lot of these players are idols of our people. Everyone is fans of Manchester City, United, Liverpool, I don't know. They idolise them and that will not happen here."