"Welcome to men's football," proclaimed Mick McCarthy, as he spoke about the international debut of Troy Parrott, following Ireland's 3-1 victory over New Zealand.
The Ireland manager handed the young Dubliner his first senior cap in the friendly fixture, and admitted after the game that he was impressed with the way that the 17-year-old handled himself on the pitch.
Parrott led the line from the start, and while he could not add a debut goal to his maiden appearance, the Spurs striker was on hand to offer an assist to Sean Maguire for Ireland's second goal.
The teenager left the pitch after 63 minutes, making way for Callum Robinson, and McCarthy said that he was really pleased with his performance.
"Troy did okay, he didn't set the world on fire, but what he did, I was really pleased with," said McCarthy.
"He held it up at times, ran the channels and had a couple of chances.
"I know everyone was desperate for him to score but the keeper thwarted him and I was pleased with what he has done."
Republic of Ireland v New Zealand: Sean Maguire give Ireland the lead with a superb strike. #IRENZL pic.twitter.com/AYvFfn3xVP

— RTÉ Soccer (@RTEsoccer) November 14, 2019
Teenage kicks, perhaps, as the striker got involved in a bit of a tête-à-tête with West Ham centre-half Winston Reid midway through the first half.
And while the manager was a defender by trade, he was firmly in the forward's corner, knowing the abuse that they front men take throughout games from the big men in the middle.
"He can handle himself, I don't doubt that," said McCarthy. "I don't want him to be hurting anyone, but when he was tracking back and he tackled the centre-half, and he got all upset..
"I just made a point to him, 'well done', because they are going to kick him all over the place.
"Welcome to men's football, because then he was getting a little bit bullied by him, but he stood up to him and I think he has done fine."
"Words can't describe to be honest. There's no better feeling" - 17-year-old @troyparrott9 tells @Corktod he enjoyed his debut and felt right at home in the Ireland team pic.twitter.com/iBkTOZLU1P

— RTÉ Sport (@RTEsport) November 14, 2019
Aside from Parrott's performance, the manager said that there was a lot of positives to take away from the performance, paying particular credit to Sean Maguire's performance in the wide role up front.
The Preston forward was a constant threat, cutting in off the left, linking well inside, while securing the man of the match award with a super strike to mark his maiden international goal.
"There were some good performances. Notably, Seanie Maguire played well," said McCarthy.
The manager said that he has been working with the wide men in training all week in relation to cutting inside to create in the middle, and he felt that Maguire played the role he was asked to perform.
"We've worked on it during the week with our two wide players, and I thought Seanie did it particularly well to be honest."
Maguire played a more central role following the introduction of Callum Robinson, who also scored coming in from the left side, and the manager admitted that he was delighted that his players appeared to be paying attention to what he has been saying to them this week at training.
"We had been talking about that at the team meeting this afternoon, about getting inside and getting on the end of crosses, so thankfully something sunk in."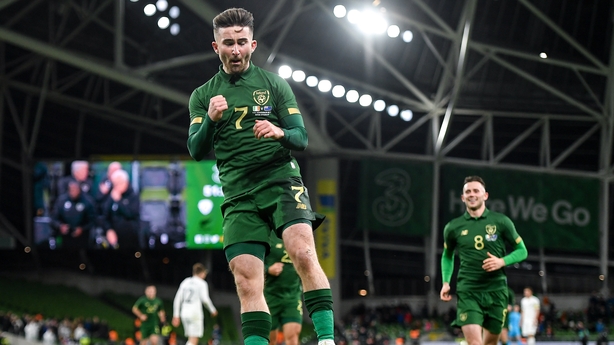 With most, if not all, of the starting XI for Monday rested from the start of the New Zealand clash, the manager's main decision appears to be who he will ask to start on the right side of the front three.
Robinson and fellow Callum, O'Dowda, both started on the bench and it remains to be seen who the manager will turn to on Monday.
"I think [Robinson's] best slot is on the left, which is unfortunate, because we have a lot of options whose best slot are on the left, but I think he is a threat from that side," said McCarthy.
One player who has probably played his way out of the manager's thoughts in relation to starting against Denmark is Robbie Brady who looked leggy, at times, during the game, and was possibly at fault for not going with his man for the New Zealand goal.
And the manager admitted afterwards that he felt that Brady "needed a game", as he looks to get back to full match fitness.
"He did some good things, he did some not-so-good things, and his work off the ball was always going to be tough for him.
"He needed a game and the 90 minutes will benefit him."
McCarthy was also pleased with Jack Byrne's role in the side for the 60-odd minutes on the pitch, making his first start in an Ireland jersey.
Byrne was his usual, neat and tidy, self in possession throughout, but the manager is more impressed with his ever-improving endeavours off the ball.
"Jack did fine, he does fine with the ball, getting on the ball, using the ball, and off the ball, he has improved no end.
"We have been showing him bits of what he had done, so I was pleased with Jack."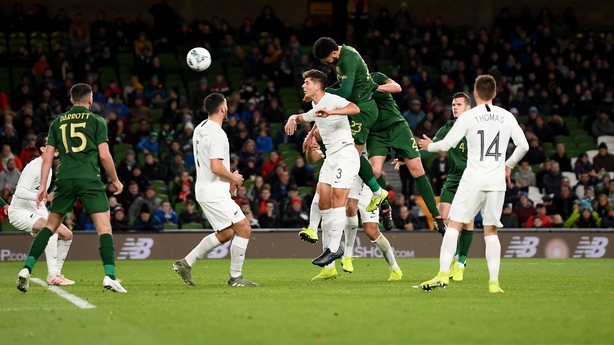 The squad appears to have a near-complete clean bill of health going into Monday's game, however, the lively Derrick Williams, who scored the first Ireland goal with a towering header, came off with a precautionary muscle issue.
But the manager was full of praise for both the personality and the performance of the big Blackburn defender.
"I thought Derrick was excellent. He is a left-sided centre-back as well, and he kept going, he had his chances, and I was delighted he got his goal
"I've been really impressed with Derrick all round, in terms of his personality, his character, how he trains, left-back, left-centre back, no complaints. And I thought he did well, it was a great header.
"I took him off but his calf started to tire, that's why he came off."
So on to Denmark, and while the manager placed little credence in the New Zealand victory when comparing it to how things would transpire on Monday, he did feel that the performance and result will bring confidence into the Euro 2020 decider.
"What will I take? We've had four full debuts, they've all been involved in a win, three players have scored their first goals for their country.
"Will it make any difference to our performance on Monday? Who knows?
"But I think it will make a difference as to how people perceive the team, the lads who played will be thrilled and [we will take] any positivity going into Monday."
And to finish, McCarthy offered some more insight into what the future holds and the maturity levels of striking prospect Parrott.
"It appears to be [that he is mature beyond his 17 years]" said the manager with perhaps a touch of paternal pride following a successful debut for the youngster.
"He has trained that way. In and around the lads, he hasn't been that talkative, but he stood up and sang last night.
"So he can sing, he can play football, he's good looking, hey ho, where did it all go wrong for him?"