Mick McCarthy may not have lost too much sleep when pondering tonight's friendly international against New Zealand, however, the manager may end up with a headache by the end of the match.
Of the good variety, naturally, as a peripheral player might just put in a performance that cannot go unnoticed ahead of Ireland's crucial Euro 2020 qualifier on Monday night against Denmark.
Tonight's game serves no real purpose and the manager's approach to the visit of the Kiwis to the Aviva Stadium has been suitably low key, considering he admitted that no one who is set to play on Monday will feature in the starting XI.
But while there appears little appetite for the game among the general public, there are certain aspects of the fixture that can help the manager prepare for the must-win clash with Denmark.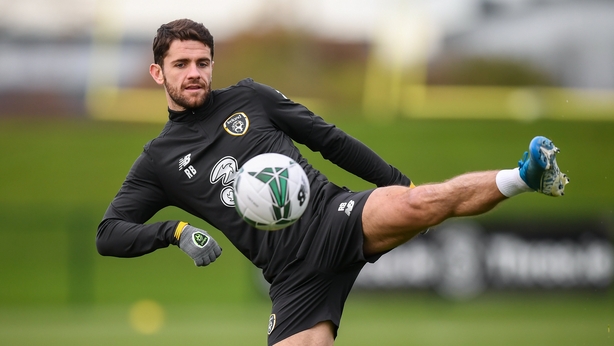 And while all the talk ahead of the game has been about the potential of teenager Troy Parrott, who will make his senior international debut, the performance of Robbie Brady may be much more pertinent to the manager's way of thinking.
Brady suffered a pre-season rib injury with Burnley and has not yet featured for Ireland during this 2019-20 campaign.
Yet the creative midfielder is back in the mix with his club and has played in recent weeks, starting against Leicester in mid-October while coming on as a late sub in recent games.
Brady needs game-time if he is to be considered to be involved in some role on Monday, and McCarthy, no doubt, will be a very interested spectator throughout.
The Ireland team for the visit of Denmark, more or less, picks itself, however, the manager may still be in a quandary in relation to who will fill the right-side attacking role.
Callum Robinson appears to be in pole position to be selected for the visit of Denmark, however, Brady has played there before and is perhaps the best alternative for the manager if he feels that the Sheffield United man does not bring enough, based on his performances so far in the campaign.
Brady will most likely be asked to start in that position tonight, while Callum O'Dowda may also have put his hand up for inclusion for that role following a decent substitute's outing in Geneva last month.
"Robbie's impressed me as a player over his career. He played in my first games when I came, he started in them so quite clearly, I thought a lot about him," said McCarthy, at the pre-match press conference.
"The fact that he hadn't had much football was against him – he'd been injured – and he's not had that much now.
"But he did start in one of the games and if he's fit to start for Dychey's team, Burnley, then he's in a much better shape – and he looks it."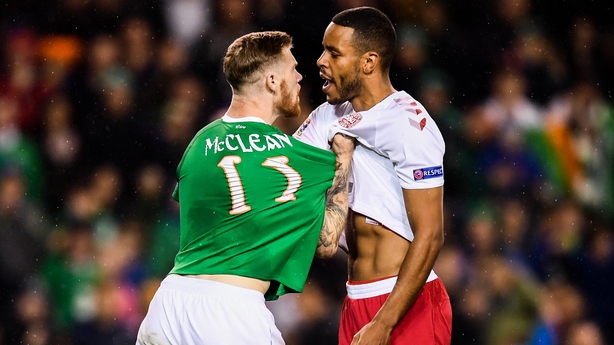 And while the manager had earlier indicated that no one who starts against New Zealand would be in with a chance of starting against Denmark, McCarthy left the door slightly ajar for the Dubliner.
"We will see how he is," said McCarthy."NInety minutes would make it difficult for him to play, considering the recovery.
"So I guess if you see me taking him off, he might have a chance of starting."
Elsewhere, there really are only cameo roles up for grabs for the Denmark match and with all the emphasis on attack, it again narrows it down to a few who will feature against New Zealand.
The manager spoke highly of Jack Byrne at the pre-match press conference and commented on the player's improvement over the past 12 months.
McCarthy lamented his own players' inability to hold onto the ball in Georgia and Geneva, and if he sees things unfolding in a similar manner against the Danes, he may just look to the Shamrock Rovers man to attempt to control things in the middle.
"Jack gets the ball moving, he recycles it for others and doesn't give it away," said McCarthy.
"I hope he scores two goals and then I'll deal with it," replied McCarthy, when asked whether Troy Parrott scoring against New Zealand would create a clamour for his inclusion.
A hypothetical scenario that the manager was not too keen to entertain, however, McCarthy did indicate that the highly rated striker could play his way into the Denmark conversation.
"You know, if he plays really well and scores two goals, I might have a clamour in my own head to include him in the game as well, so fingers crossed he does that."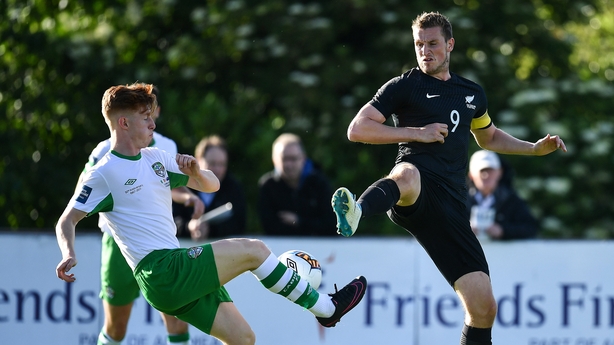 Tonight's opponents have not played a competitive fixture in over a year and a half, while manager Danny Hay has only been recently appointed.
"Look, for me I'm parking the result, the result I'm putting to one side. This is all about preparing for 2022 and beyond, actually, for us.
"Like I said, with only two days' training, we can't expect miracles. I guess the saying Rome wasn't built in a day is very much in line with what we're going through.
"We've got to be realistic about what's going to happen," said Hay, who has an injury concern with Burnley striker Chris Wood, who did not train on Wednesday.
"There are going to be times when the players make mistakes, but we really want to come away from tomorrow's game and the one against Lithuania having a really good idea about the character, mentality, our level of investment and the ability to play within the style of play that we're trying to implement around every single player."
Likewise, for Ireland the result will hardly be remembered in time, while the occasion may be significant should Parrott or Lee O'Connor go on to enjoy a successful Ireland career.
One final benefit of the New Zealand game for the manager is that it has allowed him to keep a relatively low profile build-up to Monday's match.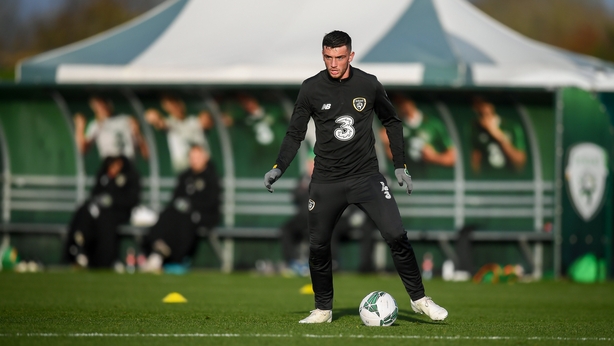 In fact, the manager admitted that talk of the Denmark match amongst the squad has been kept at a minimum out of respect to those who are starting in the friendly clash.
"I've just tried to put the Denmark game on the back-boiler, really, because I think it's unfair to the players who are going to play in this game to be concentrating on Denmark.
"And we have played them. They're not going to change, their team will be pretty similar to the one we played against, the players that they've got, what they do.
"You all keep reminding me that we've played them 560 times over the last three years or whatever it is, so the lads know them."
But the manager also admitted that there is a bit of a buzz around the camp as they look forward to the "Cup Final" encounter on Monday night.
"Don't get me wrong, I've watched the games," interjected the manager just to clarify that he and his backroom team have been doing their homework on Monday's opponents.
"I've watched the Switzerland game back, I've watched our game back [Denmark 1-1 Ireland], trying to pick bits out of it.
"All the staff have watched them back, so we are on that, but not with the lads, because it is unfair to the players to be talking about Denmark.
"Already, there is a certain buzz about the game, so yes, absolutely. We're not going to get a second chance at it, so one chance to do it."
Follow Republic of Ireland v New Zealand on Thursday with our live blog on RTÉ Sport Online or the RTÉ News Now App, watch live on RTÉ2 from 7pm or listen live on RTÉ Radio 1 extra.