Fine margins can often determine the difference between success and failure; a slight contact on an attacker by a defender in the penalty box, the last kick of a 94-minute game or the lottery of a penalty shootout.
On a historic and dramatic Sunday, two of these fine margins went in favour of Shamrock Rovers and one for Dundalk. The Hoops would claim the FAI Cup for the first time in 33 attempts.
But the challenge of improving enough to become Premier Division champions is considerably greater for Stephen Bradley's side.
Since the departures of Michael O'Neill, Gary Twigg and the slow break-up of the 2011 team that reached the Europa League group stages with back-to-back league titles, the club has teetered unsatisfactorily around base camp.
Their league finishes have been no lower than fifth but no higher than third until this year's climb to second.
But the task of surmounting the 11-point gap to a Dundalk team packed with the nous required to edge league title contests will be Bradley's Everest.
That task is clearly already on the boss's mind and it will continue to be until he can plant the green flag at the summit of Irish football.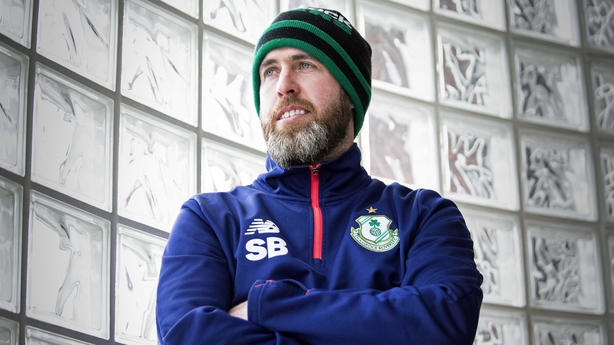 As soon as the FAI Cup was in his hands, Bradley spoke of using this victory as a vehicle towards the ultimate destination of a league title.
"For us as a group I just think it takes us to the next level," he said.
"We've been building, we've been getting better, we've been trying to catch Dundalk. Winning something gives you that belief and helps you grow as a team. We've gone and done that."
However closing an 11-pont gap in one year will not be plain sailing.
The last time a team finished that many points off top position before winning the league the following year was 2002/03. Bohemians were 11 points back in 2001/02 before taking the league crown 12 months later.
Shamrock Rovers did show a collection of improvements from 2018 to 2019 with a 13-point increase in their points total. Growth was shown in many key statistical areas.
They scored five more goals to help their goals-per-game total reach its highest amount since 2012.
More impressive was their defensive improvement. They coughed up six fewer goals to go to an average of 0.58 conceded per game. That is their best since 1983-84, and their second best ever.
Best Premier Division defensive records from 2010 to 2019
(Goals conceded per game)

2019 Dundalk

0.50

2011 Sligo Rovers

0.53

2018 Dundalk

0.56

2019 Shamrock Rovers

0.58
A major stone in the shoe of the Tallaght club had been the number of points dropped from winning positions during the Bradley years.
However they had a league-fewest two this year with no game lost in which they held a lead. In 2017 they surrendered 15 points in games they were ahead (the fourth worst in the league) and they followed that with 13 a season ago (the third worst).
A big factor in their improvement in this area was a significant reduction in late goal concessions.
Sixteen times in 2018 their defence was breached in the last 15 minutes of games (nearly as many as the 20 Dundalk conceded all season). That resulted in 10 points dropped in games' dying moments.
This season they went from conceding 78% of their goals in second halves to just 52%.
That led to them converting all 16 of their half-time advantages into wins. Dundalk, from 18 leads, are the only other team with that 100% record.
Likewise on 96% (22 out of 23) of the occasions they scored first in a game, they went on to win. Again, only Dundalk matched that record.
With all this progress, they have the blueprint for making big strides in closing the gap to the Oriel Park club. So what do they need to do to keep improving?
Shamrock Rovers failed to score seven times in 2019 and five of those matches were at home. That's simply too many off-days in front of goal for a club hoping to win the league title.
Those games were spread across the year, had an average of nine shots off target and they were not missing key player Jack Byrne in any of them.
Dundalk failed to score three times but never at home. No team has won the league when failing to score at home five times since Cork Hibs in 1970/71.
Overall, Dundalk haven't been held scoreless at fortress Oriel in 35 games. Shamrock Rovers have shut out been five times in 17.
On a sequence of 12 homes games between April and October, the Hoops only once scored more than two goals - and that was against strugglers UCD.
Shamrock Rovers and Dundalk both scored 30 away goals but Dundalk outscored the Hoops in their home games by 11. Tallaght needs to see more goals if Rovers wish to land a league title.
Premier Division home goals scored in 2019

Dundalk

43

Bohemians

34

Shamrock Rovers

32

Derry City

31

Waterford

26
Notably, Aaron Greene did not start in six of their league games and they failed to score in half of those. His presence may be more critical to their goalscoring than is appreciated.
Another area of weakness has been the outcome of games where they did not score first.
The top two fell behind a similar amount of times: Dundalk on 10 occasions, Shamrock Rovers nine.
However Dundalk turned three of those into wins and three to draws, whereas Shamrock Rovers took just one win (Waterford away on opening night) and one draw (Cork City away) with seven losses.
That trend is no one-off. Dundalk average 11 points per season and three wins from games they fall behind in from 2014 to 2019. Shamrock Rovers average less than three points and have just two wins between 2017 and 2019.
It has been a major feature of Dundalk's domestic toughness, that ability to stay in games that aren't going their way. It was evident in the FAI Cup final.
Shamrock Rovers need to learn from them if they're serious about eating into that league table gap.
Points won in games when not scoring first

St Pat's

13

Dundalk

12

Derry City

8

Sligo Rovers

6

Waterford

6

Bohemians

5

Finn Harps

4

Shamrock Rovers

4

UCD

4

Cork City

3
Finally, it is clear that Shamrock Rovers need to do better when facing their major rivals.
They lost six of eight contests against Bohemians and Dundalk but just one of the other 28 games (v Sligo Rovers).
No team has won the league without beating their nearest rivals since champions Dundalk did not scalp runners-up St Pat's in 1987/88. There was just three meetings per season between the teams then and Dundalk did at least draw two.
Of the summer era, only Dundalk in 2016, Bohs in 2009 and Shelbourne in 2003 won the league with a losing record to the team in second place.
If Shamrock Rovers want a league title, they will surely need a minimum of one victory over the Lilywhites as well as a big improvement on their dreadful recent Dublin derby record.
The greatest leap forward in the Bradley plan for success took place in 2019. Silverware was attained along with the early signs of a league title challenge.
But as Murray Walker said many times, catching is one thing; passing is quite another. There is still a chasm to Dundalk who will not surrender their lofty position without a fight.
The many improvements from 2019 will need to be repeated in 2020 to turn 17/25 into 18/25.