Ireland manager Vera Pauw has hit out at the university and college football system after key players Heather Payne and Harriet Scott were not released for the upcoming UEFA Women's Euro 2021 qualifier in Greece.
Both players were omitted from the squad as a result of their unavailability, while Pauw is also missing three key players through injury as Megan Campbell (concussion), Megan Connolly (quad) and Courtney Brosnan (thigh) are ruled out.
The Ireland manager acknowleged that injuries are part and parcel of the game but appeared quite critical of the academic institutions for not releasing the two players for the vital qualifier.
Scott is a studying medicine at Keele University in England, while Payne is based at Florida State University, and Pauw was particularly critical of the set-up in American colleges.
"Heather Payne and Harriet Scott cannot come because their universities and colleges are not giving permission to represent your country," said Pauw, speaking at a the squad announcement press conference.
"And for a college who gives a scholarship for football and gets a player because she is in the national team set-up and then stopping her from going to the national team is something very disappointing.
"Everyone knows that there are FIFA dates and when you have a scholarship you should be released, but the colleges in the US are not under the FIFA umbrella so they do not have to be released."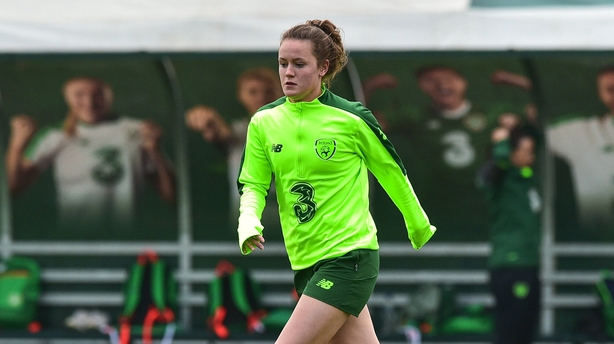 Pauw outlined the issues that she had with the US college football system, where she said players "don't learn anything" in a two-month, overloaded season.
"You come to the discussion as whether you go to the US on scholarship and whether that is a good thing for your sports career, because you only play for two months, and the rest of the year you do not play football. You can train, and if your school is allowed, you can play five friendlies," explained Pauw.
"There is hardly a pre-season and during those two months you are overloaded, so you need to play two or three times a week.
"And there is constant changing during the game so it is just running, fighting, running, running, running, and you don't learn anything, and that is the reality of college football."
Pauw lays no blame at the feet of either player as she added that both Payne and Scott tried their best to get released.
"They are very disappointed, they have tried everything to get here. We cannot blame the players
"They promise golden mountains, and that you will be released for international duty, but that is the coach, and then the professor says no, or they will stop the scholarship, so the players have no choice."
Looking ahead to the game on 12 November at the Nea Smyrna Stadium in Athens, Pauw is looking to build on last month's victory in Tallaght Stadium, where her side beat second seed Ukraine.
"We needed that win to have the chance to qualify, it was huge," said Pauw.
"But now we are in the situation where we cannot lose points, which is a different starting point."
And while it is only Pauw's second game in charge of the national team, she again praised the fighting spirit in her squad, which allows her the perfect platform to put a strategy in place.
"It was a special emotion, and I wasn't expecting that on the first match but I was already hooked.
"I don't think I have ever seen a team fights from the first second to the last, and there is not one player who failed in that basic task.
"That is the starting point and we build on a strategy from that. And the culture of the Irish players means that they can do that."