Stephen Bradley paid tribute to his players who had to recover from the "hammer blow" of conceding a 94th-minute equaliser to go on to win the FAI Cup final for the first time in 32 years.
Rovers, perhaps, thought they had done enough to win the game in regulation when Aaron McEneff's 89-minute penalty handed Bradley's side a late 1-0 lead over Dundalk.
But the Dublin club were taken all the way to penalties from the league champions who hit back through a fine Michael Duffy strike deep in injury time.
And the Rovers head coach felt that his side wobbled a little in that first period of injury time, which led to a very animated extra time team talk after the first period, where Bradley revealed that he urged his side to relax, trust their game-plan and trust their team-mates.
And while Dundalk could have snatched it late in extra time, once the game went to penalties, the Rovers manager admitted that he was confident that his side would prevail.
"I just felt we needed to reset," said Bradley, speaking at the post-match press conference.
"I was worried about the first period of extra time because of the late goal. I thought Joey [O'Brien], Lee [Grace], Roberto [Lopes] and [Alan] Mannus managed it really well for that period and at half-time it was about resetting and getting back to what we do and manage that.
"It takes us to the next level" - Stephen Bradley tells @Corktod this could just be the start for Shamrock Rovers #RTEsoccer pic.twitter.com/XPmXaO9LQN

— Soccer Republic (@SoccRepublic) November 3, 2019
"I thought we did really well to stay in the game for five or ten minutes because [the late goal] was a hammer blow.
"But we showed great character and game management to stay in it at that point.
"We just need to trust the game plan, get back to playing football, relaxing and trust each other. It unsettled us for five or ten minutes but then we settled down."
Penalties would be the deciding factor and while Dundalk scored their first spot-kick, they proceeded to miss their next two, with Mannus making a fine save to put the Hoops in the driving seat.
"We have been doing them all week, and genuinely Alan has been saving the majority of them," revealed Bradley.
"Even yesterday in training, some of the players stayed out for an extra half hour because he kept saving them, so when it went to penalties we knew that we had a great chance."
And so it would prove as the FAI Cup winged its way into the Rovers roll of honour for the 25th time.
Three times the Hoops have failed in Cup finals since 1987, losing to Galway in 1991, Derry City in 2002 and Sligo Rovers in 2010, and the manager revealed that while the club tended to hide away from the hoodoo in the past, he said that his side embraced the challenge of winning the coveted cup.
"That's like the biggest delight that it's gone," laughed Bradley.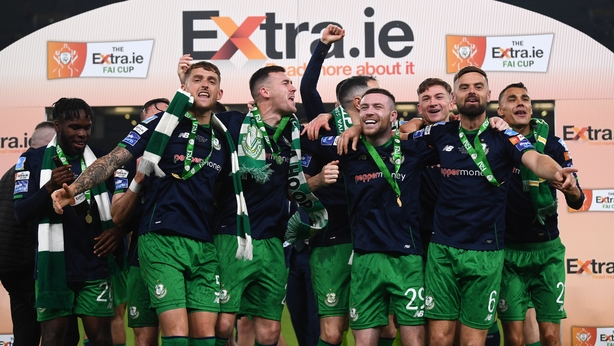 "People tried to hide from that, but when I played here it was always spoken about.
"What we have tried to do in the last few weeks is embrace it because this is an unbelievable club with great pedigree and history and we had a chance to be part of that rather than speak about it in a negative way."
The Rovers boss offered the ultimate accolades to his playing staff for bringing the trophy back to the club, and admitted that he went through a range of emotions, even sadness, following the winning spot-kick.
"It's not about me, it is about them; they are the ones who have to cross that line and show the courage and the character and play the way we ask them to play and for the majority of the game, they brought their identity."
"So many emotions, joy, happiness, sad, so many emotions," added Bradley who revealed that the sadness related to the fact that his mother Bernie was not around to witness the cup victory.
"I'd have loved my mother to have been here to witness that but I know she would be proud with what we have done," said Bradley.
Looking ahead, the Hoops boss sees a bright future for this side who are all committed to the club for the next two seasons, and Bradley admitted that this team needed the victory to allow them to go on and achieve further success.
"They are champions for a reason," said Bradley, paying credit to Dundalk for the way they fought their way back into the game. "They stay in the game and they know how to do that, that is years of experience.
"You only get that know how from winning things, and that is why I felt today it was so important to get over the line.
"To go to the next level and win leagues, you have to win something, you have to get that feeling of getting something across the line.
"We have been searching for that, but now we have it.
"And I think that has been the only difference, they understood how to win big games, and you cannot give that to people, you have to earn it, and we have earned it today.
"We want to build on this and go and win what we can next season.
"I'm so proud of this group and everything that they have done so far, but I think that this is only the start for this group."