It's nine years since Shamrock Rovers last appeared in an FAI Cup final; nine long years since they suffered the heartache of a penalty shootout defeat to Sligo Rovers at the Aviva Stadium.
The Bit O'Red upset the odds that day (not seismically, they only finished four points behind the Hoops), denying the freshly-crowned league champions a double.
It was a bitterly disappointing end to to what could have been the most glorious of days. Michael O'Neill's side had arrived at Lansdowne Road dreaming of a double. They were floored by a Sligo punch.
Two members of the side involved that day return to the Aviva this afternoon in search of redemption. Goalkeeper Alan Mannus is the sole survivor of the starting XI. Stephen Bradley - sent off in extra-time back in 2010 - is now the boss.
Billy Dennehy also played for the Tallaght outfit that day. He was down to take the fifth penalty but didn't get the chance because his side missed their first four.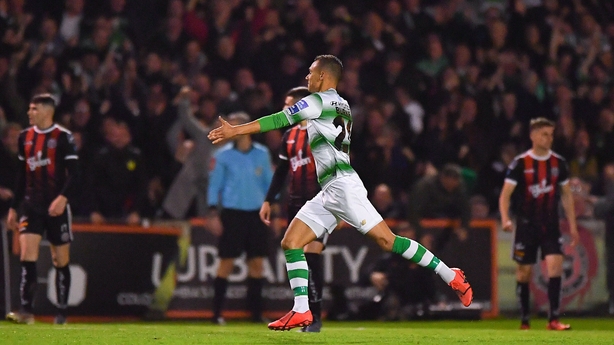 "It's a massive disappointment when you leave any cup final on the losing side. There's so much expectation and emotion that goes into the day," he tells RTÉ Sport, recalling an empty feeling of frustration in the aftermath.
"When you come out on the wrong side of the result there is massive disappointment and the regret as well at an opportunity missed.
"When we got to the cup final the players had been fighting for a league as well. Every point was vital, so we were focused on taking it game by game, but there's no doubt about it, when you have the break in between the league ending and the final, those couple of weeks in training are exciting."
Even now Dennehy savours the memory of the occasion. There's nothing like Cup final day, the colour and excitement. It can get to people.
"A lot of the players, especially for Dundalk, they've been to the Aviva many times before," the Tralee man adds.
"For a lot of the other lads it'll be their first time and it will be a big occasion for them and their families.
"The whole club is gearing towards the final. You can feel the atmosphere. You're going to get fitted for the club suit, all those things, it just makes for a great occasion.
"Rovers have been on a good journey over the last couple of games. I think this has come at the right time for them."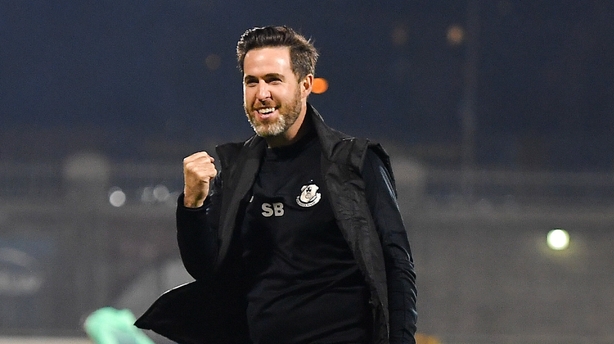 Bradley of course has seen it all before. That loss to Sligo cut him deep. His dismissal minutes before the end for a second yellow meant he had to watch the penalties from the stands.
It's surely crossed his mind this past week that this is a huge opportunity to heal that pain, to wipe it away, to end Shamrock Rovers' 32-year wait for the trophy and lead them up the steps as winners.
It could, Dennehy suggests, be written in the stars.
"Coming from Kerry I was a fish out of water when I moved up to Dublin," he says.
"Fellahs like Bradser made me feel very welcome at Shamrock Rovers. He's a Rovers man through and through. He was a fantastic team-mate. He got sent off in that final, but I think it's destiny that's brought him back here as a manager.
"I hope he's successful. He's the manager of a fantastic club... an unbelievable club. I'm just hoping they can win."
Cup finals are strange beasts. Funny things can happen on the big day but there's no question Shamrock Rovers are going to have to produce a huge performance to get past treble-chasing Dundalk.
Vinny Perth's charges are winners, steeped in success and laced with the nous required to get over the line on the days that matter. But if they are to complete a domestic clean sweep they'll have to do so without the ever-supreme Chris Shields, who is suspended.
"I played against Chris Shields a number of times," adds Dennehy. "For me he's probably been the most underrated player in Dundalk's squad over the years. He's very effective in the position he plays.
"You could look at it two ways. Obviously it's a blow that he's missing, more so for him as a player because he deserves to be playing in these occasions. But the other side of it is that somebody else has to come in, they have the chance to play and Dundalk will need them to perform really well on the day.
"What Dundalk have achieved has been unbelievable. I have massive respect for the club. This season people were sort of thinking, after Stephen Kenny had left, that maybe that would put a halt to the train.
"I think there's a core of people at Dundalk that are driving it forward year after year, week after week really."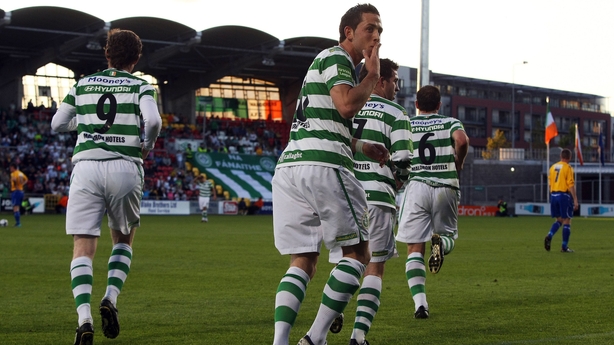 Dennehy, still just 32, also played for Derry City, Cork City. St Pat's and Limerick in an impressive League of Ireland career but he's stepped into the coaching world closer to home.
A few years ago he took up a role with the Kerry District League as part of the process of gaining his coaching badges and he's currently at helm of the Under-17s, who compete in the National League at that age grade.
It's been a rewarding venture for Dennehy who says he's inspired by the wave of young coaches now working in the Premier and First Divisions.
"As a manager it's completely different," he says. "You've got so many different things going on as a manager, preparing for different scenarios, team selection, set-pieces, things that might happen during the game.
"The game is in me. Whatever level it is I'm going to be coaching and be involved. Managing the Kerry Under-17s this year has been a great experience for me.
"I look around the league now and see Stephen O'Donnell managing St Pat's, Bradser managing Rovers and Neale Fenn at Cork City. They're three massive clubs in the country and they're all being managed by ex-team-mates of mine.
"There's also Ian Morris at Shels, Tim Clancy at Drogheda... it's fantastic to see clubs giving young managers a chance and obviously they're proving they're up to the challenge.
"It's something I have my eye on for the future."
Watch live coverage of Peamount United v Wexford Youths in the FAI Women's Cup final, and Dundalk v Shamrock Rovers in the FAI Cup Final from Aviva Stadium on RTÉ2 and the RTÉ Player from 11:45am on Sunday.